College Basketball Odds & Best Bets Today: Schedule, Picks for Wednesday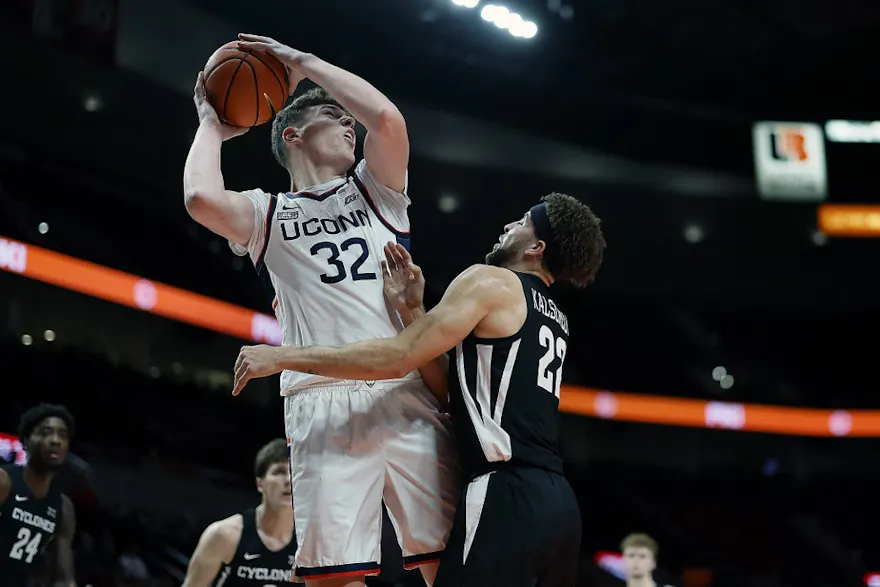 College basketball action around the country begins the shift from widespread games at neutral sites to on-campus arenas. We have highlighted the odds, movements, and our college basketball best bets for Wednesday.
The Big East adds its name to the Power Five conferences that have begun league play when St. John's hosts DePaul. Elsewhere, Zach Edey has become the frontrunner for the Player of the Year, and he gets another chance to add to his resume when Purdue hosts Hofstra.
Here are our best bets for Wednesday's college basketball slate (odds via DraftKings Sportsbook, PointsBet, Caesars Sportsbook, BetMGM; pick confidence based on a 1-to-5-star scale).
Wednesday's College Basketball Schedule and Odds
(odds via DraftKings)
Hofstra (+1400) vs. Purdue (-5000)
Eastern Kentucky vs. Tennessee (No Moneyline, -26.5)
Nebraska (+625) vs. Indiana (-900)
UConn (-190) vs. Florida (+160)
Wednesday's College Basketball Best Bets
Spread: Towson +7.5 (-115 via BetMGM)
Moneyline: UConn (-190 via DraftKings)
Total: Dayton-Virginia Tech Under 127.5 (-110 via Caesars)
Upset: New Mexico State (+285 via PointsBet)
Top College Basketball Picks for Wednesday
Spread: Towson +7.5 (-115) ★★★★★
In the next 10 days, Clemson has three intriguing non-conference games against Towson, Loyola Chicago, and Richmond. Still, the first one against Towson should prove the toughest, even if it is the only one being played on its home floor.
Towson and Charleston look like they will be co-favorites all season in the CAA, but the Tigers' experience is what can set them apart. Towson returns four players who averaged 9.8 points or better from last year's 25-win team, and those four have combined for 52.6 points per game this season. Furthermore, the backcourt duo of Cameron Holden and Nicolas Timberlake each averaged better than 15 points per game thus far, despite neither shooting better than 33.3% from 3-point range. However, the two have been deadly from deep in the team's two biggest games thus far, as they went a combined 6-for-10 against UMass and 6-for-13 against Penn.
Towson has five seniors in the starting lineup, which is the experience needed to play well in a tough road environment like Littlejohn Coliseum.
Making this wager at BetMGM is worth the slight extra juice, as all other sportsbooks have Clemson at +6.5 or +7.
Moneyline: UConn (-190) ★★★★
To this point, everyone in the Big East has shown signs of vulnerability except UConn. Just six teams from the Big East are in the top 120 of the NET's initial ranking, and of the six, no one has won its first nine games by more than 24 points per game like the Huskies.
Florida relies heavily on the offense of the 6-foot-11 Colin Castleton, whose 16.6 ppg (leads the team) is 57.4% of the team's frontcourt scoring. However, against Xavier's physical frontcourt of Zach Freemantle and Jack Nunge, Castleton scored just 11 points on 5-of-14 shooting. There's arguably no frontline in the country more physical than UConn's, and Big East Player of the Year frontrunner Adama Sanogo could quickly send the Gators' best player to the bench early with foul trouble.
These odds are already up from an opening number of -175, so grab them before they go north of -200 like Caesars currently has.
Total: Dayton-Virginia Tech Under 127.5 (-110) ★★★★
In Dayton's four losses this season, the team has averaged just 58.3 points, with one game going into overtime and three of those played at neutral sites. With the Flyers not expected to win in a true road game at Virginia Tech, this has all the makings of another low-scoring battle.
Dayton's strength is its defense, as it ranks in the top 50 in the country in 2-point percentage and 3-point percentage allowed, adjusted defensive efficiency, and effective field goal percentage. However, offensively, the Flyers rank 341st in the country in 3-point shooting percentage (27.6%). That problem becomes even more magnified against a Hokies defense that clogs the middle and takes away dribble penetration, which is one of the biggest reasons the team ranks 11th in the country in opponents' free throws attempted per field goal attempt.
Upset: New Mexico State (+285) ★★★
The New Mexico State Aggies failed in their first two attempts at big victories in losses to UTEP and UC Irvine. However, with their success in shooting the basketball this year, they will not go without upsets for long, as on any given night, they can ride a hot streak to a big victory.
New Mexico State ranks second in the country with a 43.8% 3-point shooting percentage. Considering the Aggies get 36.9% of their points from 3-point shots (57th-most in the country), that bodes well for their chances of success going forward. Santa Clara ranks outside the top 130 in defending the arc and will have its hands full with the Aggies, who have six of their top seven leading scorers all shooting better than 40% from deep.
The Aggies' moneyline odds go as low as +235 at FanDuel, and we are getting a minimum of $10 worth of value by making this wager at PointsBet compared to its competitors.
Where to Bet on College Basketball
Here are our top-rated sportsbooks:
College basketball best bets from 12/7/2022 at 6:19 a.m. ET.