Top Expert NBA Prop Picks for Tuesday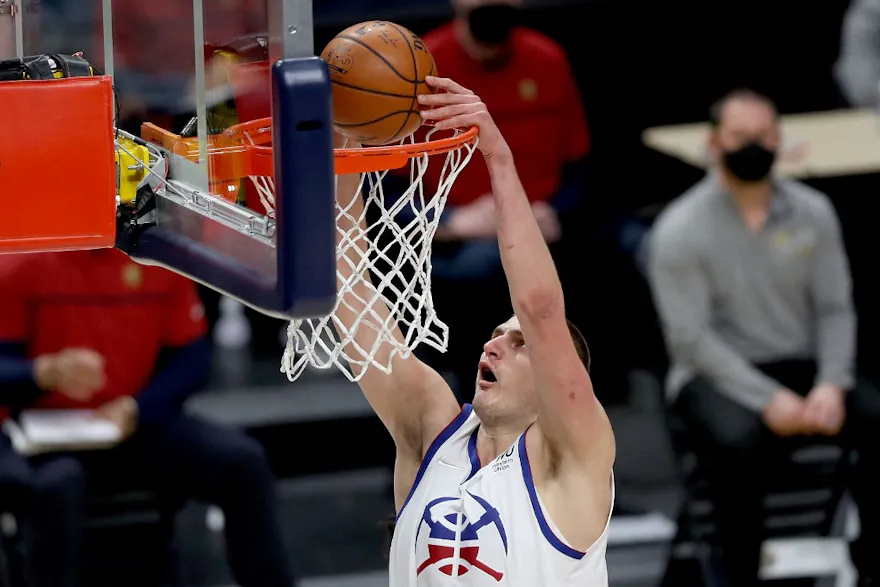 Reigning NBA MVP Nikola Jokic is among the superstars back in action on the hardwood tonight.
Here's a look at the top NBA team and player props for Tuesday's five-game schedule from our team of betting experts.
NBA Team Prop Picks
Utah Jazz Under 113.5 points (-120 via DraftKings) – Junior BrowneNew York Knicks Over 109.5 points (-108 via FanDuel) – Kenny DuceyHouston Rockets +7 first half (-110 via DraftKings) – Ian Wharton
NBA Player Prop Picks
Draymond Green Under 25.5 points, rebounds, and assists (-130 via DraftKings) – BrowneNikola Jokic Over 26.5 points (-116 via FanDuel) – DuceyLou Dort Under 14.5 points (-115 via DraftKings) – Wharton
SEE ALSO: Sixers vs. Knicks NBA Picks
Top Expert Team Prop Picks
Jazz Under 113.5 points (-120) – Browne
The Utah Jazz have looked elite defensively so far this year and sit second in the league in terms of efficiency. They are also top 10 on offense, ranking ninth. The reason they are only averaging 108.5 points per game is due to their really slow pace, which ranks 26th in the league. The Denver Nuggets are also playing great defense, ranking fourth, and their offense has been pretty good, too, coming in at ninth. They, too, play very slowly, coming in at 21st in pace. This has the makings of a game where both teams fail to score 110.
Knicks Over 108.5 points (-120) – Ducey
The Philadelphia 76ers have been average at defending threes, but rank in the middle of the pack in efficiency on that end. The New York Knicks pose some real issues for the Sixers. New York is leading the way in 3-pointers attempted per game and should have an easier time against this Philly team without Ben Simmons. While the Sixers have held it down on that end for three games, they've yet to face a ton of offense. The Knicks should also push the tempo in this game as they enter with the fifth-best offensive rating in the league. New York should be running and gunning all night, and cash this prop.
Rockets +7 first half (-110) – Wharton
The Houston Rockets and Dallas Mavericks are in completely different phases, as Houston sits 1-2 in the beginning of their rebuild and Dallas is fighting to prove it's a contender. This game has a surprising seven-point first-half spread, which I love for the Rockets. Houston has a lot of offense and has surprised a bit even in their losses. Dallas has shown clunkiness despite bringing back the majority of its playoff roster from last year. I expect Houston to cover this first-half prop thanks to sweet 3-point shooting and surprising athleticism that has helped its defense.
Top Expert Player Prop Picks
Draymond Green Under 25.5 points, rebounds, and assists (-130) – Browne
In nine previous seasons, Draymond Green has only shot over 45 percent from the field twice. The last time he did it was in the 2017-18 season. Since then, his shooting has gone from bad to worse. That's how you know his current 54-percent shooting from the field won't last. He fell and seemed to hurt his wrist the other night against the Los Angeles Clippers, although he did look fine in the Golden State Warriors' next game. He did however play the most minutes, and if there was ever a game where he might play less than usual, it would be against a team like the Oklahoma City Thunder.
Nikola Jokic Over 26.5 points (-116) – Ducey
The Utah Jazz have a force at center in Rudy Gobert, but that doesn't make them good at stopping scoring out of the post. In fact, Utah was one of the worst teams at defending postups a year ago, according to NBA.com, and now they've allowed a resounding 50 points in the paint per game this season, the fourth-worst mark in the NBA. Jokic is playing on the second night of a back-to-back, but he's had plenty of rest heading into these two days and has been competitive with this point total all season. I expect Jokic to get the rock a bit more here given the matchup with Utah and think he can get this done.
Lou Dort Under 14.5 points (-115) – Wharton
The best player prop pick on the market is the Lou Dort 14.5-point total against the Warriors. The Thunder guard has developed nicely over his first two seasons, but has seen a dip in year three as he acclimates to new teammates. His effective shooting percentage is down significantly as his deep shooting and free-throw conversion rates have plummeted. Dort hasn't averaged 14.5 points per game in the NBA yet and is down under 10 points this season. The Warriors have shown higher tenacity on defense this year, thanks to a deeper bench. I love the Under 14.5 here.
SEE ALSO: Top Expert NHL Prop Picks for Tuesday