3 NBA Player Props to Bet Now: Eyeing Haliburton's Odds at Assists Title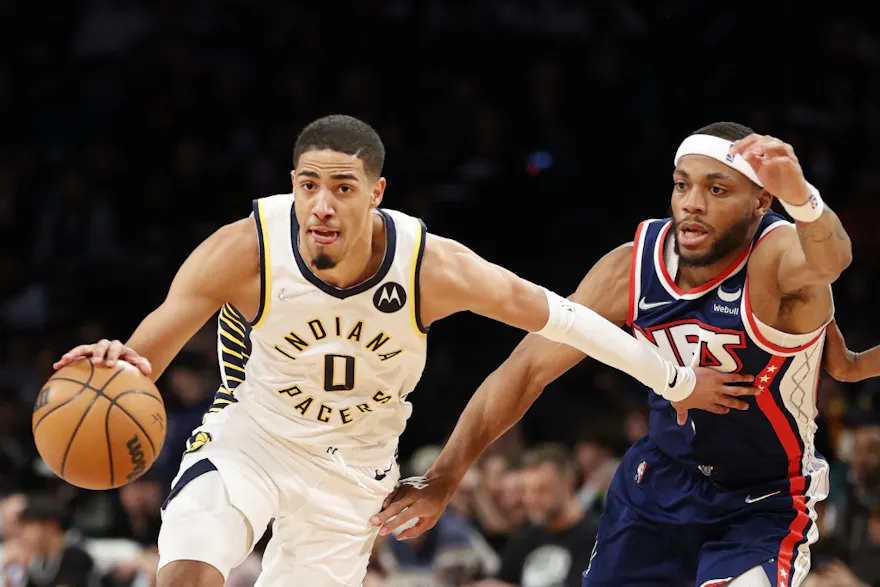 The NBA season is still nearly two months away, but it's never too early to get in on some futures. Rather than focusing on team win totals, conference and division winners, or Finals champions, we're going to look ahead to some of the best player props available.
Two of these props are +450 or longer, while only one comes in at minus money. The plus-money props have some calculated value built in, focusing on two young studs, and the minus-money bet feels close to a lock after a breakout performance.
Here are my three favorite player props to bet now.
NBA Player Props to Bet Now
Tyrese Haliburton assists leader (+450 via DraftKings Sportsbook)
Tyrese Haliburton has been one of the Association's best facilitators over the last two seasons, ranking 14th in assists per game (6.9) and eighth in total assists (937) in that span despite playing alongside De'Aaron Fox for his first season and a half.
Hali went from 5.3 to 8.2 dimes from his rookie season to Year 2 and finished seventh in that department. With 77 games under his belt, the young guard finished fourth in total assists at 628. After his trade from Sacramento to Indiana, Haliburton's assists crept up to 9.6 per contest in 26 appearances with the Pacers.
In a recent interview, Pacers' GM Chad Buchanan said that he expects Haliburton to become the next Reggie Miller - a face of the franchise who will one day have his mural on a wall in Indianapolis. Haliburton has the third-best odds at DraftKings to capture the assists title, but I imagine he'll be the favorite when I revisit this column again in 2023.
Keegan Murray to win Rookie of the Year (+650 via FanDuel Sportsbook)
Keegan Murray has the third-best odds to win the award at most books, trailing only Paolo Banchero and Chet Holmgren. He's +600 at DraftKings and PointsBet but a healthy +650 on FanDuel Sportsbook, making him a great target there.
The electric Iowa standout had a tremendous Summer League in which he averaged 23.3 points, 7.3 rebounds, 2 assists, and 1.3 steals per game and was named tournament MVP. Murray was picked No. 4 in this year's draft ahead of Jaden Ivey, who was viewed by most scouts and analysts as a lock to go in the top 4. Sacramento's front office clearly views Murray as a cornerstone of the future, and he joins a team that's loaded at guard and missing some depth at forward. Murray should be afforded 30+ minutes per game, and if he can carry his Summer League momentum into the regular season, he's got a great chance to capture Rookie of the Year.
Conversely, Banchero joins an Orlando Magic team that's got plenty of talent at forward in the forms of Wendell Carter Jr. and Franz Wagner. Holmgren should see plenty of run for the rebuilding Oklahoma City Thunder, but his slight frame and the team's likely end-game of another tank don't bode well for his chances here. Murray has the perfect combination of skill and opportunity, which is why I love him at +650 to win Rookie of the Year.
Desmond Bane Over 3.2 made threes per game (-115 via DraftKings Sportsbook)
Desmond Bane had an electric breakout last season, as his stats ballooned from his rookie campaign to Year 2. Bane's scoring averaged nearly doubled from 9.2 to 18.2, and his made threes increased from 1.7 to 3 on 6.9 attempts compared to 4 as a rookie.
Though Bane has only been in the NBA two seasons, he currently ranks sixth all-time in 3-point percentage at 43.4. Bane's teammate and 2021-22 Most Improved Player Ja Morant led the NBA in paint points last season, so despite his high usage and scoring, he's not a threat to steal threes. Jaren Jackson Jr'.s timeline for return is four to six months after undergoing surgery to repair a stress fracture in his right foot in June, and he averaged 5.7 3-point attempts over the last three seasons. De'Anthony Melton also averaged 3.6 3-point attempts over the last two seasons and was traded to the Sixers on draft night.
Bane is one of the best 3-point shooters in the NBA and clearly the best option on his team, with an increased opportunity for additional attempts. This is a no-brainer prop.
Where to Bet on NBA Futures
Here are our top-rated sportsbooks:
FanDuel Sportsbook
Caesars Sportsbook
DraftKings Sportsbook
PointsBet
BetMGM
SEE ALSO: All picks, odds, and sports betting news. Be sure to check out SportsbookReview.com's community forums and betting tools.