NBA Player Props & Best Bets Today: Schedule, Picks for Friday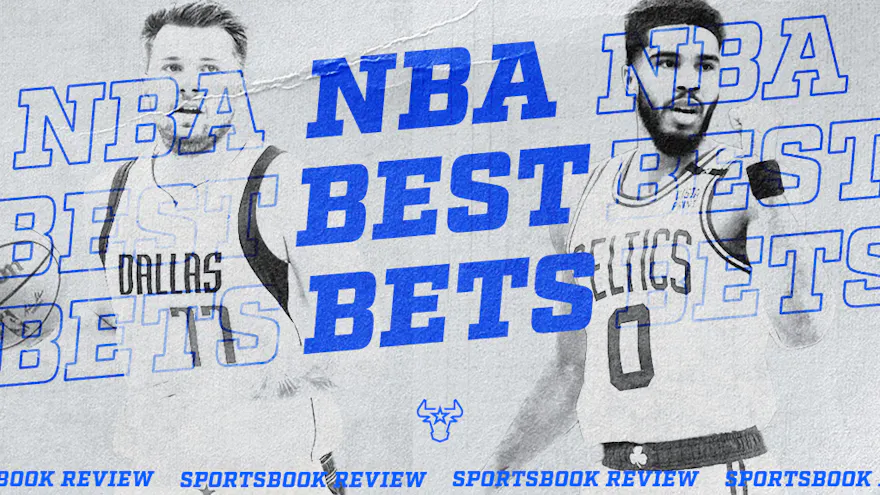 The Miami Heat will need a win over the Nuggets in Game 4 of the NBA Finals to avoid facing elimination when the series shifts to Denver. Sportsbook Review betting analyst Jon Metler shares his top NBA player props and best bets for Friday's Game 4 using the top NBA odds from our best sports betting apps.
One could argue that if the Miami Heat were to emerge as champions in the NBA Finals, Bam Adebayo would be the deserving winner of the NBA Finals MVP Award.
That's the level of significance Adebayo holds for the Heat and their success at both ends of the court. His role within the Heat's offensive strategy is unlikely to undergo any changes, as the team heavily relies on Adebayo's contributions for a successful outcome in this series.
So, why did a sportsbook overreact in one of Adebayo's player prop markets? And more importantly, why do you need to place the bet now?
Additionally, does it coincide with our Nuggets vs Heat prediction for Game 4?
Here are our top NBA player props and best bets for Friday (odds via our best sports betting sites; Pick confidence is based on a 1-to-5-star scale).
Friday's NBA schedule and odds
(odds via FanDuel)
Denver Nuggets (-3.5) vs. Miami Heat
Friday's NBA best bets
Player prop: Aaron Gordon Over 2.5 assists vs. Heat (+115 via PointsBet) ⭐⭐⭐⭐
Player prop: Bam Adebayo Over 3.5 assists vs. Nuggets (-125 via PointsBet) ⭐⭐⭐⭐⭐
Player prop: Kentavious Caldwell-Pope Over 7.5 points vs. Heat (-115 via bet365) ⭐⭐⭐⭐⭐
Not intended for use in MA
Affiliate Disclosure: Sportsbook Review may receive advertising commissions for visits to a sportsbook
Friday's NBA player prop picks
Player prop: Aaron Gordon Over 2.5 assists vs. Heat (+115 via PointsBet) ⭐⭐⭐⭐
Gordon's physicality on the interior poses a problem for the Heat, and his ability to bully his way into the paint also opens the door for more assist opportunities. Gordon can kick the ball out, or in my personal favorite move, he can flip it to Jokic, who effortlessly makes the shot from 10 feet away.
Moreover, when the Heat play their zone defense, Gordon finds himself in advantageous passing spots. In Game 3, we also witnessed Gordon leading the fastbreak and bringing up the ball on a couple of occasions.
Determining the potential playing time of several Nuggets players, such as Michael Porter Jr. and Christian Braun, will be difficult. However, one thing is certain: Gordon's role on this team and in this offense. In Game 3, Gordon recorded five assists, surpassing the total set at Over 2.5 assists (+160). When a player is priced at +160 and exceeds that mark, there should be adjustments to the odds.
Yet it seems the adjustments made were not sufficient, especially at PointsBet.
The projection for Gordon in Game 4 against the Heat is three assists, which allows us to set the Over 2.5 assists at -130. There was an adjustment from +160 in Game 3 to +115 in Game 4. However, this price still doesn't accurately reflect how Gordon is being utilized in this series.
The +115 offering available at PointsBet stands out, as it's trading at even money through most of our best live betting sites, with Caesars offering even shorter odds at -104. I would be surprised if we find a better price than +115 before the game on Friday. That's why I didn't hesitate to place this bet immediately.
Aaron Gordon bet made 6/8/23 at 11:00 a.m. ET
Check out our NBA Finals odds and NBA Finals MVP odds.
Player prop: Bam Adebayo Over 3.5 assists vs. Nuggets (-125 via PointsBet) ⭐⭐⭐⭐⭐
I hope your PointsBet account is ready, because we're placing not one, but two bets on player props for Game 4 of the NBA Finals there.
When it comes to Gordon, PointsBet didn't make a significant enough adjustment to his odds, which presents an opportunity to take advantage of a rogue price. On the other hand, PointsBet overreacted to the outcome of Game 3 with Adebayo.
In Game 3, Adebayo was trading around -165 at our top NBA betting sites to go over the total of 3.5 assists. However, he fell short of the total with only three assists. But that doesn't fully reflect the whole picture.
Adebayo tallied nine potential assists in the game, which is a significant number considering he finished with only three actual assists. To put it into perspective, Max Strus notched five potential assists and converted each one into an actual assist. Adebayo's role in the offense is vital, and his usage rate remains high as he continues to contribute in the NBA Finals.
PointsBet reacted to Adebayo's three assists in Game 3 by adjusting the juice from -165 to -125. But that's an overreaction, and I expect it to be corrected in the market as we approach tipoff. Pinnacle, for instance, has shifted its juice move from -135 to -158 on Adebayo, and that movement is a positive sign for our bet.
Based on projections, Adebayo is expected to record 4.2 assists against the Nuggets, allowing us to price this prop at -145. This bet comes with a positive expected value of 7% with that projection.
Bam Adebayo bet made 6/8/2023 at 1:40 p.m. ET.
Player prop: Kentavious Caldwell-Pope Over 7.5 points vs. Heat (-115 via bet365) ⭐⭐⭐⭐⭐
In a Nuggets lineup that features Jamal Murray and Nikola Jokic, betting on Caldwell-Pope may not be the most exciting wager in the world, but it encompasses everything I value: projections, line movement, and a rogue price, which leads me to give it a five-star rating.
Let's be honest, Caldwell-Pope hasn't performed exceptionally well in these NBA Finals, falling short of his point total in all three games. However, there's a notable difference between Game 4 and the previous games, as Caldwell-Pope's odds have undergone a significant adjustment. In Game 1 and Game 2, Caldwell-Pope's point total was set at 10.5, but it has now dropped to 7.5. This three-point shift is substantial, especially considering the already low total.
Caldwell-Pope is expected to score 9.6 points on Friday when playing against the Heat according to the projections. It's evident how the decrease in the point total from 10.5 or even 9.5 points in Game 3 to 7.5 points in Game 4 significantly contributes to the value of this bet. Based on this projection, we can set the price for Caldwell-Pope at -175 to score Over 7.5 points on Friday.
If the point total had stayed at 9.5, a projection of 9.6 points wouldn't have been enough to justify placing an Over bet at -115, as the bet would have shown a negative expected value. The crucial factor here is to take advantage of the adjustment to 7.5 points at bet365.
At Pinnacle, the Over 7.5 points is being traded at -141, while Bookmaker sets it at 8.5 points with the Over priced at -120. This stark difference should undoubtedly catch the attention of any sports bettor, highlighting the exceptional value offered by bet365 at Over 7.5 (-115).
Kentavious Caldwell-Pope bet made 06/09/2023 at 11:30 a.m. ET.
(21+. Gambling Problem? Call 1-800-GAMBLER)
* Bonuses not applicable in Ontario.
Related pages