NBA Finals Futures Odds, Picks: Kevin Durant, Kyrie Irving Staying in Brooklyn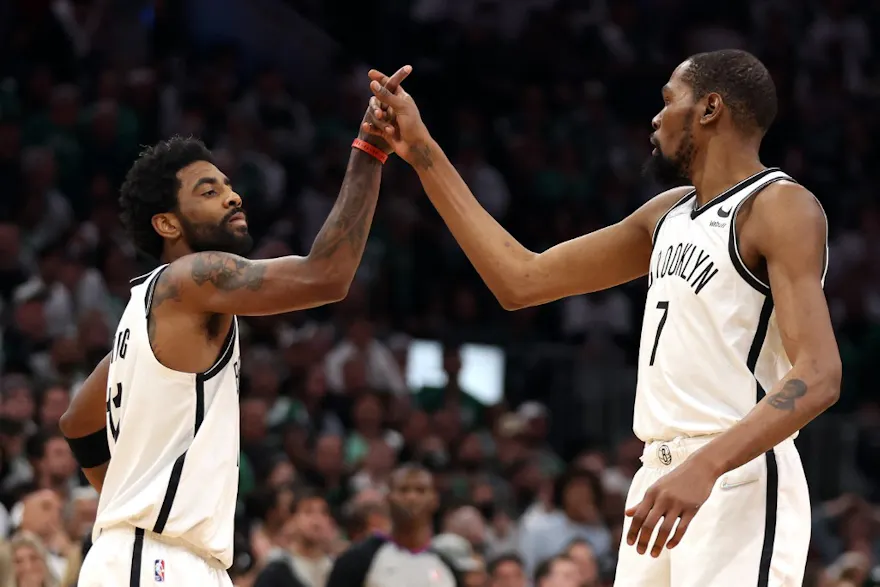 There has been a noticeable impact on the NBA futures markets as a result of Kevin Durant and Kyrie Irving remaining with the Brooklyn Nets. As the Nets odds are adjusted to reflect this news, we search for the best picks among each team to win the 2022-23 NBA Finals.
The Golden State Warriors opened with odds of +1200 to win the NBA Finals last offseason. The Warriors went on to win their fourth title in eight seasons under the leadership of head coach Steve Kerr and the star power of point guard Stephen Curry.
Will Curry lead the Warriors to back-to-back NBA titles, or will a new team emerge and take home the Larry O'Brien Trophy?
Below we examine the NBA Finals odds in search of early value picks.
2022-23 NBA Finals Odds
| | | | | |
| --- | --- | --- | --- | --- |
| Team | FanDuel | DraftKings | PointsBet | Caesars |
| Celtics | +500 | +550 | +450 | +500 |
| Bucks | +650 | +750 | +700 | +750 |
| Nets | +700 | +700 | +1000 | +750 |
| Warriors | +700 | +600 | +650 | +600 |
| Clippers | +700 | +600 | +650 | +800 |
| Suns | +1000 | +1000 | +900 | +1000 |
| Heat | +1700 | +1600 | +1300 | +1600 |
| 76ers | +1700 | +1500 | +1400 | +1500 |
| Nuggets | +2400 | +1900 | +2000 | +2000 |
| Lakers | +2400 | +1600 | +1400 | +1600 |
2022-23 NBA Finals Picks: Favorites
The Boston Celtics opened at +4000 to win the NBA Championship last offseason and are now at a price as low as +700 for 2022-23. Danilo Gallinari and Malcolm Brogdon have been added to their roster without losing anyone of significance, but with their playoff run still fresh in our minds, the +550 price point is too low in my eyes.
Although Curry is getting older, one could argue that the Warriors are only getting better. Three young high draft picks, Jonathan Kuminga, Moses Moody, and James Wiseman have yet to contribute significantly to the team. Veteran Andrew Wiggins also made significant progress in the playoffs and he is still only 27 years of age. I would fade the price, rather than the team, because it is significantly lower than what the Warriors opened at last season.
Bucks (+750 via DraftKings)
Although the Milwaukee Bucks were the 2021 NBA Champions and have one of the best players in the NBA in Giannis Antetokounmpo, they always seem to be overlooked in the futures market. Last season, the Bucks opened at +900 and did not have a price higher than +750 throughout the regular season. While I would wait to see what they do in the offseason, I am certainly interested in adding them to my portfolio as long as Antetokounmpo is on the team.
I am not sure what the fascination with the Los Angeles Clippers in these opening odds is all about. At DraftKings and PointsBet, they opened as co-favorites at +600 to win the NBA Championship. In my opinion, there are so many better ways to invest my money if I were looking to buy a team with a price as low as +750 than to invest in the Clippers.
2022-23 NBA Finals Picks: Contenders
Nets (+1000 via PointsBet)
In July, when it appeared all but certain that Irving and Durant would be traded, the Nets were as high as +4000 to win the 2022-23 NBA Finals. While the odds have drastically shifted to make Brooklyn one of the favorites once again, I do not wish to be involved with this team, particularly at this price point. Even with Durant and Irving remaining on the roster, I do not believe the Nets should be considered one of the favorites for the NBA Finals.
Suns (+1000 via FanDuel)
It could be argued that the Phoenix Suns had one of the worst offseasons of any team in the NBA. The Suns disrupted their locker room with Durant trade rumors and then re-signed center Deandre Ayton to a max contract, something they were adamant they would not do. With point guard Chris Paul another year older, I am beginning to believe the Suns have missed their window for a championship and would 100% fade this price point.
Heat (+1700 via DraftKings)
The Miami Heat saw their odds drop to +1200 as rumors circulated that they were interested in acquiring Durant or even Utah Jazz guard Donovan Mitchell. Durant staying in Brooklyn and the Heat no longer involved in the Mitchell sweepstakes have pushed the odds on Miami to win the NBA Finals up to +1700. If you are a Heat backer, it has been another disappointing offseason, as they have not been able to find another superstar to pair with Jimmy Butler.
76ers (+1700 via FanDuel)
I am not a fan of backing a Doc Rivers-coached team to win the NBA Finals, however, I am beginning to reconsider this position. I expect to see a very different James Harden this season, as he is very motivated to win a championship in Philadelphia. Considering that the 76ers were as short as +700 during the regular season a year ago, +1700 is an intriguing price.
Grizzlies (+2200 via PointsBet)
A lack of flashy moves during the offseason can be seen in the Memphis Grizzles' pricing to win the NBA Finals. Since opening at +1900, the Grizzles' odds have increased slightly to +2200 due to the fact that they have not provided a reason for sportsbooks to decrease them.
Lakers (+2400 via FanDuel)
The Los Angeles Lakers opened the 2021-22 season with odds of +450 to win the NBA Finals, and with the same trio of LeBron James, Anthony Davis, and Russell Westbrook returning for the 2022-23 season, we now see them opening at +2200. If Irving had been traded to the Lakers, their odds would have shortened, but with Irving staying in Brooklyn, they are trending in the other direction at FanDuel.
Nuggets (+2400 via FanDuel)
I am very interested in the price of +2400 we are getting on the Denver Nuggets via FanDuel. If Jamal Murray and Michael Porter Jr. are fully healthy, the Nuggets are a team that is poised to take the next step with Nikola Jokic, similar to Antetokounmpo and the Bucks in 2021.
Mavericks (+2500 via FanDuel)
The Dallas Mavericks are one of the franchises that annoy me the most. There is no question that they have a superstar in point guard Luka Doncic, but they have not made any significant secondary moves to elevate them to the level of legitimate championship contenders. The sportsbooks are also disappointed with their offseason, having increased their price from +1900 to +2500.
Timberwolves (+3500 via Caesars)
Is the addition of Rudy Gobert to the Minnesota Timberwolves' roster worth a 30 dollar move in their futures odds? The sportsbooks appear to think so, as some have adjusted their odds even more than Caesars has. While I appreciate the Timberwolves' efforts to go all in and win with Karl-AnthonyTowns and Anthony Edwards, I am not happy with their new price point.
Raptors (+4500 via DraftKings)
You should wait for a higher price if you wish to purchase futures on the Toronto Raptors to win the NBA Championship. In anticipation of Durant possibly joining the Raptors, they opened at +6000 and saw their odds drop to +3500. Despite knowing that this is no longer an option for the Raptors, their odds have not completely returned to their opening price of +6000. If you wait out the movement, you should see their odds gradually move back toward the opening line.
2022-23 NBA Finals Picks: Long Shots
Pelicans (+5000 via FanDuel)
For a team such as the New Orleans Pelicans, which has CJ McCollum, Brandon Ingram, Zion Williamson, and a deep roster, +5000 is a high price. Whether they can win the NBA Finals is unclear, but I would certainly expect their price to be considerably lower than +5000 before the playoffs begin next season.
Bulls (+5000 via FanDuel)
At the beginning of the offseason, the Chicago Bulls had a price of +6500 to win the NBA Championship, however, that price has been adjusted slightly. Having been able to retain Zach LaVine by signing him to a $215 million dollar contract, the sportsbooks have lowered their odds from +6500 to +5000.
Hawks (+5000 via FanDuel)
Initially, the Atlanta Hawks had odds of +8500 to win the NBA Finals next season, but this changed quickly after they acquired Dejounte Murray from the San Antonio Spurs. Even though Murray is a nice addition for the Hawks, I would prefer to invest in a team like the Pelicans in this price window.
Cavaliers (+10000 via PointsBet)
The Cleveland Cavaliers are on the rise as they opened last season with odds of +50000 to win the NBA Finals and are now trading at +10000 to do so this year. Even though their roster has improved, they are not serious contenders for the championship and the +10000 is not worth investing in.
Knicks (+10000 via DraftKings)
The best-case scenario for the New York Knicks is that they are able to acquire Mitchell from the Jazz through a trade. Even if they achieve this, it wouldn't be enough to make them title contenders.
Trail Blazers (+12500 via Caesars)
As with the Raptors, the Portland Trail Blazers find themselves in a very similar position. The Trail Blazers' odds opened at +21000, but Durant rumors and a Damian Lillard Instagram post resulted in odds as low as +8000 at DraftKings. The Blazers' odds have not fully recovered from this speculation, with the highest price available at Caesars being +12500.
Hornets (+15000 via Caesars)
The Charlotte Hornets are a good team to back if you are looking for a team that will lose by 40 points in the play-in game. Miles Bridges was not expected to leave the Hornets in restricted free agency this offseason, but his contract offer was withdrawn after he was charged with domestic violence. As a result of his departure from the team, their price has increased from +12000 to +15000 throughout the offseason.
2022-23 NBA Finals Picks: Don't Waste Your Money
Jazz (+25000 via Caesars)
As Mitchell is expected to leave the Jazz in the coming weeks, the odds for the Jazz will get even higher than +25000. In the 2022-23 season, the Jazz will undergo a complete rebuild, with a fresh stockpile of new draft picks.
Wizards (+35000 via DraftKings)
Considering the talent on the Washington Wizards' roster in comparison to other teams priced significantly lower than the Wizards, the +35000 price point at DraftKings is pretty wild. There are rumors that the Wizards are in the market for another All-Star to pair with Bradley Beal, as a reward for his return to the team. Although I do not think the Wizards have a realistic chance of winning the NBA Finals, it is significant to note how DraftKings is undervaluing them once other markets are released.
Pistons (+70000 via Caesars)
In my opinion, the Detroit Pistons had the best draft of any team. They watched Jaden Ivey fall to them with the fifth overall pick, and then they made a savvy trade with the Knicks to draft Jalen Duren. It is clear that Troy Weaver and the Pistons' executives have this team headed in the right direction and with a little more time, they will once again be a contender for the playoffs.
Kings (+70000 via DraftKings)
As a result of their reputation, the Sacramento Kings are definitely priced higher than they should be, since their roster is clearly more talented than the price implies. Still, it is not like you can take advantage of the Kings' price point in this market, since they won't make the NBA Finals.
Thunder (+70000 via DraftKings)
The Oklahoma City Thunder are building their team through the draft and it will take many seasons before they are truly competitive. They should have much shorter odds in the coming years due to all of the high draft picks they will make in the upcoming seasons.
Pacers (+100000 via DraftKings)
The Indiana Pacers have several good players on their roster, including Tyrese Haliburton, Myles Turner, and Buddy Hield, but none of them are superstars. The NBA is a superstar league, and with a roster of players that are simply above average, the Pacers may have difficulty making the playoffs.
Spurs (+100000 via DraftKings)
The Spurs are a complete fade in this market as they begin a full-scale rebuild following the trade of Murray to the Hawks. As a result of Murray's departure, the Spurs opened at +35000 and are now trading at +100000 via Caesars.
Magic (+200000 via DraftKings)
With Paolo Banchero on the roster and the return of Markelle Fultz and Jonathan Issac from injury, the Orlando Magic may quickly turn this around. While they could end up sneaking into the play-in games, they are far from being title contenders.
Rockets (+200000 via Caesars)
The only futures market in which I would consider backing the Houston Rockets next season would be to have the worst record in the NBA.
Recent NBA Champions
| | | |
| --- | --- | --- |
| Team | Year | Opening Odds |
| Golden State Warriors | 2022 | +1200 |
| Milwaukee Bucks | 2021 | +550 |
| Los Angeles Lakers | 2020 | +1800 |
| Toronto Raptors | 2019 | +6600 |
| Golden State Warriors | 2018 | -168 |
| Golden State Warriors | 2017 | +215 |
| Cleveland Cavaliers | 2016 | +300 |
| Golden State Warriors | 2015 | +2500 |
| San Antonio Spurs | 2014 | +100 |
| Miami Heat | 2013 | +250 |
Where to Bet on NBA Futures Picks
Here are our top-rated sportsbooks:
FanDuel Sportsbook
Caesars Sportsbook
DraftKings Sportsbook
PointsBet
BetMGM
SEE ALSO: All picks, odds, and sports betting news. Be sure to check out SportsbookReview.com's community forums and betting tools.
NBA futures picks made on 6/20/2022 at 6:25 p.m. ET.