United States Grand Prix Betting Preview: Two-Man Race in Austin?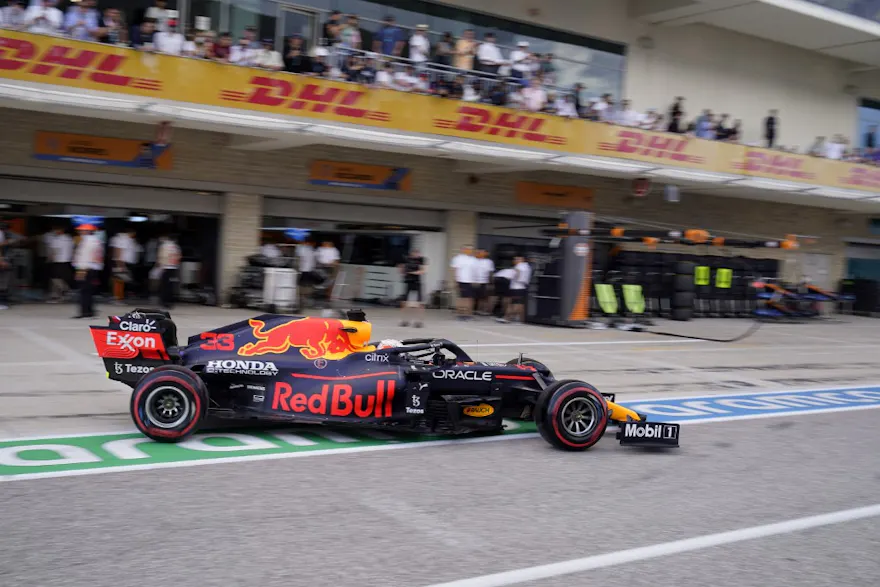 Read ahead for all of the information pertaining to the United States Grand Prix that you could want to know in addition to analysis-driven betting picks.
The United States Grand Prix is back after a one-year hiatus due to the COVID-19 pandemic. In addition to the renewed excitement generated by this long-awaited return, this upcoming race will feature more intensity because of how close the standings are. Max Verstappen leads Lewis Hamilton by six points atop the season-long standings.
This race will take place Sunday at 3 p.m. ET at the Circuit of the Americas in Austin, Texas.
Here are my outright picks for the Formula 1 United States Grand Prix in Austin, Texas (odds via DraftKings Sportsbook).
United States Grand Prix Odds to Win
Max Verstappen -145
Lewis Hamilton +145
Sergio Perez +1200
Valtteri Bottas +2800
Charles Leclerc +4000
Lando Norris +5000
Carlos Sainz +6500
Daniel Ricciardo +6500
Pierre Gasly +13000
Betting Odds Analysis
It is unusual in motorsports for a driver to be less than even money to win a race. Nevertheless, Verstappenis posted at -145 to win Sunday's event.
After Verstappen and Hamilton (+145), the odds rise dramatically. The odds imply these two drivers have by far the strongest chances of winning the race. The third-best odds to win are for Sergio Perez at +1200.
United States Grand Prix Picks
Max Verstappen (-145) 
Valtteri Bottas (+2800)
SEE ALSO: Hollywood Casino 400 picks
United States Grand Prix Predictions
Max Verstappen (-145)
While Hamilton does have the stronger overall history at Circuit of the Americas, history is an overrated statistic because it accords equal value to races that took place further in the past as to more recent competitions. I think, though, that more recent competitions merit stronger acknowledgment because they reflect adjustments that drivers make over the years.
In Verstappen's case, he has always had a strong history at this event. Lately, however, he is bridging the gap here between himself and the hyped-up Hamilton.
These two drivers finished neck-and-neck in the 2018 and 2019 renditions of this competition.
Valtteri Bottas (+2800)
With so many competitors in this race, it makes perfect sense to invest in a supposed long shot. I don't think Bottas is actually a long shot, but the odds imply that he is. In my view, Bottas deserves respect at this track because, historically speaking, he has always enjoyed an affinity for it.
As a matter of fact, the first race in which he scored as a Formula 1 competitor was at the Circuit of the Americas track in 2013. Bottas has consistently demonstrated his relatively strong degree of comfort at this track, finishing eighth in 2013 and finishing fifth in three races here since then.
Most significantly, he won this race in 2019. For this reason, +1600 seems like a very nice deal. The largest reason why driver history is uniquely important at this track is that the track itself is unique. Some drivers are simply more suited for it than others.
Unlike most of the major European tracks, Austin's is constructed counterclockwise, which means that it has more left turns than right.
Considering the forces that drivers must deal with as they race, this unusual construction places a greater strain on their bodies because they are used to clockwise circuits. Bottas is relatively able to navigate unique details like this one.
Picks made 10/21/2021 at 11:55 p.m. ET.