And so the mountains start.. but not for 130kms of this 210km stage. It's more like sprint stage for almost two thirds of the day's action, but then suddenly they hit the Col de Peyresourde, an oft-used climb in the Tour de France. 13.2kms at 6.9% will sort the men from the boys and after a tricky 22km descent they start on the Hourquette d'Anzican, a further 10kms at 7.7%.
The Hourquette was last used in 2013 when Dan Martin attacked with Jakob Fuglsang with about 34kms to go, and they descended down to the finish in Bagneres de Bigorre, like this stage, where Martin won the two-man sprint. It showed that if you can crest the top with a 30′ lead or so, you should hang on to the finish.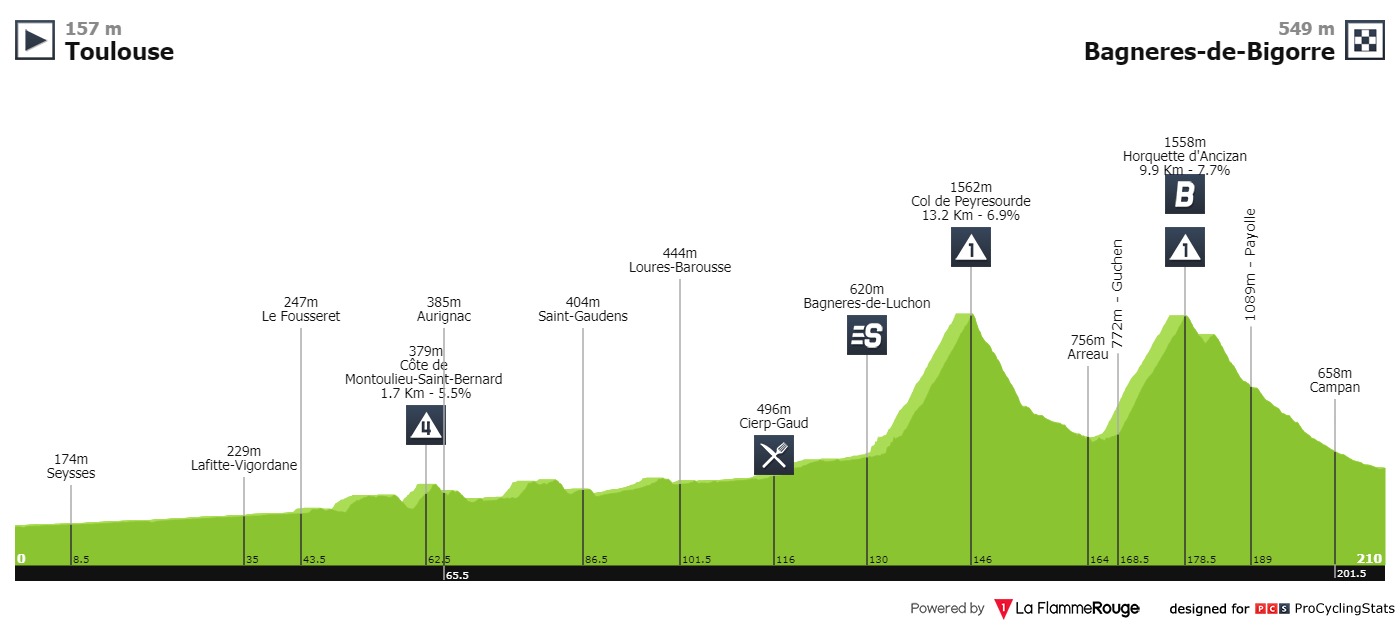 Contenders
This looks like a stage that the break should take to me – the GC men will take it easy on the flat part and the break should build up a decent lead of some 7 or 8 minutes hitting the Peyresourde. We should see the GC teams up the pace on the Peyresourde, we may see some attacks to test the waters, possibly from riders who have team-mates waiting for them up the road after getting in the break.
But by and large what we will get is a whittled down group of maybe 40 riders coming to the bottom of the Hourquette together, still maybe 4 minutes or so behind the break. The break should still have a minute or so at the top as the GC men mark each other out and should hold on for victory.
So who can go in the break then, and hold on over the two climbs in the last 80kms? Well, you need to be strong to get up the road in the break in the first place, and contribute enough to the break to help it build up a decent 8 or 9 minute lead. Then you need to be able to climb, and possibly descend well, maybe even sprint if necessary if it's a small group comes to the finish together.
One rider that springs to mind immediately for a stage profile like this is Vincenzo Nibali – Nibali said that he was coming in to this race only looking to go for stages, maybe the KOM, but not GC. Some didn't believe him, but he has been poor so far in this race, getting dropped regularly on the hills, and as a result now sits 14 minutes down on GC, giving him the freedom to go on the attack on a stage like this.
He certainly fits the bill if we see the Nibali we saw in the Giro, and the Nibali we normally see smashing it up the mountains, but he hasn't shown anything of the sort so far in this Tour. Of course it could all have been part of the bigger plan, where he saved his legs, lost time and then targeted specific stages, maybe this one to start with.
The profile suits him, he may well get someone like Tratnik, Mohoric or Teuns to go in the break with him so he can hold back a little on effort, and then attack on the final climb or on the descent down to the finish, being one of the best descenders in the peloton.
Marc Soler is another who could be allowed go up the road for Movistar, they were happy for him to go in the break on stage 9, when he made that massive effort to bridge to the break on his own, he showed how good his legs were by pulling back a gap of almost 90′ on the climb of the Mur d'Aurec. He just couldn't stay with the final attacks, his earlier effort to bridge taking its toll on his legs, but he did manage to finish 7th, just 21′ down.
I was thinking that Giulio Ciccone might fancy getting up the road too in the break in the hunt for KOM points, but he crashed heavily today and looked pretty battered and bruised riding to the finish. Instead, maybe Toms Skujins or Fabio Felline could go, but they'll probably be asked to stay with Porte and look after him.
It could have been a day we see Warren Barguil go on the attack for KOM points, but as he's just 3'26' down on the GC, I don't think he'll be allowed go. Instead maybe Elie Gesbert or Anthony Delaplace might go instead, Gesbert has been riding well this season (5th on the Mont Ventoux Challenge), but hasn't got going yet in this Tour.
Lotto Soudal are sure to try to get a number of guys in the break again, Thomas De Gendt will love this stage you'd think, but has he burnt his matches after that win on stage 8? If not, we should see him KOM hunting again and I wouldn't be surprised to see him ride away from everyone on the Hourquette, it's a power-climb, not a pure climbers' climb.
Tiesj Benoot could also like this stage, he was very strong on stage 9, only to be outdone by the better sprint of Impey. I'm sure he'll keep trying in this race until he can try no more.. And Tim Wellens could also go to try to keep hold of that polka-dot jersey, but he's been looking vulnerable on the tougher climbs. But they are way too short for me at the prices, I'm going to leave them.
Nico Roche could also try again, he is in good shape and will probably get stronger as this race goes on, but so too could Wilko Kelderman, he has been very quiet in this race, has he been waiting for the mountains? He hasn't had a great season this year, but there were some positive signs in Paris-Nice, and he had a storming Vuelta last year where he finished 10th overall on the GC.
With Uran quite possibly five minutes down after the TT too, maybe EF will fire riders up the road again in an attempt to try to take a stage win? Michael Woods could be one to fit the bill, he crashed earlier in the race but looks to be ok now. He said after stage 9 that he was going to stick to Uran like "White on rice.. unless I have the opportunity to get into a break, I'm here to support Rigo'. Well, this is a stage
that could suit Woods, maybe they should let him go. He did crash in today's stage though, he may be feeling it, so the +1200 available for him is ridiculously short.
Simon Clarke thinks he would have done better on stage 9 but got caught out at the bottom of the final hill.. He said he felt he had the legs to get a better result. There could be a lot of fire in the bellys of the EF guys after their catastrophe on Monday, so I think they will be very active at the start of this stage trying to get in the break.
Guillaume Martin is another who could possibly fancy it on this stage, but he's still just 6 mins down on the GC, it's unlikely they will let him go and potentially move back up the GC, the top 10 candidates won't want him back in the game.
Astana are just about still in this with Fuglsang, but as he is now 3'22' down on the GC they might start to let riders go in breaks, they've been shackled up until now. It was the stage that Astana did try to win in 2013, when Fuglsang finished runner-up to Dan Martin.
It was Omar Fraile's birthday yesterday, maybe he'll do a 'birthday ride' and go in the break? He is capable of winning a stage like this. Same with Luis Leon Sanchez, but he's really been struggling so far in this race, maybe he's been sand-bagging and saving his legs for the last two weeks, as he had been in great form just before the Tour started. They also have Pelle Bilbao, Gorka Izagirre and Alexey Lutsenko, I like Gorka Izagirre at a big price, he's far enough down to be let go, and good enough to win this stage.
This is a hard stage to call, the bookies are split between it being a GC day or a breakaway day, with the likes of Alaphilippe, Pinot, Woods and Nibali similar prices. I think that it will be a breakaway day though, the GC men will let them have it and fight it out a little on the way up and down the Hourquette, but I don't expect any major moves to pay off for the GC favourites.
Recommendations: