Ruud vs. Alcaraz Picks, Predictions for 2022 Men's US Open Final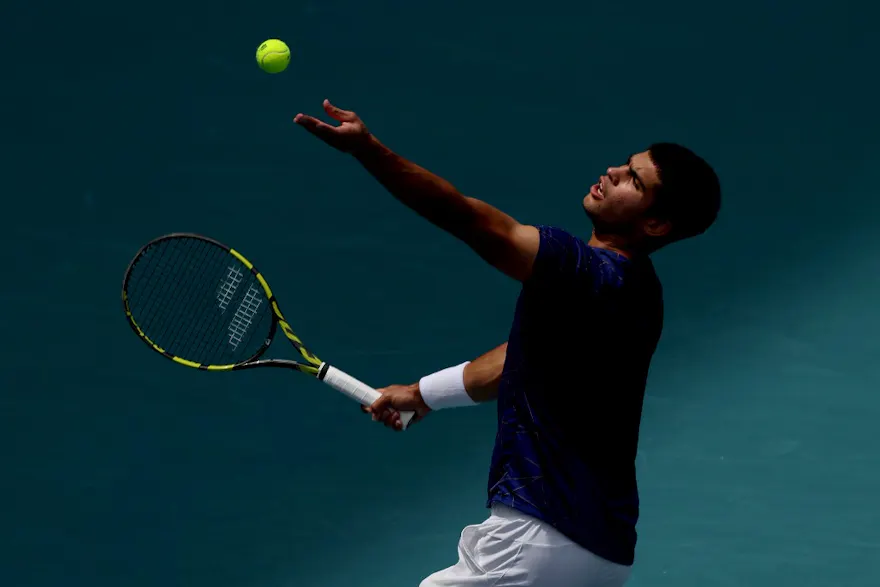 The World No. 1 ranking is on the line when two of the most promising young stars in men's tennis, Casper Ruud and Carlos Alcaraz, clash in their first US Open Final. Here are our top tennis picks for Ruud-Alcarez.
Ruud has never won a Grand Slam, but he's come close. He made his first final at Roland Garros earlier this season, and has raised his level on a hardcourt to the point where he's a threat to win the US Open.
Alcaraz has also never taken home a Grand Slam, but this should be his best chance at his first considering his head-to-head record with Ruud.
The winner will receive the ATP's World No. 1 ranking.
Here are my picks and predictions for Sunday's US Open Final between Casper Ruud and Carlos Alcaraz (odds via DraftKings Sportsbook).
Match Info
Date/Time: Sunday, Sept. 11, , 4 p.m. ET
TV: ESPN
Location: Arthur Ashe Stadium, Flushing, NY
Weather: 71 degrees, 35% chance of precipitation, 2-mph NE winds

Ruud vs. Alcaraz Pick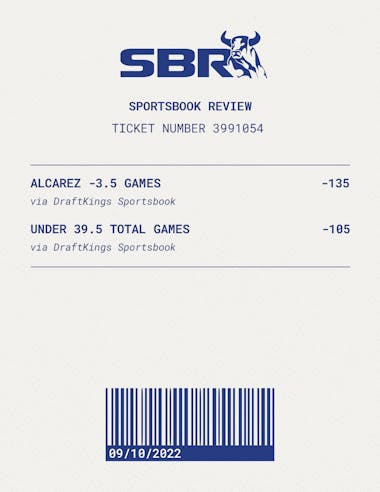 Ruud vs. Alcaraz Spread Pick
Alcaraz -3.5 games (-135) ★★★★★
Alcaraz is simply a better tennis player than Ruud. The Norwegian Ruud has a slight edge on serve, but the Spaniard Alcarez has an even-better forehand. He has better speed and a better feel at the net. Most of all, he has a gigantic edge on the backhand wing.
Ruud's backhand has improved to the point where it can no longer be called a weakness, but Sunday's final will be a completely different test. He was given rally balls to comfortably hit back into play without a ton of pace in his last four matches; however, Ruud will be up against some ridiculous pace coming from the Alcaraz backhand and his inside-out forehand.
I'm just not sure how Ruud's backhand holds up, and I'm also not convinced he has the net skills to really keep up with Alcaraz in the cat-and-mouse points.
We've seen these two play already, and both times the result was never in question. Alcaraz took each match without dropping a set, and while he may drop one Sunday I don't think this meeting will really be close. He's far better than Ruud and was able to return 135-mph bombs off Frances Tiafoe's racket in the semifinals.
Speaking of that match, these two men have faced very different levels of competition. You could argue this will be Alcaraz's easiest match since the third round. It will be such a step up in competition for Ruud, meanwhile, who has had a cakewalk to the final.
Check out the latest comprehensive and most trusted Sportsbook Reviews by SBR.
Ruud vs. Alcarez Total Games Pick
Under 39.5 (-105) ★★★★
I really like taking a bite on the Under. I don't see this one going five sets, considering how we've seen Ruud come out in just about every big match he's played.
Whether it was Friday's match against Karen Khachanov, or the Roland Garros final, or the Miami semifinals, Ruud's nerves have gotten the best of him in the first set every single time. He played a very cagey first stanza with Khachanov and it was only when he finally survived that his nerves settled.
It's hard to say how Alcaraz's nerves will be in his first Grand Slam final, but he's come out strong in his first sets this tournament. I don't think there's a way in for Ruud if he doesn't grab the first set, and with that, I really don't foresee a long match.
Where to Bet on Ruud vs. Alcaraz Picks
Here are our top-rated sportsbooks:
SEE ALSO: All picks, odds, and sports betting news. Be sure to check out SportsbookReview.com's community forums and betting tools.
Ruud-Alcaraz picks made 9/10/2022 at 2:10 p.m. ET