Pennzoil 400 Odds, Picks, Predictions: Will Kyle Busch Win at Home?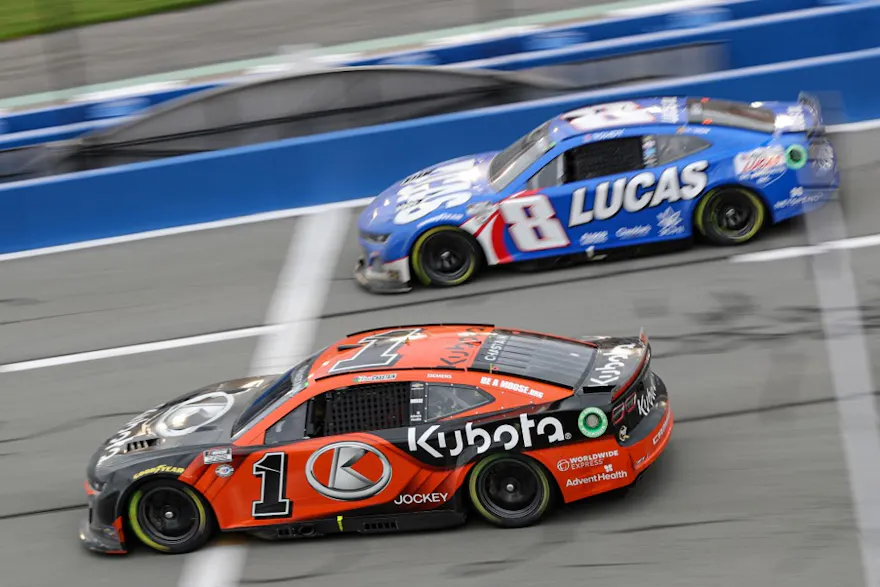 The West Coast swing continues in Sin City. Roll the dice this week with our Pennzoil 400 picks based on the best NASCAR odds.
Drivers take 267 spins around the 1.5-mile roulette wheel that is the Las Vegas Motor Speedway Sunday for the Pennzoil 400. Last season, Alex Bowman outdueled teammate Kyle Larson in overtime for the win.
So far this year, Ricky Stenhouse Jr. and Kyle Busch took home checkered flags from Dayton and Fontana. Sunday, Busch returns to his home track to wrap up a weekend where he'll have run a race in all three series. He'll look for back-to-back wins this season.
Here are our best 2023 Pennzoil 400 picks (odds via our top-rated sportsbooks; pick confidence based on a 1-to-5-star scale).
(Pennzoil 400 picks, odds and predictions by Rodrigo Villogomez, Pennzoil 400 power rankings by Henry John).
Pennzoil 400 picks to win
Kyle Busch +600 (via DraftKings) ⭐⭐⭐⭐
Ross Chastain +800 (via BetMGM) ⭐⭐⭐⭐⭐
Brad Keselowski +5000 (via FanDuel) ⭐⭐⭐
Pennzoil 400 picks made Saturday, March 4.
Pennzoil 400 odds
| | | | | |
| --- | --- | --- | --- | --- |
| Name | DraftKings | FanDuel | BetMGM | Caesars |
| Kyle Busch | +600 | +600 | +600 | +500 ❄️ |
| Joey Logano | +600 | +600 | +550 ❄️ | +600 |
| Ryan Blaney | +700 | +750 | +700 | +900 🔥 |
| William Byron | +800 | +850 🔥 | +800 | +800 |
| Kyle Larson | +800 | +850 🔥 | +700 | +700 |
| Ross Chastain | +1000 | +1000 | +900 ❄️ | +1000 |
| Martin Truex Jr. | +1500 | +1300 | +1300 | +1500 |
| Denny Hamlin | +1500 | +1600 🔥 | +1200 | +1200 |
| Christopher Bell | +1500 | +1600 🔥 | +1400 ❄️ | +1500 |
| Kevin Harvick | +2000 | +2000 | +2000 | +2500 🔥 |
Pennzoil 400 odds from Sunday, March 5 at 8:50 a.m. ET
Pennzoil 400 predictions
Kyle Busch (+600 via DraftKings) ⭐⭐⭐⭐
Surprisingly, Busch has just one victory on his home track in 23 career starts. However, he finished inside the top-3 eight times including three out of his last four visits to Vegas. Over the last six races here, he has the fifth best driver rating (100.3) among active competitors. Last spring, he started 37th before battling his way to a fourth place finish.
Busch took the track Friday night and won the truck series race. Overall, he led in 84 of 134 total laps and beat Zane Smith by almost five seconds. Last week, the No. 8 car took home the checkered flag in California. He carries all the momentum into this race.
The books also riding this narrative offer little price difference. However, Busch runs all three series this weekend. He'll have run 501 miles before he suits up Sunday. We've deducted a star given the difficulty of running the weekend triple crown.
Ross Chastain (+800 via BetMGM) ⭐⭐⭐⭐⭐
Despite not logging a win yet, Ross Chastain is one of the fastest drivers on the track. Last week, he won the first two stages at Fontana and led with the most laps. He clocked 22 of the fastest laps around the Auto Club Speedway. He had one other stage win this year, in stage two at Daytona.
In his two races here, Chastain had a third and a second place finish. He led the most laps last fall (68) before Joey Logano caught him with three to go. Chastain also led the most laps in the Spring race (83) and won stage two. He led 50 to go before a late caution took away his momentum and finished in third place.
The industry is high on Chastain this week, but the books aren't as sold on the Melon Man, listing him as the third favorite to win. His price remains the same no matter where you go and offers great value should he prevail Sunday.
Brad Keselowski (+5000 via FanDuel) ⭐⭐⭐
Taking a stab down the board, Brad Keselowski won't be on many people's radar. Last spring, his first in the No. 6 car, he finished in 24th place. His luck didn't improve much in the fall either, crossing the finish line 17th in October.
However, he does have three career wins in Vegas, the last one in the fall of 2018. In 19 starts on this track, he has 12 top-10 finishes and nine top-5 outings. He's also led the third most laps (316) since the Spring of 2020. He enters this week coming off of a solid seventh place finish in California.
Of all the longshots, Keselowski is as far down as you're comfortable going. He's consistently around the +4000 to +5000 range on most books and has the most upside of those listed around him.
Pennzoil 400 NASCAR Power Rankings
Pennzoil 400 power rankings courtesy of Sportsbook Review contributor Henry John.
10. AJ Allmendinger (+10000 via SuperBook)
Driving on a part-time basis last year didn't stop AJ Allmendinger from piloting the No. 16 Chevrolet to a ninth-place finish at Las Vegas last fall. "The Dinger" showed speed to begin the 2023 season and was unfortunately wrecked out of last week's race. A win may be a lot to ask, but Allmendinger is worth a look in top-10 markets as well as in group matchups.
9. Bubba Wallace (+3000 via SuperBook)
Bubba Wallace made headlines for all of the wrong reasons at Vegas last fall when he retaliated against Kyle Larson for a slidejob and wound up wrecking both cars in the process. It's been a slow start to the 2023 campaign for the No. 23 team as well. However, some of Wallace's best runs a year ago came on 1.5-mile ovals including his outright win at Kansas.
8. Alex Bowman (+2000 via SuperBook)
Alex Bowman captured the outright victory in this very race last year. He then missed the fall Vegas competition due to a concussion but is tough to ignore from a betting standpoint this weekend. While consistency was an issue with Bowman during his Cup Series career, he started the year off with consecutive top-10s, a promising sign.
7. Martin Truex Jr. (+1200 via SuperBook)
Martin Truex's 11th-place finish last week didn't indicate how strong his car was. The No. 19 team fell back into bad habits from a season ago with mistakes on the pit road that forced Truex to fight an uphill battle. These didn't keep him from two top-10 finishes at Las Vegas in 2022, a track where he's now finished eighth or better in nine of his last 10 starts.
6. Kevin Harvick (+2000 via SuperBook)
From a betting value standpoint, Kevin Harvick is the most appealing driver on the board. He showed last week that he'll continue to be a factor in his final season with a top-5 run at Fontana. The Fords haven't faired as well at the 1.5-mile ovals in recently, but Harvick maintained consistency with an 11.7 average finish in the last 10 Vegas races.
5. Kyle Larson (+800 via SuperBook)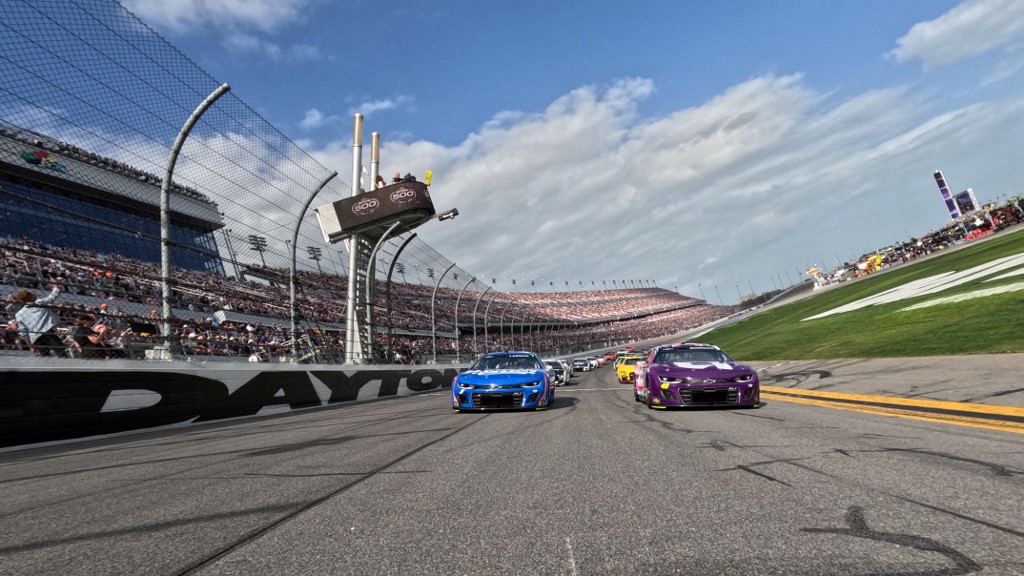 An electrical issue torpedoed any chances Kyle Larson had to compete last week. Such things are impossible to predict, but what is proven is a bounce back showing for the No. 5 team at Las Vegas. Since joining Hendrick Motorsprots, Larson has a win, a runner-up finish and a third top-10 showing to his name in four races.
4. Kyle Busch (+600 via SuperBook)
After winning at Fontana, Kyle Busch rides a wave of momentum to his hometown track. If history is any indication, another successful weekend could be on tap. Spanning the last 10 Cup Series races at LVMS, Busch owns a 6.5 average finish and placed top-4 in each of his previous four starts. RCR ran well here last year, something that's also promising.
3. Denny Hamlin (+1200 via SuperBook)
Over the past few seasons, Denny Hamlin ran as well as anyone at Las Vegas Motor Speedway. An outright win in the fall of 2021 headlined a five-race stretch where he had four top-5 finishes. Hamlin carried the flag for Toyota camp at Fontana with a sixth-place showing. He and the entire JGR camp are poised to take a step forward this week.
2. Joey Logano (+800 via SuperBook)
Joey Logano's victory in the South Point 400 last fall marked his third outright win in the past eight NASCAR Cup Series races at Vegas. He's also been very consistent. His 7.1 average finish over the previous 10 races at LVMS ranks third among all drivers. Combine those stats with his strong 2023 start and Logano is certainly a viable play.
1. Ross Chastain (+800 via SuperBook)
Ross Chastain swept the stage last week at Fontana and finished third despite his car trending loose down the stretch. The No. 1 driver also won at Daytona and should pick up right where he left off as championship runner-up. Chastain was also plenty fast at LVMS in both races last year with third and second-place finishes.
Pennzoil 400 info
Date: Sunday, March 5, 2023
Location: Las Vegas Motor Speedway, Las Vegas, NV
TV: FOX
Defending winner: Alex Bowman
Pennzoil 400 picks made 3/4/2023 at 12:31 p.m. ET
(21+. Gambling Problem? Call 1-800-GAMBLER)
* Bonuses not applicable in Ontario.
Related pages