Nathan's Hot Dog Eating Contest Betting Preview: Odds and Picks for July 4 Celebration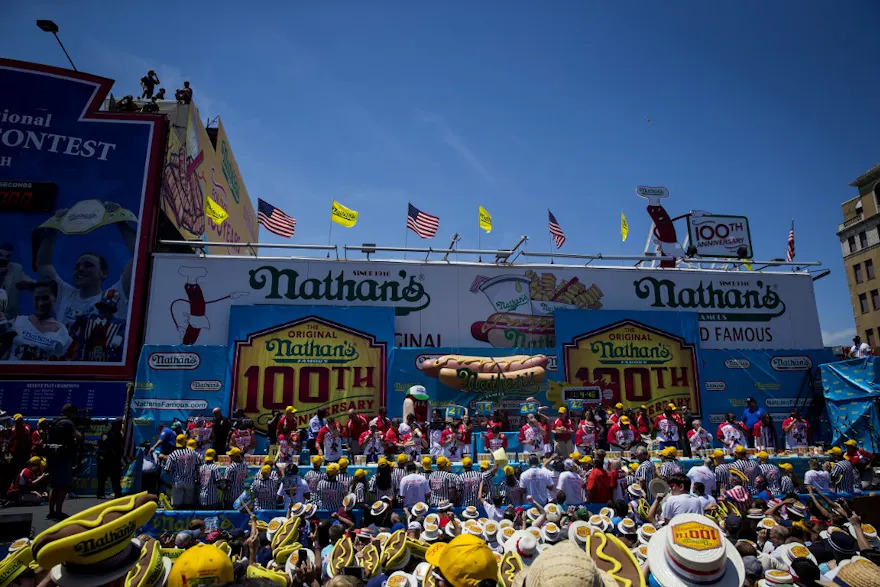 Will Joey Chestnut continue to dominate this prestigious eating contest? Find out who we like in our Nathan's Hot Dog Eating Contest picks and preview.
Every July 4 for the last 44 years, the world's best competitive eaters make their way to Coney Island for the world's most famous eating competition. For the last several years, no one has been able to stop Joey Chestnut.
Once again he'll take to the stage to defend his title and as always, raise the bar he continues to set year after year.
Miki Sudo is back after a year off to resume her place at the top of the sport in the women's division. Michelle Lesco took over the women's title last year.
https://www.youtube.com/embed/SkJthXR-e34
Here are my picks for the Nathan's Hot Dog Eating Contest at Nathan's Famous Corporation in Coney Island (odds via DraftKings Sportsbook and Caesars Sportsbook).
Nathan's Hot Dog Eating Contest Info
When: Monday, July 4Time: 10:45 a.m. ETWhere: Coney Island, Brooklyn, NYHow to watch: ESPN
Nathan's Hot Dog Eating Contest Odds Analysis
Chestnut is the consensus favorite in this contest and it is reflected in his price no matter which book you choose. Both DraftKings and Caesars opened at -3000. Caesars hasn't moved, but DraftKings dropped those odds to -3500 over the weekend.
If you are betting the field, you'll find the rest of the competitors at +1200 across the books.
https://twitter.com/johnewing/status/1543605482509697024
Nathan's Hot Dog Eating Contest Picks
Joey Chestnut to win (-3000 via Caesars)Miki Sudo to win women's contest (-5000 via DraftKings)Nick Wehry Over 48.5 hot dogs eaten (+100 via DraftKings)
Top Hot Dog Eating Contest Predictions
Chestnut (-3000)
Chestnut has lost only one of these competitions since he dethroned Takeru Kobayashi in 2007. Fellow American Matt Stonie ended a streak of eight straight wins by "Jaws" in 2015. Chestnut started a new streak the following year that still holds entering the 2022 contest. In that streak, he has consumed a total of 438 hot dogs and topped the 70-dog mark each time. Chestnut set a new record each of the past two years, including his 76 hot dogs eaten last year.
The 14-time champion has no competition so long as he takes the stage. Last year, he beat Geoffrey Esper by 26 hot dogs. The question is not will he win, but by how many.
Sudo (-5000)
Last year was the first time since 2013 that someone other than Sudo took home first place in the women's division. Lesco put down 30 3/4 hot dogs while Sudo stepped away during her pregnancy.
Before her absence, Sudo devoured 48.5 hot dogs en route to the win on top of a personal best and a new women's world record in 2020. It was a vast improvement over her 31 dogs in 2019. Before that, her best outing was 41 hot dogs in 2017.
Lesco has been her biggest competitor over the last few years, however, Sudo has beaten her by at least five hot dogs in each of their last three meetings.
Nick Wehry Over 48.5 hot dogs eaten (+100)
Nick Wehry has managed to improve his overall numbers year over year. He has gone from 36 hot dogs in 2019 to 44 last year. He posted a five hot dog jump from 2020 to 2021 which makes this prop all the more interesting. Should he make the same improvement again this year, he will clear this mark by a half of a hot dog.
He and his fiance, Sudo, will once again compete together for the first time since the birth of their child adding to his motivation to achieve another personal best.
Past Winners
2021 - Chestnut (76)2020 - Chestnut (75)2019 - Chestnut (71)2018 - Chestnut (74)2017 - Chestnut (72)2016 - Chestnut (70)2015 - Matt Stonie (62)
Where to Bet on Nathan's Hot Dog Eating Contest Picks
Here are our top-rated sportsbooks:
FanDuel SportsbookCaesars SportsbookDraftKings SportsbookPointsBetBetMGM
SEE ALSO: All picks, odds, and sports betting news. Be sure to check out SportsbookReview.com's community forums and betting tools.
Nathan's Hot Dog Eating Contest picks from 7/3/2022 at 1:47 a.m. ET.