Cook Out Southern 500 NASCAR Power Rankings and Picks: Target Strong Dirt-Track Drivers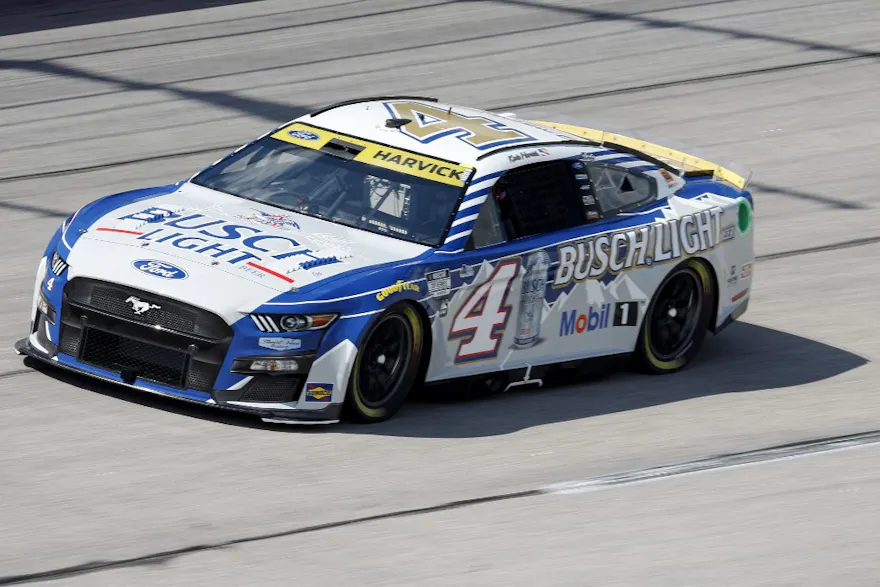 Breaking down the field and drivers to monitor ahead of Sunday night's action at Darlington Raceway with our NASCAR power rankings and picks for the Cook Out Southern 500.
The NASCAR Cup Series Playoffs begin in earnest this weekend. The cars will take to the egg-shaped oval known as Darlington Raceway on Sunday night for the 72nd annual running of the Cook Out Southern 500.
Of course, they don't call Darlington the "Track Too Tough to Tame" for nothing. With two very different ends, it can be extremely difficult to nail car setup in a way that affords drivers good balance all the way around the track. On top of that, Darlington presents one of the oldest and most abrasive surfaces of any track NASCAR visits. Quick tire fall-off can lead to some very ill-handling cars only a handful of laps into a run.
As far as handicapping strategy for Sunday night's Southern 500, bettors must seek out drivers who have proven capable of rising to the occasion at this very tough track. Given the sand-like surface, it may be wise to consider drivers who have a background racing on dirt.
Check out our NASCAR betting picks and power rankings for the 2022 Cook Out Southern 500 (odds via DraftKings Sportsbook, BetMGM).
Cook Out Southern 500 Race Odds
| | | |
| --- | --- | --- |
| Driver | DraftKings Sportsbook | BetMGM |
| Joey Logano | +600 | +600 |
| Christopher Bell | +700 | +900 |
| Tyler Reddick | +750 | +700 |
| Kyle Busch | +750 | +800 |
| William Byron | +800 | +1000 |
| Kyle Larson | +900 | +700 |
| Austin Cindric | +1000 | +1600 |
| Ross Chastain | +1200 | +1000 |
| Denny Hamlin | +1200 | +800 |
| Chase Elliott | +1600 | +1000 |
Cook Out Southern 500 NASCAR Power Rankings
10. William Byron (+1000 via BetMGM)
When the NASCAR Cup Series visited Darlington Raceway in the spring, William Byron looked to be on his way to a victory. That was until Joey Logano nudged him into the wall and the contact caused Byron to cut down a tire. The resulting 13th-place finish was hardly indicative of the speed Byron had. He was also a top-5 finisher in both of last year's races there.
9. Martin Truex Jr. (+2000 via DraftKings)
The only non-playoff driver included in this week's NASCAR betting power rankings is Martin Truex Jr. With a pair of wins and six top-10 finishes in his last 10 starts at Darlington, Truex is one of the best at preserving his equipment at this highly abrasive track. The No. 19 car came home fourth in last year's Cook Out Southern 500.
8. Kyle Busch (+800 via BetMGM)
As the entire NASCAR world patiently awaits an announcement on where Kyle Busch will be driving in 2023 and beyond, he also has a championship to race for. The No. 18 Toyota has failed to finish in each of the last two races at Darlington. Prior to that, however, Busch managed to amass four top-3 finishes and six top-10s in a seven-race span.
Few drivers in Sunday's field have the skill set to match "Rowdy" at this tricky oval.
7. Denny Hamlin (+1200 via DraftKings)
It has been a roller coaster of a year for Denny Hamlin and the No. 11 team. Thanks to a pair of regular-season wins, Hamlin enters the playoffs in a pretty solid position as far as the standings are concerned. Of course, he can remove all doubt with regard to advancing by successfully defending his win in last year's Cook Out Southern 500.
Hamlin has three wins in his last nine starts at "The Track Too Tough to Tame."
6. Christopher Bell (+900 via BetMGM)
Christopher Bell only has six NASCAR Cup Series starts at Darlington. That said, he sure has some experienced teammates at Joe Gibbs Racing to learn from. Bell earned a career-best sixth-place finish there back in the spring.
After qualifying on the front row for Sunday's playoff race, the No. 20 car looks to be one to watch. His background as a dirt-track racer makes Bell all the more appealing this week from a betting standpoint.
5. Chase Elliott (+1600 via DraftKings)
Darlington Raceway has really been an all-or-nothing track for Chase Elliott over the years. The No. 9 team finished fifth back in the spring and has five top-10 finishes in the last 10 races. However, Elliott has also finished 19th or worse in four races over that same span. While this probably isn't a race that Elliott will win, the regular-season points champ is certainly capable of having a strong run.
4. Tyler Reddick (+750 via DraftKings)
Tyler Reddick scored a runner-up finish at Darlington back in the spring. He is one of a handful of drivers in the field who traces his roots back to racing on dirt. Very few can make the high line work as well as Reddick, and Darlington is certainly a track where running up against the wall is advantageous. Expect more than one Darlington Stripe on and a strong run out of the No. 8 car this weekend.
3. Kevin Harvick (+4000 via DraftKings)
No one has done a better job of taming the "Lady in Black" over the years than Kevin Harvick. In the last 10 trips NASCAR has made to South Carolina, Harvick has managed to record a ridiculous 3.9 average finish. He won twice back in 2020 and came home fourth this spring.
The veteran has proven capable of taking care of his car and tires better than anyone in the Cup Series today. The 40-1 odds on "The Closer" are tough to ignore given his history at Darlington.
2. Joey Logano (+600 via BetMGM)
With an average finish of 8.8 in the last 10 races at Darlington, Joey Logano has proven to be one of the best at surviving this difficult track. Needless to say, his win back in the spring was hardly a fluke. The same can be said about him qualifying on the pole for Sunday's Cook Out Southern 500. With such a favorable track position, Logano is sure to be a factor once again this weekend.
1. Kyle Larson (+900 via DraftKings)
Prior to a DNF this spring, Kyle Larson had finished runner-up in three consecutive starts at Darlington. He nearly ran down Truex in the spring race a year ago. The same exact scenario played out in last year's Southern 500. Larson sent it on the final lap but just ran out of time in his bid to track down Hamlin for the win.
Of all the drivers in Sunday's field, Larson has the most notable dirt-track pedigree. The No. 5 car was fast in qualifying and will start seventh. Darlington suits Larson's skill set perfectly, and it's only a matter of time until he finds victory lane here.
Where to Bet on the Cook Out Southern 500
SEE ALSO: All picks, odds, and sports betting news. Be sure to check out SportsbookReview.com's community forums and betting tools.
Cook Out Southern 500 picks made 9/3/2022 at 6:53 p.m. ET