Men's Wimbledon Odds, Picks, and Tournament Preview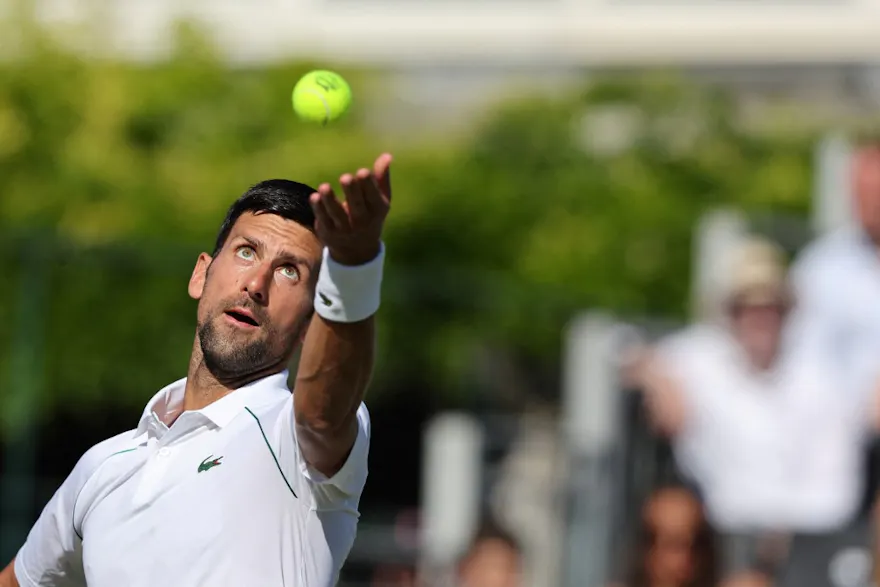 The third Grand Slam of the year is about to go down in London. We break down the 2022 Wimbledon tennis tournament with our top picks and predictions.
Wimbledon is a two-week tournament that every tennis fan has circled on their calendar. While there is palpable intrigue this year, it's important to remember that there are no ranking points being awarded to the winner of the draw due to the fact that Russians and Belarusians have been barred from competing in this year's tournament.
Still, it's a great field, and the players will be competing for prize money. Last year's champion, Novak Djokovic, is once again the favorite to win it all. Rafael Nadal is also in the field, along with 2019 finalist Matteo Berrettini.
However, world No. 1 Daniil Medvedev and No. 8 Andrey Rublev aren't playing. Alexander Zverev — the world No. 2 who was injured at the French Open ? is also unable to compete.
Here are my outright picks for the ATP Tour's Wimbledon Tennis Tournament in London, England (odds via DraftKings Sportsbook and FanDuel Sportsbook).
Wimbledon Odds
https://datawrapper.dwcdn.net/4d17Y/1/
Wimbledon Odds Analysis
With three of the top eight players in the world absent from the field, Djokovic has become ever-so-slightly more expensive to back at -120 at DraftKings. He was listed at -110 just mere weeks ago. After him, there's been a drastic odds shift.
Berrettini had the second-shortest odds for much of the last year, but he drifted out as long as +1300 after he had hand surgery. He promptly won nine straight matches on grass — capturing two titles — and is right back to where he was before surgery odds-wise.
We've also seen a bit of steam on Nick Kyrgios and Felix Auger-Aliassime.
Wimbledon Picks
Novak Djokovic (-120 via DraftKings)Matteo Berrettini (+600 via FanDuel)Hubert Hurkacz (+1500 via DraftKings)Marin Cilic (+3500 via DraftKings)
Who Will Win Wimbledon?
Djokovic (-120)
What's stopping Djokovic from winning Wimbledon? In short, nothing. It's easy to forget given his stunning year-long Grand Slam drought, but the Serb is still very much the best tennis player in the world. He was taken out by Nadal at the French Open in an epic four-set encounter, but that shouldn't be a knock against the world No. 3 considering Nadal has lost three matches at Roland Garros in his entire career.
Djokovic won Rome (and nearly Madrid) prior to Roland Garros and appeared to be back in top form. When he's even 75% of himself, he's still the best grass-court player in the world, having gone an incredible 112-22 across all levels on the surface. He is excellent at pushing and slicing the ball, which really works well here.
The bracket, in this case, broke right for Djokovic. Carlos Alcaraz can't be considered the same threat on grass as he is on the hardcourt, so Djokovic should be able to waltz right to the semifinal. He's the favorite for a reason.
Berrettini (+600)
Though Djokovic should still be considered the best grass-court player in the world, Berrettini is the most in-form. In fact, it's only a matter of time before there's a changing of the guard, and it could happen this year.
The Italian has an unstoppable serve and forehand, but what's held him back from massive success is his weak backhand, which he slices to get out of trouble. His weakness turns into a strength on grass, though, considering the slice skids off the surface and makes life a nightmare.
As a result, Berrettini hardly loses on grass. He's 31-3 on it over the last three seasons, losing only to Djokovic in last year's final, Roger Federer at Wimbledon the year before that, and David Goffin. He can be defeated only by Djokovic, and that won't come until the final.
Hurkacz (+1500)
Hurkacz is another player who loves the grass, reaching the semifinal here last year and taking a set off of Djokovic in the third round three years ago. He can absolutely bomb his serve on this surface at an almost-comical speed, and, like Berrettini, will simply take the racquet out of his opponent's hands.
The Pole has to be considered here due to his great draw, at least early on. He'll dodge the Berrettini quarter and should sleepwalk to the quarterfinal, at which point he'll meet Djokovic. Along the way, he will see the likes of Adrian Mannarino, Cam Norrie, and Frances Tiafoe - all opponents he'd be favored over.
If there's a sudden injury to Berrettini, or if he's upset, Hurkacz becomes the guy you want to be invested in if it's not Djokovic. Considering a much worse version of Hurkacz played him close years ago here, I like his chances of an upset.
Cilic (+3500)
I am once again asking oddsmakers to respect Cilic.
If you thought his run to the semifinals at Roland Garros was crazy, just wait for Wimbledon. Cilic is very good on clay, but it's decidedly his worst surface. Grass is probably his best with the way he can bomb serves and forehands, and, like Berrettini, he won't have to worry about Djokovic until the final.
Cilic is projected to face Nadal in the fourth round in what will be his stiffest test of the quarter, but it should be noted that he's beaten Nadal three times, including once at a grass exhibition. He is capable of doing it again, especially considering the state of Nadal's injured foot.
Where to Bet on the ATP Wimbledon Tennis Tournament
Here are our top-rated sportsbooks:
FanDuel SportsbookCaesars SportsbookDraftKings SportsbookPointsBetBetMGM
SEE ALSO: All picks, odds, and sports betting news. Be sure to check out SportsbookReview.com's community forums and betting tools.