ATP Tour Picks and Preview: French Open at Roland Garros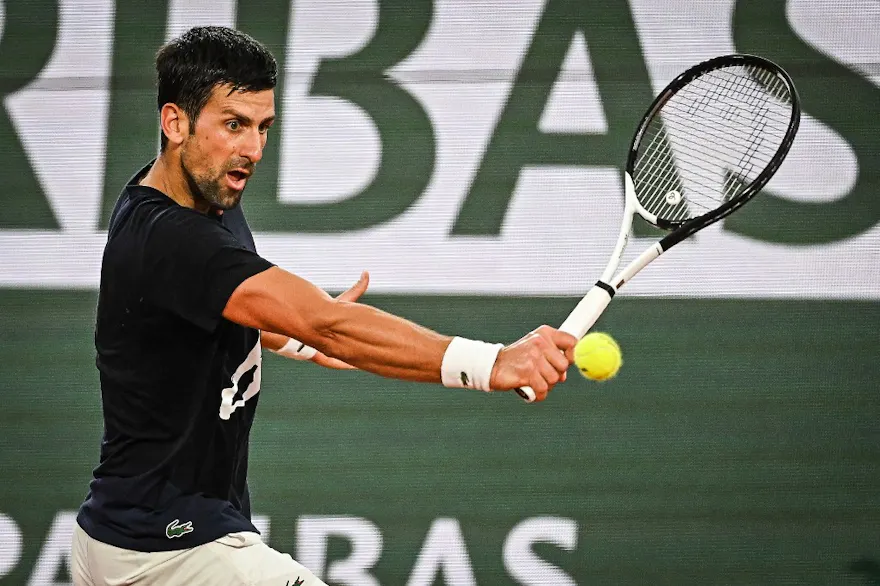 The second Grand Slam tournament of the year is about to go down in Paris, and we break down the 2022 French Open with our top picks and predictions for Roland Garros.
We're gearing up for one of the most fun tournaments of the year on the ATP circuit: the French Open at Roland Garros in Paris, France. Hundreds of professional tennis players will come together in Paris for the chance at etching their name in the history books and coming away with 2500 coveted ranking points.
The men's draw is more open than ever. With Rafael Nadal nursing an injury, it's really anyone's game. Novak Djokovic looks poised to take home his 21st Grand Slam, but young upstart Carlos Alcaraz — perhaps the best player in the world at the moment — is hot on his heels.
https://twitter.com/rolandgarros/status/1527665535214931968
Here are my outright picks for the ATP Tour's French Open tennis tournament at Roland Garros in Paris, France (odds via PointsBet).
ATP French Open Odds
https://datawrapper.dwcdn.net/YtRm5/1/
ATP French Open Odds Analysis
For all intents and purposes, Djokovic and Alcaraz are co-favorites here. Some books are offering the two at nearly-identical prices, though Djokovic has come in as the favorite everywhere. That's a big swing that's taken place in the last week after Nadal was injured in a loss to Denis Shapovalov in Rome.
Alcaraz, once +1200 in March to win this tournament, is now the second-likeliest player to win. Stefanos Tsitsipas was sitting as high as +800 prior to the draw and after it was revealed he won't have to compete with Djokovic, Nadal or Alcaraz in his half of the bracket, he was slammed down to +400 or lower.
https://twitter.com/johnewing/status/1527631475956277249
ATP French Open Picks
Novak Djokovic (+200)Stefanos Tsitsipas (+400)Jannik Sinner (+2800)Marin Cilic (+25000)
SEE ALSO: Preakness Stakes 2022 Betting Preview
Who Will Win the ATP French Open?
Djokovic (+200)
Yes, I know. I'm missing Alcaraz's name. He very well may take home his maiden Grand Slam, but these are betting picks — not predictions. We're looking for value here, and all value has been exhausted from Alcaraz at this point. If you got him at +1200 or higher a month or so ago, great. If not, you need to look elsewhere than the sixth-ranked men's player in the world.
Djokovic should win his quarter here with ease. While I'm cognizant of Nadal's presence in the very same quarter, the Spaniard simply isn't as poised to win this tournament as he has been in years past. Nadal is dealing with a foot injury that helped knock him out of Rome and prior to that had dealt with a ribs injury following Indian Wells.
So, I like Djokovic in that match — if Nadal even reaches that stage. He defeated Rafa in the semifinals here last year and he'll do it again. After that he gets Alcaraz in the semis, who he probably would have beaten in Madrid if not for his lack of match fitness. Now in top form, he really is the deserving favorite for the French Open.
SEE ALSO: All ATP Tennis Odds
Tsitsipas (+400)
If you're not betting on Djokovic, you need to be on Tsitsipas. While he fell off a cliff after his defeat at the hands of the world No. 1 in last year's Roland Garros final, Tsitsipas has recovered and holds more wins this year than anyone on tour.
The Greek has been on fire since returning to his beloved clay and has already picked up a win at Roland Garros as the clear-cut winner of Thursday's draw. He won't have to deal with the half of the bracket with Djokovic, Nadal, and Alexander Zverev and should have a cakewalk to the final. The fourth quarter is headlined by Daniil Medvedev — a dreadful clay player — and Andrey Rublev, who Tsitsipas has beaten routinely, especially on the dirt.
Tsitsipas has the quality and experience required to win this tournament, and I think he actually may do it.
Sinner (+2800)
So, I don't think Jannik Sinner is going to win, but this is where we hunt for tremendous values which we can hope to ride to the final. At that stage, we hedge and make money, because there's likely no way the young Italian is beating Djokovic, Nadal, or Alcaraz in a Grand Slam final.
Sinner has the same benefit here as Tsitsipas opposite the side of death. The toughest task in front of him is probably taking down Nikoloz Basilashvili, Andrey Rublev, or Tommy Paul and Marin Cilic. That's a very manageable ask to get Sinner — at +2800 — to the semifinal. From there, who knows! He may have the confidence needed to take out Tsitsipas and reach the final. This seems like a very good deal.
Cilic (+25000)
Sure, let's go with one more longshot in the non-Djokovic side of the draw. Marin Cilic has won a Grand Slam before (2014 US Open) and has been to the quarterfinals at Roland Garros twice, where he lost to Stan Wawrinka and Juan Martin Del Potro in consecutive years (2017-18).
Cilic is no slouch on clay with a 165-105 career record across all surfaces and has put together some great runs in the last six months. More important than his ability, though, is his path to the semifinals. He's projected to draw Pablo Carreno-Busta in the third round, who he owns a 4-1 record against and has beaten in the only meeting on clay between the two.
Then, with Medvedev very likely going down early, he'll probably just need to beat Miomir Kecmanovic and Sinner/Paul to get to the semis. The Croat played an incredibly tight match with Kecmanovic at Indian Wells this year, losing in a third-set tiebreaker and losing a lead in the match. He can absolutely beat the younger Serb in a best-of-five.
So, this is a really adventurous bet, but it's one with value. You take Cilic and then plan to hedge in the semifinal if he squares off with Tsitsipas.
Where to Bet on the ATP French Open
Here are our top-rated sportsbooks:
FanDuel SportsbookCaesars SportsbookDraftKings SportsbookPointsBetBetMGM
SEE ALSO: All picks, odds, and sports betting news. Be sure to check out SportsbookReview.com's community forums and betting tools.