Hollywood Casino 400 Betting Preview: Is it Safe to Fade Kyle Larson?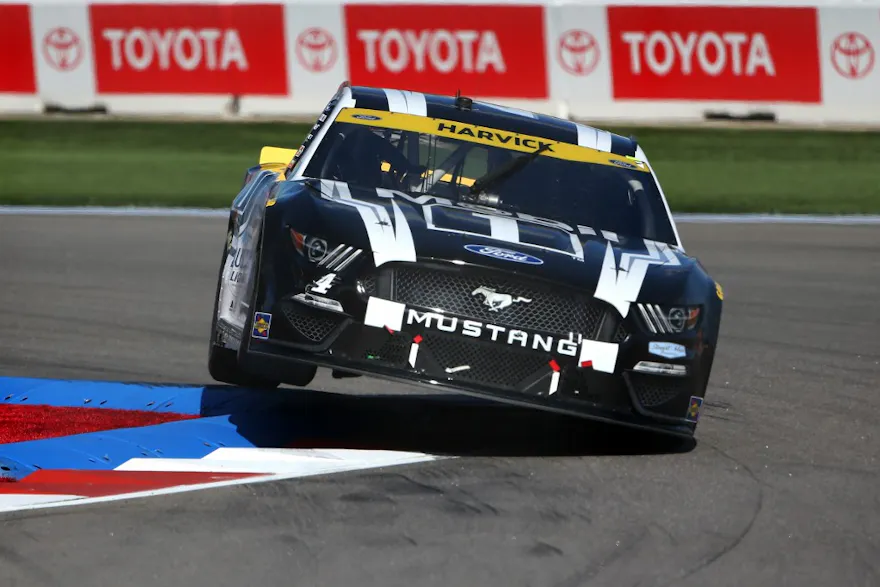 There are a lot of betting options at plus money for NASCAR races. Read ahead for help on which picks to make for Sunday's Hollywood Casino 400.
After Kyle Larson became the first driver to qualify for the Championship Four with a win at last week's Autotrader EchoPark Automotive 500, we enter the second race of the Round of Eight.
Seven drivers will look to join Larson by winning Sunday's race, while six others will try to create the best chance of advancing by gaining more points than the other competitors. Here are my outright picks for NASCAR's Hollywood Casino 400 at Kansas Speedway in Kansas City, Kansas (odds via DraftKings).
Hollywood Casino Odds to Win
Kyle Larson +240Denny Hamlin +550Kyle Busch +600Chase Elliott +800William Byron +900Ryan Blaney +1000Martin Truex Jr. +1100Brad Keselowski +1400Joey Logano +1400Kevin Harvick +1800
Hollywood Casino 400 Betting Odds Analysis
Larson is favored at +240 to win Sunday's race.
This isn't surprising, by any means, because he has basically been the fastest guy all season. This fact is what the betting odds account for by favoring him
I just don't understand why anybody would invest in him – at this price, no less – to win a second race in a row. It's hard to do, especially when he has less incentive to perform well after he already secured his spot in the next round.
Additionally, I find William Byron at +900 to win rather odd. He is favored more heavily than bigger names like Joey Logano and Brad Keselowski (+1400) who are still in playoff contention. I am not seeing any value in Byron.
Hollywood Casino 400 Picks
Kevin Harvick (+1800)Brad Keselowski (+1400)
SEE ALSO: United States Grand Prix picks
Hollywood Casino 400 Predictions
Kevin Harvick (+1800)
You might have dismissed Harvick from your list of go-to guys to bet on earlier in the season when he clearly demonstrated regression in his quality relative to his superb regular season performance last year.
Harvick, however, has turned it up when it counts the most later in the season.
He failed to finish in the top-10 only once through seven races since the start of September. The one exception was the consequence of a wreck. Stated differently, since September, Harvick has finished in the top-10 in six of seven races. During this same span, he has produced three top-five finishes, including last week in Texas.
Evidence of Harvick's strong form lies in his consistency. He consistently finishes strong despite suffering disadvantages like a negative starting position.
Last week, for example, he finished fifth in Texas despite starting in 24th place. Moving up 19 spots is generally a tough ask, and Harvick did just that.
The race at Talladega, which is the race before the one in which Harvick crashed, was impressive in a different respect.
Very often, Harvick struggles at Talladega, which is why his average finishing position there is still only 15.57. However, Harvick's strong form persisted in his last race there. On October 4, he finished in eighth place at Talladega.
Bad history is not something Harvick has at Kansas. Kansas Speedway is already one of Harvick's better tracks based on stats like recent average driver rating and average finishing position. Moreover, in recent years, Harvick has been on-point at Kansas. He has finished ninth, fourth, second, and second, respectively, in his last four tries at Kansas Motor Speedway.
He accomplished his last second-place finish at this track back in May when he hadn't yet entered his September heater. Now he is in peak form, so he is in a great spot to end his streak of second-place finishes by winning.
The +1800 odds are ridiculously high for Harvick. I don't get why Byron, for example, is only at +900.
While Harvick is no longer in playoff contention, he showed how little this fact matters to him by finishing fifth in his last race. He clearly still cares about maintaining his strong form.
Brad Keselowski (+1400)
Keselowski distinguishes himself positively from every other candidate to win the race. With everything to compete for, Keselowski has all the incentive to perform well.
Unlike guys like Chase Elliott and Martin Truex Jr., for example, Keselowski enjoys strong overall form. He finished in the top-seven in four of his last five races. In contrast to the likes of Denny Hamlin and Logano, Keselowski also enjoys a superb recent history at this track with three top-four finishes in his last three tries.
Picks made 10/21/2021 at 11 p.m. ET.