Go Bowling at the Glen NASCAR Power Rankings and Picks: Road Course Veterans the Favorites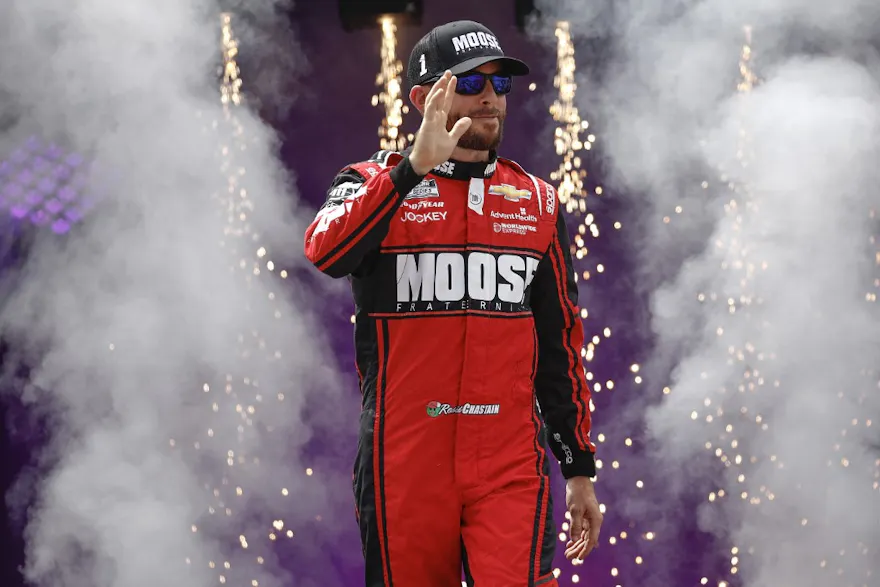 Breaking down the field and drivers to monitor ahead of Sunday's action at Watkins Glen International with our NASCAR power rankings and picks for the Go Bowling at The Glen.
This weekend, the NASCAR Cup Series heads to the southern tip of Seneca Lake in Upstate New York. Watkins Glen International, one of the fastest road courses on the NASCAR circuit, will host the Go Bowling at The Glen on Sunday afternoon.
Because road course racing drastically favors certain drivers and skill sets over traditional NASCAR ovals, momentum likely won't be as big of a factor when handicapping this week's race. Our Go Bowling at The Glen NASCAR betting power rankings actually includes 11 drivers as opposed to the usual 10. It simply was too difficult to leave any of these drivers out of this week's column!
Check out our NASCAR betting picks and power rankings for the 2022 Go Bowling at The Glen. (Odds via DraftKings Sportsbook, BetMGM, and FanDuel Sportsbook).
Go Bowling at The Glen Race Odds
| | | | |
| --- | --- | --- | --- |
| Driver | DraftKings | BetMGM | FanDuel |
| Chase Elliott | +500 | +500 | +500 |
| Tyler Reddick | +600 | +600 | +600 |
| Kyle Larson | +900 | +800 | +900 |
| Ross Chastain | +1000 | +900 | +1000 |
| Austin Cindric | +1000 | +1000 | +1200 |
| Ryan Blaney | +1200 | +1400 | +1300 |
| Daniel Suarez | +1200 | +1200 | +1300 |
| Chase Briscoe | +1500 | +1600 | +1300 |
| A.J. Allmendinger | +1500 | +1200 | +1400 |
| Christopher Bell | +1800 | +1600 | +1800 |
Go Bowling at The Glen NASCAR Power Rankings
10. Buescher (+2500 via DraftKings)
With finishes of second, sixth and tenth in the last three road course races run, it seems safe to say that Chris Buescher is one of the more underrated road racers in NASCAR today. Hell, he managed to achieve that tenth-place run at Indianapolis three weeks ago despite his car catching on fire in the pits!
9. Blaney (+1400 via BetMGM)
Ryan Blaney has consistently navigated to strong finishes at these tracks. Since the start of the 2019 season, Blaney's average finish of 11.8 in 16 road course starts ranks third among active drivers. The No. 12 car notably came home sixth at the comparable Sonoma Raceway on June 12.
8. Allmendinger (+1500 via DraftKings)
He may not be running in the Cup Series on a full-time basis, but A.J. Allmendinger is without a doubt one of the best road racers in all of NASCAR. He has proven as much by dominating on the road courses in the Xfinity Series and scoring top-10 finishes in each of his last two Cup starts at Road America and Indianapolis. Allmendinger also won the Cup Series race at Watkins Glen International back in 2014.
7. Kyle Busch (+2500 via DraftKings)
Last week, Kyle Busch finally put an end to an eight-race streak in which he failed to record a single top-10 finish. Despite the fact that it has been a mixed bag for "Rowdy" in road races, he does have five top-5 finishes since the start of 2019. Busch has also been one of the best in the business at Watkins Glen specifically. Toss out a DNF result in 2014 and Busch has a 4.8 average finish in his last nine starts at WGI.
6. Kevin Harvick (+2800 via BetMGM)
When it comes to drivers who are renowned for their road racing abilities, Kevin Harvick isn't one of them. However, he has fared better at Watkins Glen than at other road circuits over the years. The 46-year-old has scored top-10 finishes in each of his last three starts in the Finger Lakes. Bettors also must not discount the massive wave of momentum that Harvick is riding.
5. Denny Hamlin (+2500 via DraftKings)
Yet again, a mistake on pit road cost Denny Hamlin a shot at winning last week's race. The No. 11 team will get another shot at redemption this Sunday at a track where Hamlin won back in 2016. In addition, he has been among the top five finishers in four of the last five Cup Series races held at WGI. Since the start of 2019, Hamlin has zero road course wins. However, his 11.7 average finish in 16 starts over that span only ranks second to this week's betting favorite.
4. Martin Truex Jr. (+2000 via DraftKings)
Last week's race saw Martin Truex Jr. lose a little more ground to Blaney in the battle to make the playoffs on points. Time is running out for the No. 19 team to make a move. Luckily, Truex is still one of the best when it comes to road racing. The veteran has certainly had a knack for running well at Watkins Glen, where he has finished top-3 in each of his last four starts.
3. Kyle Larson (+900 via DraftKings)
Last year's Go Bowling at The Glen race winner checks in with the third-shortest odds for Sunday's race. Kyle Larson has been nowhere near as dominant in 2022 as he was last season. That said, he still turned in a third-place showing at Road America on July 3. His 11.9 average finish in 14 road course starts since 2019 ranks fourth among active drivers.
2. Ross Chastain (+1000 via DraftKings)
Ross Chastain scored his first career NASCAR Cup Series win at Circuit of the America back on May 27. If not for an iffy penalty in the aftermath of the race at Indianapolis, the "Melon Man" would be a perfect 4-for-4 in top-10 finishes on road courses this season. Chastain only missed out on a top-10 finish in last year's Go Bowling at The Glen due to running out of fuel on the very last lap.
1A. Tyler Reddick (+600 via DraftKings)
Not only did Tyler Reddick win the most recent NASCAR Cup Series road race at Indianapolis, but he did so in a dominant fashion. Given that he also won at Road America last month, the No. 8 team has to be considered a top contender for Sunday's race at The Glen. Along with breaking into the winner's circle the last two times the Cup Series has raced at a road course, Reddick has been a top-10 finisher in seven of his 13 road races run since 2019.
1. Chase Elliott (+500 via DraftKings)
It should come as no surprise that Chase Elliott is the betting favorite ahead of Sunday's Go Bowling at The Glen. In 16 starts on road courses since 2019, Elliott has six outright wins and 11 top-5 finishes. At Watkins Glen specifically, he has finished first, first and second in his last three starts. Perhaps the No. 9 team will finally score their first road course win of the season this weekend.
Where to Bet on Go Bowling at The Glen
Here are our top-rated sportsbooks:
FanDuel Sportsbook
Caesars Sportsbook
DraftKings Sportsbook
PointsBet
BetMGM
SEE ALSO: All picks, odds, and sports betting news. Be sure to check out SportsbookReview.com's community forums and betting tools.
Go Bowling at The Glen picks made on 8/19/2022 at 3:32 p.m. ET.