Yankees vs. Red Sox Same Game Parlay Picks: Starters Stifle Most Bats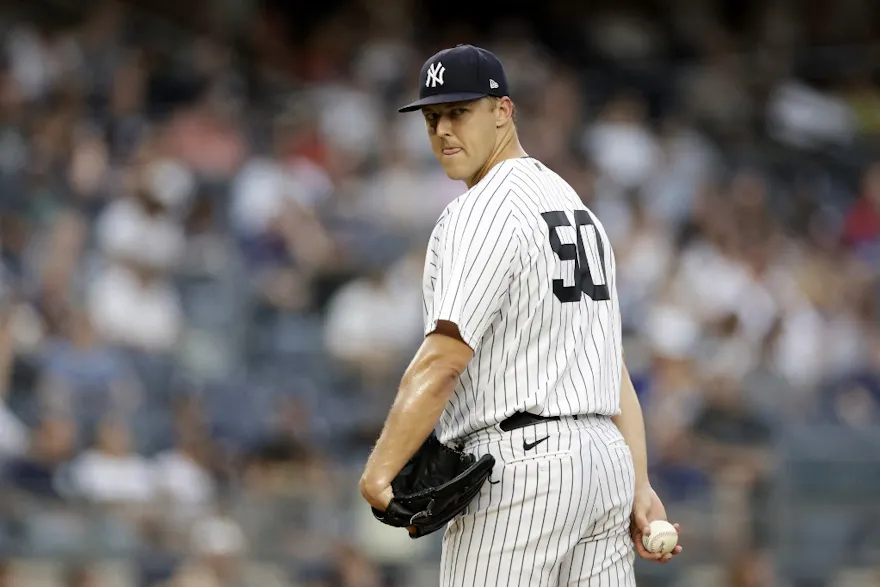 The Boston Red Sox have held their own against the rival New York Yankees this weekend, splitting the first two games. Heading into Sunday night's rubber match, how far can pride take Boston in another bout against New York? Here are our Yankees-Red Sox same-game parlay picks for Sunday Night Baseball.
Though Boston sits at the bottom of the AL East table, the Red Sox linger just 4.5 games back of a wild-card spot in a jam-packed American League race. Does starter Michael Wacha's return from the injured list give Boston an edge on Sunday?
Here are my same-game parlay picks for the Sunday Night Baseball matchup between the Yankees and Red Sox (odds via FanDuel Sportsbook).
Yankees vs. Red Sox Same Game Parlay Picks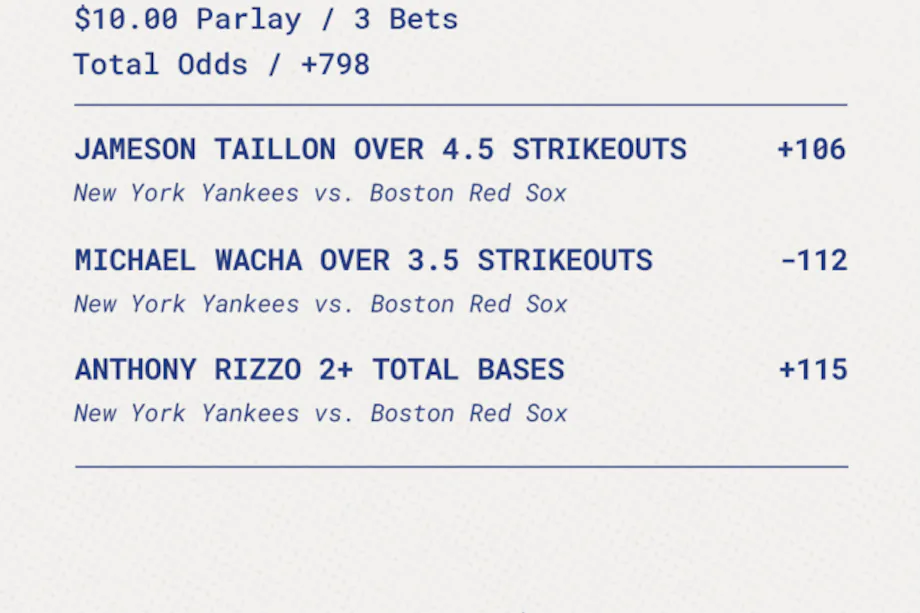 Same Game Parlay Predictions Yankees-Red Sox
Taillon Over 4.5 strikeouts (+106)
We're looking for Ks in Sunday night's game between the Yankees and Red Sox. It starts with Yankees righty Jameson Taillon, who has seen an uptick in his raw strikeout totals of late and finds himself with a soft line worth exploiting at FanDuel.
Taillon has cleared the 4.5-strikeout benchmark in seven of his last 10 starts and has done so with ease in three straight outings heading into Sunday. He notched six, six, and eight strikeouts across those recent games. Taillon struck out five Red Sox batters the last time he faced them on July 16, and if using the same-game parlay feature at FanDuel, he enjoys a plus-money line to reach that mark again in this one.
This one line is enough to push me to use FanDuel over another sportsbook for today's parlay; DraftKings Sportsbook offers Taillon 5+ strikeouts at -110 compared to these juicy odds of +106. On value, we're off to a great start.
Wacha Over 3.5 strikeouts (-112)
When he's been on the mound this year, Michael Wacha has had a resurgent season for the Red Sox. Of course, injuries have limited the frequency, as Wacha has been on the IL since late June with the shoulder trouble that has plagued him his entire career. In his first game back Sunday, Wacha has an extremely attackable strikeouts line.
The veteran righty pitched into the fifth inning in two recent rehab starts, striking out 13 across nine total innings. Even a short outing Sunday could get Wacha to the Over on this line if he's sharp.
Once again, FanDuel leads the way on value for this prop. DraftKings places Wacha 4+ strikeouts at -120.
Rizzo 2+ total bases (+115)
Facing off against one another for several years in the NL Central, Anthony Rizzo consistently had Michael Wacha's number. In 56 career plate appearances, Rizzo has a .429 batting average with three home runs and a 1.135 OPS. When it comes to pitcher-batter matchups, that's actually a pretty decent sample size. The St. Louis Cardinals may have owned the Chicago Cubs in the standings for many of those years, but Rizzo definitely had Wacha's number.
Rizzo is mired in a bit of a slump over the past few games, which juices up his odds for success beyond what we'd normally see for the slugger. Facing Wacha gives him a decent chance to do damage.
Rizzo's 2+ total bases prop is featured at +115 at both FanDuel and DraftKings, but banking our previous value on the Taillon and Wacha props at FanDuel, we enjoy combined odds of +798 on the FanDuel parlay compared to a mere +600 if we played it at DraftKings.
Where to Bet on Yankees-Red Sox Same Game Parlay Picks
Here are our top-rated sportsbooks:
SEE ALSO: All picks, odds, and sports betting news. Be sure to check out SportsbookReview.com's community forums and betting tools.
Yankees-Red Sox same-game parlay picks made 8/14/2022 at 11:32 a.m. ET.