Shohei Ohtani Player Props, Picks for Angels vs. Mariners: Finding Value With Lesser-Known Market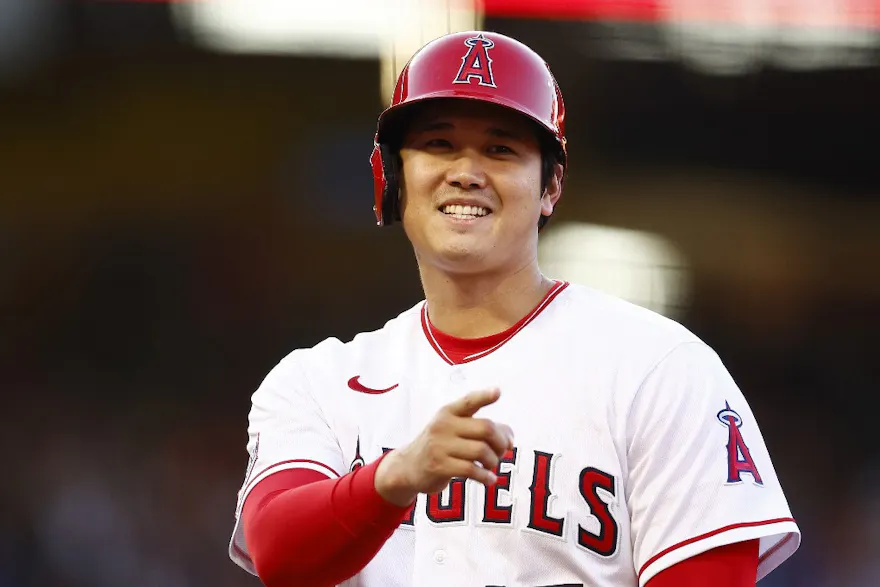 Los Angeles Angels two-way megastar Shohei Ohtani is back on the bump Friday against the American League West-rival Seattle Mariners. Check out our Shohei Ohtani player prop picks based on the best MLB odds.
If you read last week's Shohei Ohtani player props article, you would have seen why it's so hard to bet on baseball's biggest star. For those who didn't read it, the TL;DR version is simply that he's baseball's biggest star, and the best sports betting apps are going to pay extra attention to his prices since they know people will want to bet on him.
With that in mind, we've managed to find some value on a duo of Ohtani props for the Angels' game against the Mariners on Friday.
Here are our best Shohei Ohtani player prop picks for the matchup between the Los Angeles Angels and Seattle Mariners (odds via our best MLB betting sites; pick confidence based on a 1-to-5-star scale).
Shohei Ohtani player prop picks
Shohei Ohtani Over 18.5 outs (+130 via bet365) vs. Mariners ⭐⭐⭐
Shohei Ohtani more total bases than Cal Raleigh (+140 via bet365) ⭐⭐⭐
Not intended for use in MA
Affiliate Disclosure: Sportsbook Review may receive advertising commissions for visits to a sportsbook
Shohei Ohtani player props
Shohei Ohtani Over 18.5 outs vs. Mariners (+130 via bet365) ⭐⭐⭐
Last week, when the Angels faced the Houston Astros, we found value in and hit on Ohtani Under 7.5 strikeouts. However, his strikeout prop is more appropriately priced for this start, so we turn our attention to another pitching market. We're getting a bit aggressive challenging the key number of 18 outs with this bet, but the plus-money odds help mitigate that risk.
NumberFire projects Ohtani to go 6.43 innings on Friday, which actually gives us some added cushion from the 6 1/3 innings he'd need to clear to cash this prop.
The issue facing a bet like this is that the starting pitcher needs to go back out for the seventh inning and record at least one out, which Ohtani has done only four times thus far this season.
However, the Angels' bullpen has been heavily used this week, logging 10 1/3 innings in the last three days. Therefore, look for the Angels to try to get a bit more out of their superstar pitcher in this divisional showdown between two teams separated by only 2.5 games in the AL West.
Among our best sports betting sites, bet365 provides us with the best number on this prop. DraftKings and BetMGM price Over 18.5 outs at +120, while Caesars is at +100 and FanDuel doesn't offer the market.
In terms of Ohtani's other pitching props on Friday, his strikeout total is showing no value on either side (as previously discussed), and neither is Over 1.5 walks nor Under 4.5 hits allowed, which are the two other markets I targeted. It's another reminder that you have to dig really deep to find good bets on the two-way phenom.
Shohei Ohtani more total bases than Cal Raleigh (+140 via bet365) ⭐⭐⭐
Speaking of digging deep. I don't think I've ever scrolled down this far on bet365's player props page, but I'm glad I did today.
Mariners catcher Cal Raleigh entered the season with a lot of hype coming off an impressive 27-homer season, but he's mostly failed to live up to those expectations. Raleigh's 121 wRC+ in 2022 has dropped to 98 this season, which represents a below-league-average mark.
On Friday, Raleigh is projected to be one of the day's worst hitters, according to NumberFire. His .170 projected batting average is second-worst, and he's expected to record only 7.5 fantasy points.
NumberFire doesn't have batter projections for Ohtani on Friday, but he's having a near-identical season at the plate this year compared to his 2022 campaign. That's to say, he's been pretty friggin great.
I don't put much (or any) stock into hitter vs. pitcher matchups - the sample sizes are usually so small that the numbers don't provide any real statistical analysis - but Raleigh is just 1-for-8 with four strikeouts against Ohtani, for those of you who are interested in that.
It will likely take only one hit for Ohtani to clear Raleigh on this prop. How can we say no at +140?
Angels vs. Mariners odds
Shohei Ohtani prop picks pick made 6/9/2023 at 10:15 a.m. ET.
(21+. Gambling Problem? Call 1-800-GAMBLER)
* Bonuses not applicable in Ontario.
Related pages