MLB MVP Odds, Picks, Predictions: AL, NL Races Heat Up in Closing Stretch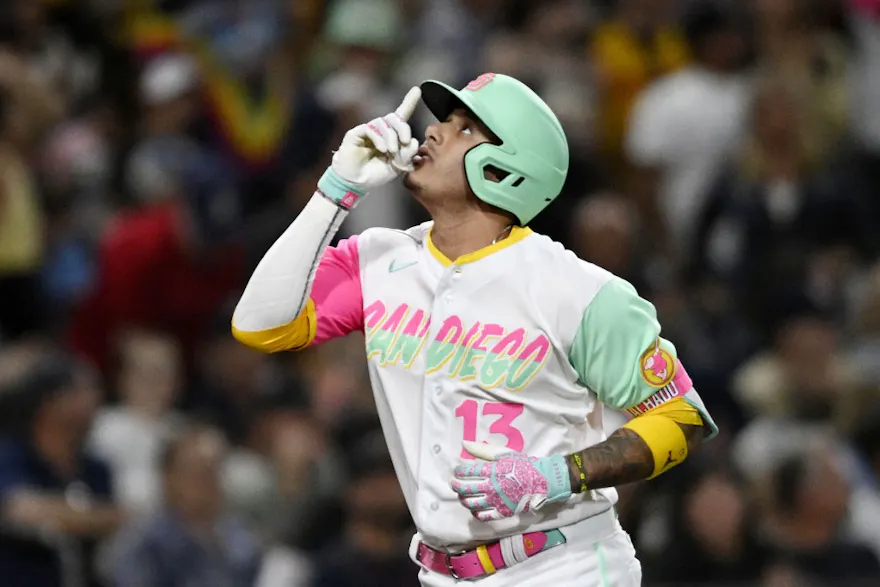 Paul Goldschmidt's lead for the NL MVP is rapidly disappearing in the final week of the MLB season. We examine the MLB MVP futures odds to determine which players represent value picks heading into the closing stretch.
If you are a futures bettor, you should not ignore the NL MVP market simply because the NFL season has begun. There has been a shift in the narrative for Goldschmidt, and the odds have not caught up with the change. It has opened the door for inflated prices to be bought on players who have a much better chance of winning the NL MVP than their odds imply, such as Nolan Arenado and Manny Machado.
Below, we analyze the AL and NL MVP futures odds in search of value picks. Check out the best sportsbooks for futures betting here.
AL MVP Odds
| | | | |
| --- | --- | --- | --- |
| Player | FanDuel | PointsBet | Caesars |
| Aaron Judge | -20000 | -40000 | -200000 |
| Shohei Ohtani | +2500 | +5000 | +1900 |
AL MVP Picks: Favorite
This market is over, Aaron Judge will be your AL MVP. Judge is expected to finish the season with an fWAR higher than 11.0, a feat not even Mike Trout has achieved. Additionally, Judge is poised to tie New York Yankees great Roger Maris with his 61st home run and is also within reach of the American League Triple Crown.
I would like to congratulate everyone who wagered on Judge to win AL MVP. If you did so at PointsBet, the money has already been credited to your account.
AL MVP Picks: Contender
Ohtani, DH/SP, Angels (+5000 via PointsBet)
It is unfortunate that Shohei Ohtani will not receive back-to-back MVP awards, as his statistics are more than worthy of this honor. It took someone like Judge to have a historic season in order to prevent this from occurring. If Ohtani were playing in the National League, he would be a -5000 favorite to win the award.
I would like to draw your attention to the flaws in pricing that we are seeing in this market. Judge is trading at -200000 via Caesars, and this is not an error. It would take a bet of $200,000 to win $100. At that price, Ohtani should be trading north of +20000, not +1900.
NL MVP Odds
| | | |
| --- | --- | --- |
| Player | PointsBet | fWAR |
| Paul Goldschmidt | -5000 | 7.1 |
| Manny Machado | +1600 | 7.0 |
| Nolan Arenado | +3000 | 7.1 |
| Freddie Freeman | +3000 | 6.8 |
| Pete Alonso | +10000 | 3.7 |
| Francisco Lindor | +15000 | 6.8 |
Check out the latest comprehensive and most trusted Sportsbook Reviews by SBR.
NL MVP Best Bets
Machado, 3B, Padres (+1600 via PointsBet)
Arenado, 3B, Cardinals (+3000 via PointsBet)
Lindor, SS, Mets (+15000 via PointsBet)
NL MVP Picks: Favorite
Goldschmidt, 1B, Cardinals (-5000 via PointsBet)
At a price point of -5000, I don't want anything to do with Goldschmidt's NL MVP odds. The argument can be made that he is not even the best player on his own team. The St. Louis Cardinals slugger has maintained the top spot on the odds board for a long time, but I still believe he is capable of losing this position down the stretch. There is a much closer race between Goldschmidt, Arenado and Machado for the NL MVP than the odds imply.
NL MVP Picks: Contenders
Machado, 3B, Padres (+1600 via PointsBet)
Machado possesses the statistics and a compelling narrative to steal the NL MVP from Goldschmidt. Machado currently has an fWAR of 7.0, while Goldschmidt has an fWAR of 7.1, so it is a close race. Several members of the baseball media have highlighted that Machado is single-handedly leading the Padres to the playoffs, which is a compelling narrative that should not be ignored.
In April, I bet on Machado to win NL MVP at +3000, and I bet on him again at +5000 on Monday at Caesars. There has been a dramatic drop in his price over the last couple of days to +1600, but I do not think this would deter me from placing a bet if I do not have one already. In this market, Machado is 100% live, and he can win if he finishes strong.
Arenado, 3B, Cardinals (+3000 via PointsBet)
Although Arenado has been producing at an elite level since Opening Day, he is still being priced at +3000 to win the NL MVP despite leading the NL in fWAR and bWAR with teammate Goldschmidt. We see Goldschmidt trading at -5000 while Arenado is trading at +3000, despite Arenado's better all-around statistics.
Goldschmidt has struggled down the stretch and the narrative is changing, you can feel it. There is no doubt that Goldschmidt no longer has the stranglehold on this market he once had. However, the odds have not caught up to him as quickly as they should have. Despite having Arenado in my pocket from earlier in the season, I decided to bet more on him as the season approaches its conclusion.
Freeman, 1B, Dodgers (+3000 via PointsBet)
I do not have any interest in betting on Freddie Freeman to win the National League MVP, even though the Los Angeles Dodgers have won over 100 games and Freeman leads the National League in batting average. Freeman won the award in 2020, and I believe it will take someone with a different statistical profile to surpass Goldschmidt. The argument for awarding it to Francisco Lindor, Machado, or Arenado is that each of them has a combination of impressive offensive and defensive statistics. When Freeman's offensive stats are compared to Goldschmidt's, Goldschmidt would win the contest.
Lindor, SS, Mets (+15000 via PointsBet)
Although I have seen arguments for Pete Alonso to win the NL MVP, I would wager on Lindor at +15000. Lindor has a significantly higher fWAR than Alonso and is statistically right there with Goldschmidt, Arenado, and Machado. I already had a futures ticket on Lindor at a big price prior to this week, but that did not prevent me from taking advantage of the +15000 we are seeing at PointsBet this week.
Where to Bet on MLB MVP Odds
Here are our top-rated sportsbooks:
FanDuel Sportsbook
Caesars Sportsbook
DraftKings Sportsbook
PointsBet
BetMGM
SEE ALSO: All picks, odds, and sports betting news. Be sure to check out SportsbookReview.com's community forums and betting tools.