MLB Cy Young Odds, Picks: Invest in Aaron Nola for Stretch Run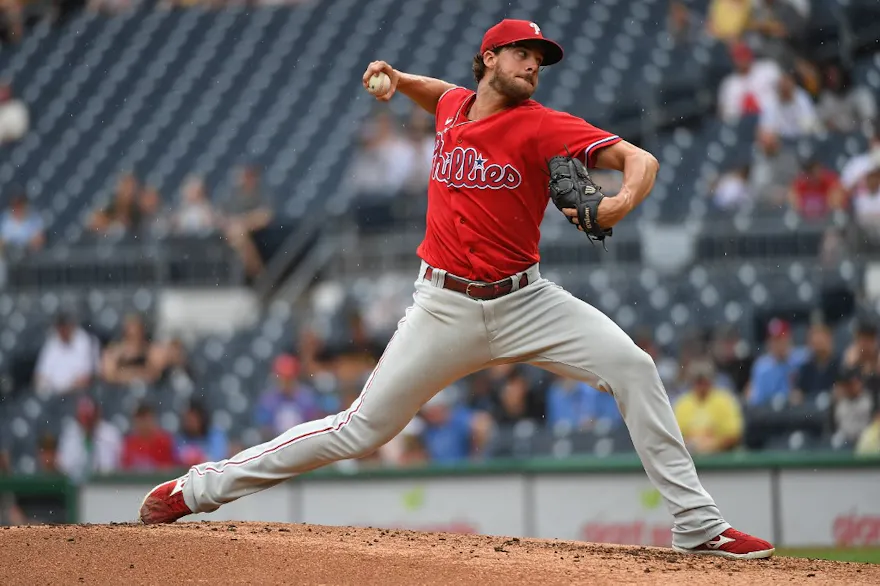 After Justin Verlander's injury, Dylan Cease has taken over the AL Cy Young race, while Sandy Alcantara is beginning to fade in the NL. We examine the MLB Cy Young futures odds to determine which players offer value at their current prices.
Verlander suffered a calf injury and was placed on the 15-day injured list during his most recent start. The AL Cy Young odds were shaken up, but did the oddsmakers move Shohei Ohtani's price point enough?
Meanwhile, the Marlins' Sandy Alcantara has struggled in his most recent appearances, leaving the door wide open for some long shots to win the NL Cy Young. As Alcantara begins to lose his stranglehold on the award, the potential buying opportunities that may arise are exciting.
Let's analyze the AL and NL Cy Young futures odds in search of value picks.
MLB Cy Young Odds: AL
| | | | | |
| --- | --- | --- | --- | --- |
| Player | FanDuel | PointsBet | DraftKings | Caesars |
| Dylan Cease | -115 | -110 | -110 | -115 |
| Justin Verlander | -105 | -120 | -130 | -115 |
| Shane McClanahan | +3000 | +2200 | +3000 | +3000 |
| Shohei Ohtani | +6000 | +3300 | +4500 | +3500 |
AL Cy Young Best Bet
Shohei Ohtani, Los Angeles Angels (+6000 via FanDuel)
AL Cy Young Picks: Favorites
Verlander, Astros (-110 via PointsBet)
It has been a little over a week since Verlander was placed on the injured list, and his odds have already adjusted from -250 to -110. As a result, you should not be buying any Verlander futures right now. The longer he sits out with an injury, the longer the odds will grow.
If Verlander sits out the remainder of the season in preparation for the playoffs, he hasn't posted the production to win this award. Verlander hasn't produced the strikeout numbers coveted during Cy Young voting, nor has he registering an xFIP that stands out among the other starting pitchers trading at much higher prices.
Although Verlander remains the slight favorite at some shops over Dylan Cease, the narrative is already changing, and we're seeing it in the odds.
Cease, White Sox (-110 via DraftKings)
During the middle of July we recommended that you buy Cease at +1600. Since then, his odds have been shortening dramatically.
The best price you can find on Cease is a -110 via DraftKings, putting us in a powerful position in this market down the stretch. The value of Cease futures tickets increased dramatically when Verlander was placed on the 15-day injured list.
Cease is certainly in contention to win the AL Cy Young Award, but I wouldn't be tempted to buy him at the -110 price point following the injury to Verlander.
AL Cy Young Picks: Contenders
McClanahan, Rays (+3000 via FanDuel)
Shane McClanahan was given the opportunity to once again be a serious contender after Verlander's injury. That was reflected in his price point, McClanahan was trading at around +400.
Unfortunately, McClanahan is on the injured list now too after hurting his shoulder during warmups on the same day Verlander was placed on the IL. I consider McClanahan a fade option due to his injury and the +3000 odds.
Ohtani, Angels (+6000 via FanDuel)
The main reason I have not joined the Cease bandwagon after Verlander's injury is because of Ohtani. His stats are comparable to Cease's production, and Ohtani faces another monumental opportunity to move the market in his favor during the hurler's next start against the Houston Astros. Whenever the difference in price exceeds 60 dollars, it's not even a matter of debate.
It isn't necessary for Ohtani to experience a statistical surge to catch Verlander since his advanced metrics are already superior. Milwaukee Brewers starter Corbin Burnes demonstrated last year that the volume of innings isn't all that important. With +6000 available, don't hesitate to invest in Ohtani.
MLB Cy Young Odds: NL
| | | | | |
| --- | --- | --- | --- | --- |
| Player | FanDuel | PointsBet | DraftKings | Caesars |
| Sandy Alcantara | -175 | -278 | -175 | -240 |
| Julio Urias | +600 | +900 | +700 | +800 |
| Max Fried | +600 | +900 | +550 | +900 |
| Zac Gallen | +700 | +800 | +700 | +800 |
| Tony Gonsolin | +3000 | +1800 | +3000 | +3000 |
| Spencer Strider | +6000 | +8000 | +6000 | +8000 |
| Edwin Diaz | +8500 | +8000 | +7500 | +8000 |
| Corbin Burnes | +12000 | +6600 | +7500 | +6000 |
| Carlos Rodon | +13000 | +12500 | +10000 | +8000 |
| Aaron Nola | +15000 | +15000 | +10000 | +15000 |
NL Cy Young Best Bet
Aaron Nola, Philadelphia Phillies (+15000 via Caesars)
Check out our top-rated sportsbooks here
NL Cy Young Picks: Favorites
Alcantara, Marlins (-175 via DraftKings)
Alcantara has not been as sharp in his last two starts, and his odds of winning the NL Cy Young have moved from -1000 to -175 in just over a week.
I've been fading Alcantara throughout the season, hoping he'll fall from his position atop oddsboards, and we're close to seeing that happen. Even at -175, I'm interested in purchasing an Alcantara futures ticket. That may change if he continues to move into plus money.
As always, the plan in this market is to attack all pitchers chasing Alcantara who are getting massive plus-money prices.
Gallen, Diamondbacks (+800 via Caesars)
Zac Gallen has made an impressive surge at the end, but I have less than zero interest in backing him to win the NL Cy Young.
Gallen's pricing is an overreaction to his recent shutout streak. His statistical profile over the season isn't on par with some of the other contenders. Gallen doesn't hold the highest fWAR even among the starting pitchers on his own team.
Fried, Braves (+900 via PointsBet)
I've been fading Atlanta Braves starter Max Fried since the beginning of the season, but he's continuing to hang around. Ultimately, he won't cash this ticket due to a lack of strikeout numbers, but his other metrics are still impressive.
Fried's statistical profile is similar to that of Alcantara, though the latter's numbers are slightly better. Therefore, it'll take someone else with a very different profile to overtake Fried.
Urias, Dodgers (+900 via PointsBet)
My first bet on the NL Cy Young Award was Julio Urias at +3500 during spring training. After sitting in my account with little to no hope for the entire season, this bet is somehow back alive.
Urias continues to climb the oddsboards, as he was available at +8000 during the last week of August and now finds himself at +900 right behind Alcantara. He's attractive since the lefty is a Dodger. But when you factor in price and production, he's not my favorite bet on the board.
NL Cy Young Picks: Contenders
Gonsolin, Dodgers (+3000 via FanDuel)
In 2022, winning the NL Cy Young Award requires more than just wins and a low ERA. At +3500, I don't see the appeal of betting on Tony Gonsolin. When it comes to K/9, FIP, xFIP, or xERA, Gonsolin doesn't appear at the top of any statistical category.
Strider, Braves (+8000 via Caesars)
In terms of sheer dominance, Spencer Strider and Jacob deGrom have been the most impressive in the National League. But they lack the volume of innings by a wide margin.
Strider's +8000 is more than appealing, but voters will ultimately settle on just giving him the NL Rookie of the Year.
Diaz, Mets (+8500 via FanDuel)
A major advantage Alcantara holds over the other starting pitchers in this race is the number of innings he's pitched. Comparing him to the Mets' Edwin Diaz, this argument is less persuasive because the closer naturally throws fewer innings as a reliever.
One of Alcantara's major weak spots is that he doesn't produce significant strikeout numbers, which is the opposite of Diaz. Voters may have an easier time giving Diaz the nod than for another starter instead of Alcantara.
NL Cy Young Picks: Long Shots
Burnes, Brewers (+12000 via FanDuel)
Corbin Burnes has been a fade for me the entire season, as he's battling voter fatigue to win back-to-back NL Cy Young Awards. I previously held this view when he traded at +900 for most of the season. But my view has changed now that he's at +12000.
With Alcantara struggling, Burnes striking out 14 batters last time out, and his odds moving from +4000 to +12000, I have no problem with anyone making this wager. My personal preference is to back Aaron Nola rather than Burnes, so I won't be betting on Burnes.
Rodon, Giants (+13000 via FanDuel)
Rodon has posted impressive strikeout numbers, which voters highly value, and he's put up a higher fWAR than Alcantara. As with Alcantara, Rodon is susceptible to the same narrative that can hurt him during voting: He doesn't play for a playoff team.
I already hold Rodon tickets from earlier in the season. But if you don't, the +13000 we are seeing at FanDuel is certainly worth considering.
Nola, Phillies (+15000 via FanDuel)
In the hope of being as clear as possible, BUY NOLA at +15000.
I purchased several Nola futures at +15000 through multiple sportsbooks over the past week. MLB voters are analytically based and very calculated in their decisions. The narrative will be there if the Phillies reach the postseason with Nola, who has posted the highest fWAR among all MLB starting pitchers.
There's a huge error in the pricing for the NL Cy Young, as Nola 1000% should not be trading at +15000. In the last week of September, you'll see a significantly different price if Nola is able to finish strong.
Where to Bet on MLB Cy Young Odds
Here are our top-rated sportsbooks:
FanDuel Sportsbook
Caesars Sportsbook
DraftKings Sportsbook
PointsBet
BetMGM
SEE ALSO: All picks, odds, and sports betting news. Be sure to check out SportsbookReview.com's community forums and betting tools.