Atlanta Braves Odds, Predictions 2023: Best World Series, Wins Total, Player & Team Prop Picks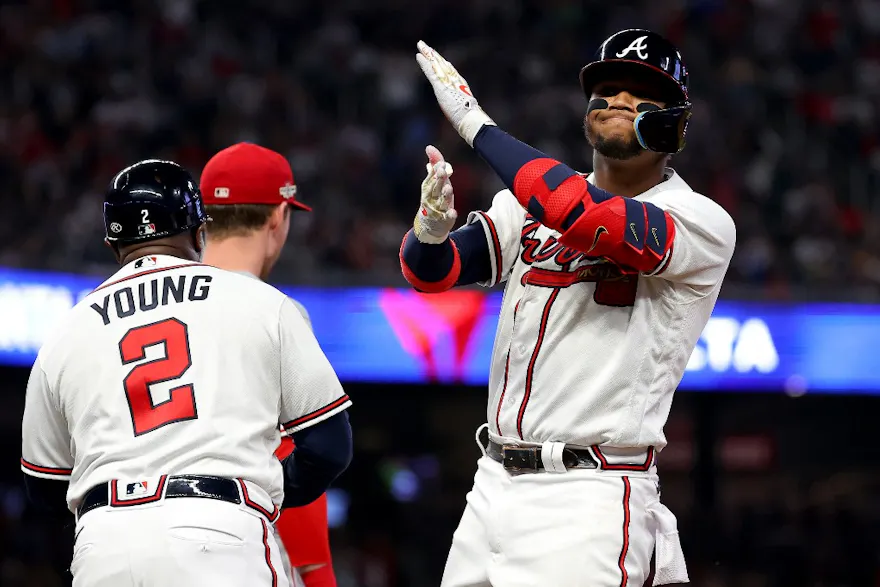 The Atlanta Braves will be out for revenge this season, as they enter the campaign loaded with star power following an early exit from the 2022 MLB playoffs. Will the Braves once again be among the league's top regular-season teams? Find out as we look at our best team futures picks and Braves predictions for the 2023 MLB season based on the top MLB odds.
Atlanta is absolutely loaded once again heading into the 2023 MLB season. It features the best bullpen in baseball backing up one of the league's premier starting rotations. One of the game's most dangerous lineups will also provide plenty of run support.
With a mix of familiar stars and fresh faces, how will the Braves follow up their first 100-win season in nearly 20 years?
Here is our look at the best odds and our top 2023 Atlanta Braves predictions.
Check out our 2023 World Series Odds, 2023 MLB steals leader odds, and 2023 MLB RBI leader odds.
Braves odds 2023
| | | | | | |
| --- | --- | --- | --- | --- | --- |
| | DraftKings | FanDuel | BetMGM | Caesars | PointsBet |
| World Series champions | +750 | +750 | +750 | +850 | +1000🔥 |
| National League champions | +370❄️ | +380 | +400 | +450🔥 | +400 |
| NL East champions | +110🔥 | +100 | +110 | +105 | +100 |
Braves wins total odds
| | | | | |
| --- | --- | --- | --- | --- |
| DraftKings | FanDuel | BetMGM | Caesars | PointsBet |
| Over 94.5 (-110) | Over 95.5 (-115) | Over 95.5 (-110) | Over 94.5 (-110) | Over 95.5 (+105) |
| Under 94.5 (-110) | Under 95.5 (-105) | Under 95.5 (-110) | Under 94.5 (-110) | Under 95.5 (-125) |
Braves predictions: Wins total Over/Under
Over 94.5 (-110 via DraftKings)
The Braves tied for the third-most wins in MLB last season with 101, and they're projected to finish 2023 as one of the league's top teams. It's difficult to reasonably expect any club to surpass 94.5 wins, but there are multiple reasons why Atlanta should finish with around 100 victories once again.
First, despite losing shortstop Dansby Swanson and catcher William Contreras in the offseason, one could argue the Braves will be better in 2023. Atlanta sent Contreras to the Milwaukee Brewers in the trade that landed the Braves one of the best catchers in baseball. Sean Murphy joins the club following a monster campaign with the Oakland Athletics. Murphy accrued 5.1 WAR (third-most among catchers) thanks to 18 homers, a .250/.332/.426 slash line, and elite defense.
On top of the upgrade at catcher, the Braves will begin the season with a healthy Ronald Acuna, who missed the start of the last campaign while recovering from a torn ACL and never flexed his typical power at the plate. With a full offseason to recover, Acuna should look more like the player we grew accustomed to watching during the first four years of his career.
Losing Swanson will sting, but he's due for some serious regression this season anyway. Youngster Vaughn Grissom could step in eventually - he'll begin the season in the minors, though - and either serve as the everyday shortstop or share duties with Orlando Arcia.
Additionally, Atlanta will hope to get more from second baseman Ozzie Albies this year, who missed most of 2022 with a broken finger and broken toe. Albies swatted 30 home runs and accrued 3.9 WAR in 2021.
FanGraphs projects the Braves to lead baseball with 93 wins, while PECOTA forecasts Atlanta to finish with a more modest 90 victories.
However, I don't see how the Braves could be more than six wins worse than last season. The fact that three of our five top-rated sportsbooks are setting the team's win total at 95.5 further illustrates that point.
Check out our 2023 Boston Red Sox odds and picks, 2023 New York Yankees odds and picks, 2023 Toronto Blue Jays odds and picks, 2023 Baltimore Orioles odds and picks, 2023 Tampa Bay Rays odds and picks, and 2023 Houston Astros odds and picks.
Braves predictions: Player prop
Ronald Acuna Jr. to win NL MVP (+1000 via FanDuel)
Acuna is coming off a relatively disappointing season, but I expect him to bounce back in a big way.
The superstar outfielder struggled to find his power stroke in 2022, managing only one more home run than he hit across just 46 games in 2020 (he played 119 games last year). His batting average was also a career-low .266, and Acuna's slugging percentage was .413, which ranked 77th among hitters with at least 500 plate appearances.
However, Acuna enjoyed an entire offseason to continue recovering from his ACL injury. When healthy, the Braves' leadoff man is among the best hitters on the planet. He finished fifth in MVP voting in 2019, one year after cruising to Rookie of the Year honors amid a star-studded field.
Prior to last year's dud, Acuna put together MVP-like numbers over 128 games across the pandemic-shortened 2020 campaign and his abbreviated 2021 season. He hit 38 home runs and stole 25 bases to go with a 157 wRC+ and 6.7 WAR in those contests.
The power outage is somewhat alarming, but Acuna still hit the ball relatively hard. He managed a 98th percentile max exit velocity and 93rd percentile hard-hit percentage, as well as a still-competitive average exit velocity and barrel rate, according to Statcast.
Those numbers did represent a dip compared to the two prior years, though, and he combined that with a career-low launch angle of 10.8. But it's important to remember he tore the ACL in his right knee, which serves as his back leg at the plate. It's very possible that affected his swing and ability to generate power.
With another offseason to recover, Acuna's swing should more closely resemble what we saw in 2020 and 2021, when he managed a launch angle slightly above 18. He should experience positive regression from his 12.8% home run to fly ball ratio.
Acuna remains one of the few players in the league who's realistically capable of the ever-elusive and very sexy 40-40 season. Anything resembling that is extremely MVP-worthy. Acuna is already down to +850 at DraftKings, so be sure to take advantage of FanDuel's pricing.
Check out our MLB 2023 Cy Young odds and picks, MLB 2023 MVP odds and picks, and MLB 2023 Rookie of the Year odds and picks.
Braves predictions: Team prop
Braves to have best regular-season record (+650 via Caesars)
FanGraphs projects the Braves to finish with the best record in baseball at 93-69. They're just ahead of the New York Yankees, San Diego Padres, and Houston Astros, who are the only other teams projected for 90-plus wins. Atlanta finished tied for the third-best record in 2022 at 101-61 to go along with the fourth-best run differential (plus-180).
My reasoning for this pick mostly lines up with the thinking behind the wins total bet. The Braves will be just as good, if not potentially better than they were in 2022. Meanwhile, the Los Angeles Dodgers (111 wins in 2022) lost Trea Turner, Justin Turner, and Cody Bellinger, as well as several quality pitchers this past offseason. The Astros are already dealing with an injury to one of their most important players in Jose Altuve, and the Yankees and New York Mets are also coping with early blows to their pitching.
The San Diego Padres are perhaps the biggest threat to this bet, but their starting pitching remains questionable. Meanwhile, Atlanta features four horses in the rotation and a bulletproof bullpen to go along with its soul-destroying lineup. Oh, and the Braves are expected to get back 2019 NL Cy Young contender Mike Soroka in late April or early May.
Check out our MLB 2023 home run leader odds and picks, MLB 2023 strikeout leader odds and picks, and MLB 2023 wins leader odds and picks.
(21+. Gambling Problem? Call 1-800-GAMBLER)
* Bonuses not applicable in Ontario.
Related pages