Phillies vs. Astros Same Game Parlay Picks: Valdez in Close-Out Mode for Houston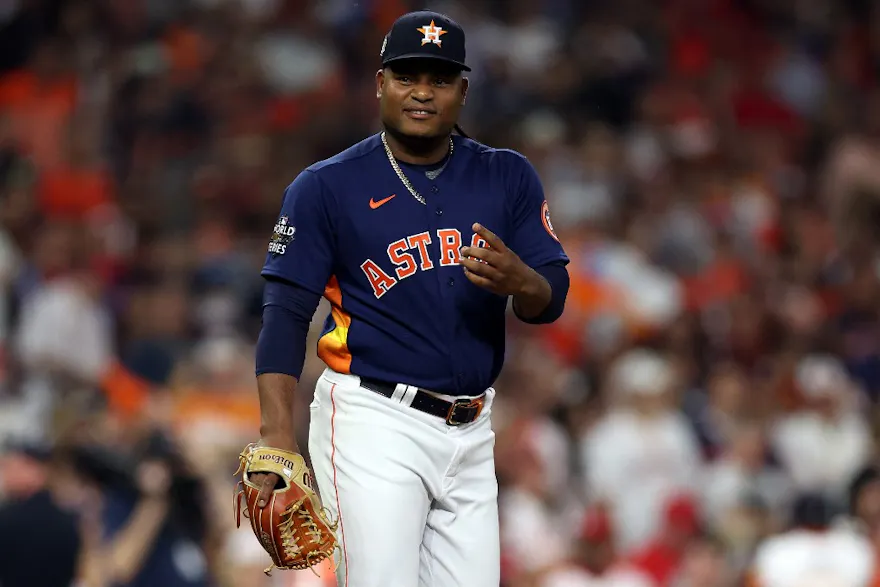 The Astros have stormed back in the World Series with emotional wins during Games 4 and 5. Has the magic run out for the Phillies? Here are our Phillies-Astros same-game parlay picks for Saturday's Game 6.
The Astros have turned a deficit into a comfortable advantage through a combined no-hitter and Justin Verlander's first World Series win. With the series back at home, Houston now calls on one of the league's most consistent pitchers to secure a championship.
Here are my same-game parlay picks for Saturday's Phillies-Astros World Series Game 6 (odds via FanDuel Sportsbook; Pick confidence is based on a 1-to-5-star scale).
Take advantage of the new customer promos for Game 6 of the World Series at FanDuel and Caesars.
Phillies vs. Astros Odds
Phillies vs. Astros Game 6 Same Game Parlay Picks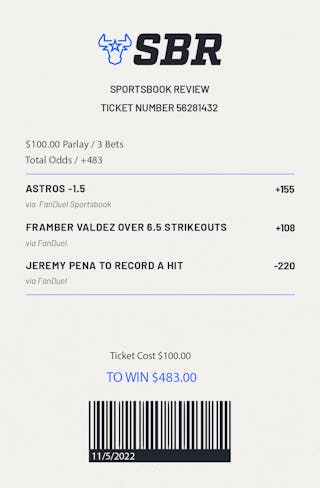 Same Game Parlay Predictions for Astros vs. Phillies
Astros -1.5 (+155) ★★★
Though Philadelphia had its moments earlier in the series, the momentum has swung so far in the other direction over the past couple of contests that it's hard to imagine the Phillies regaining anything. Framber Valdez was a tough customer for the Phillies' lineup in Game 2, with Philly scoring just one run against him over 6 1/3 innings. The Phillies have notched only two runs over 18 innings following their five-homer outburst in Game 3.
The Phillies saved Zack Wheeler for an elimination scenario that's now come to fruition. But there's concern over the ace right-hander's drop in velocity. His fastball averaged 95.2 mph in Game 2, down from 97 mph throughout the rest of the postseason.
After registering four earned runs against Wheeler during that battle, the Astros can knock the veteran around again and seize the series for good. Wheeler posted a 3.84 ERA during road games in 2022, which is far more pedestrian than his 1.85 ERA at home.
Valdez Over 6.5 Strikeouts (+108) ★★★★
Valdez is exactly the guy you want on the mound while attempting to close out a World Series. The lefty set an MLB record while logging 25 consecutive quality regular-season starts. That consistency suggests he'll give the Astros a chance to win during every outing.
Valdez has also been a pretty stable source of strikeouts, particularly over the second half of the season. He's cleared this total in nine of 13 starts since the All-Star break. The 28-year-old has also soared beyond this mark in two of three playoff outings, falling just short with six strikeouts during an ALDS start against the Seattle Mariners. Valdez fanned nine batters in both his ALCS start against the New York Yankees, and his previous World Series appearance against Philadelphia.
The Phillies were near the middle of the pack in strikeouts offensively during the season (8.52 per game). However, they've been struggling during the World Series. Philadelphia has struck out 59 times across five games in the series, averaging 11.8 per game.
Pena to record a hit (-220) ★★★★
Astros rookie shortstop Jeremy Pena has been a consistent force throughout this postseason, especially during the World Series. In his first playoff action, Pena has gone 18-for-54 (.333) with four homers while recording at least one hit in 11 of 12 postseason games.
He's remained sizzling during the World Series. Pena is 8-for-21 hitting (.381) with a homer and a 1.028 OPS, and at least one hit in every game of the series. Pena's steady presence near the top of the lineup has made him an engine for the team's offensive success, and that should continue Saturday against Wheeler. Pena was 1-for-3 with a double against Wheeler during the veteran's previous World Series start.
The combed odds of this parlay at DraftKings would be +450, so I'm riding with the better return on my investment at FanDuel.
Where to Bet on Phillies-Astros Picks
Check out our top-rated sportsbooks:
Phillies-Astros picks made 11/5/2022 at 8:43 a.m. ET.