Pebble Beach Pro-Am Power Rankings: Matt Fitzpatrick's Tournament to Lose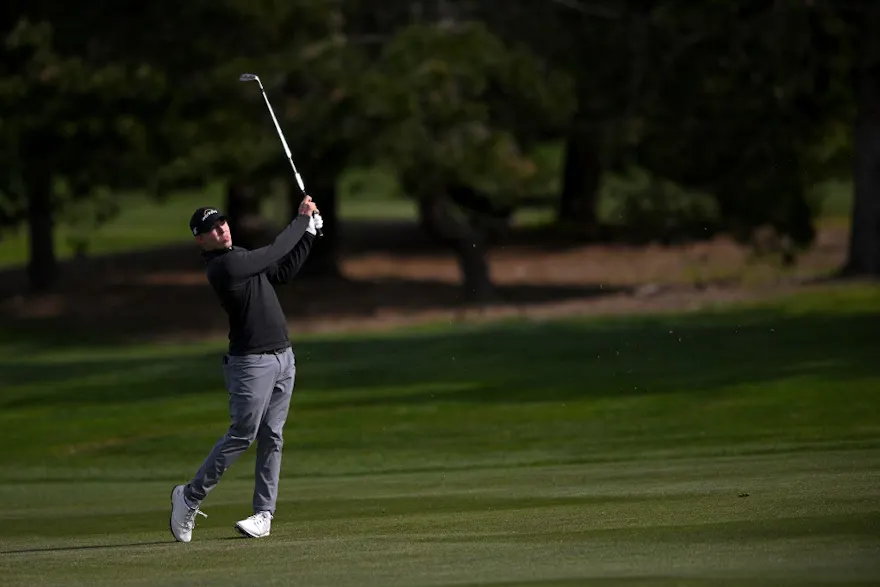 Betting favorite Matt Fitzpatrick headlines the field for the AT&T Pebble Beach Pro-Am, as the PGA Tour heads to the Monterey Peninsula to continue the California Swing. Here are our weekly power rankings highlighting which golfers to target in pools based on the odds from our top sportsbooks.
The famed Pebble Beach Golf Links hangs with the best tracks on the tour's circuit, but unfortunately, this event just doesn't draw the golf talent it once did.
Check out Pebble Beach Pro-Am preview and our expert golf picks.
Add ridiculously poor pace of play to Bill Murray seeing more airtime than half the Saturday leaderboard, and this pro-am event is becoming a bit of a dud – especially with it sandwiched between the enticing Farmers Insurance Open and WM Phoenix Open.
Alas, the lack of a star-studded field does bring a few more long shots into play (which we're focused on in our Pebble Beach Pro-Am picks), and the odds quickly drop after the top-tier of favorites. The three top-20 players from the Official World Golf Ranking (OWGR) are Matt Fitzpatrick (No. 10), Viktor Hovland (No. 11), and Jordan Spieth (No. 16).
Spieth won the 2017 event and notoriously blew a two-shot lead with four holes to play in last year's edition. He's going to be a popular pick among poolies again this week.
Pebble Beach Pro-Am odds
| | | | | | |
| --- | --- | --- | --- | --- | --- |
| Name | DraftKings | FanDuel | BetMGM | Caesars | PointsBet |
| Matt Fitzpatrick | +1000 | +1100 | +900 ❄️ | +1100 | +1100 |
| Jordan Spieth | +1000 | +1100 | +1000 | +1000 | +1200 🔥 |
| Viktor Hovland | +1100 | +1100 | +1000 ❄️ | +1200 | +1200 |
| Seamus Power | +2200 | +2100 | +2000 | +1600 ❄️ | +2500 🔥 |
| Maverick McNealy | +1800 | +1700 | +2000 🔥 | +1600 ❄️ | +1900 |
| Tom Hoge | +2200 | +1900 | +2000 | +1600 ❄️ | +2500 🔥 |
| Andrew Putnam | +3000 | +2400 | +2500 | +1800 ❄️ | +3500 🔥 |
| Justin Rose | +3500 | +3200 | +2800 ❄️ | +3500 | +4000 🔥 |
| Matt Kuchar | +3500 | +3700 | +2800 ❄️ | +3500 | +4000 🔥 |
| Joel Dahmen | +5000 | +3600 | +3300 ❄️ | +3500 | +6000 🔥 |
| Denny McCarthy | +4500 | +3400 ❄️ | +4000 | +4500 | +5000 🔥 |
What to know for the Pebble Beach Pro-Am
Dicey weather often goes hand and hand with this event, and the early forecast is calling for rain showers Friday and Sunday. Each golfer and amateur partner will play a round at Pebble Beach Golf Links, Spyglass Hill Golf Course, Monterey Peninsula Country Club before the top-60 pros (and ties) and top-25 pro-am teams return to Pebble for Sunday's final round.
While Pebble is a short track (6,972 yards), it can be daunting. The small, bunker-protected greens require strong iron play, and scrambling well to avoid bogeys is also important. It also sets up as a second-shot course with the most common approach range from 100-125 yards.
Because Spyglass and Monterey don't have shotlink data, and only half the tournament is played at Pebble, I'm not valuing past statistics from the event as heavily this week. Instead, I'm placing more emphasis on the player's current form and the following metrics:
Strokes gained: tee-to-green
SG: approach
Approch from 100-125
Scrambling
SG: around-the-green
Pebble Beach Pro-Am power rankings
10. Seamus Power
While I'm not impressed with Power's statistical profile entering this event, his results tell a different story. He's already won this season and posted another two top-five finishes. Additionally, the 35-year-old Irishman posted a T-9 result here last season. Power's strength has been his short game, and he'll need to remain sharp with ranks of 186th in SG: approach on the season and 100th in true SG: approach in this field across his past 27 measured rounds.
9. Ben Griffin
The PGA Tour rookie has made nine consecutive cuts and posted four top-25 results along the way. Griffin has shown well in weaker fields, and he ranks seventh in true SG: approach and eighth in true SG: tee-to-green in this field across his past 30 measured rounds. I place added risk given his inexperience and this being his first professional trip to Pebble, but this is a weak field, and Griffin's current form is solid.
8. Joel Dahmen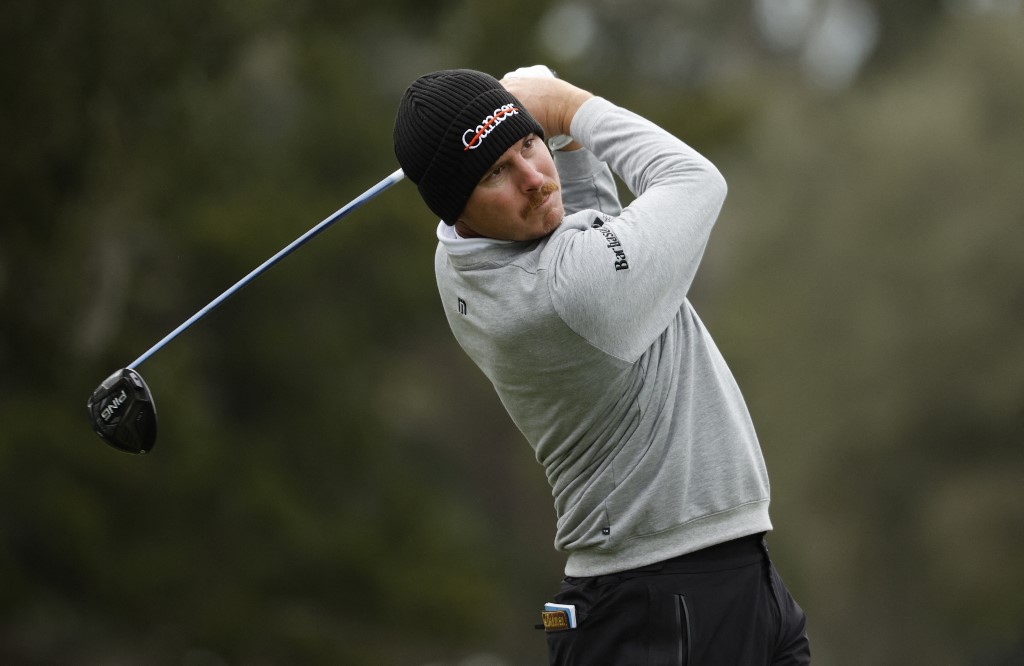 I'm genuinely interested to see how Dahmen plays this week because he hasn't pegged it since finishing T-5 at The RSM Classic in November. It was his third consecutive top-10 finish, and he also finished T-6 at Pebble last year. Dahmen checks the statistical boxes, too. He ranks 11th in SG: tee-to-green, 28th in SG: approach and 33rd in SG: around-the-green. It's just the potential for him to show up a touch rusty that worries me.
Check out our analysis of the best odds for The Players Championship and the PGA Championship 2023 odds.
7. Maverick McNealy
Many are expecting a breakthrough win from McNealy sooner than later, but I'm not in the same boat. Ranking second in SG: putting and fifth in scoring average is obviously impressive. I just can't look past the fact he's losing strokes off the tee and on approaches. It's putting tremendous pressure on his putter, and putting is usually one of the most inconsistent aspects of a golfer's game -- now, read that again five times fast!
All said, McNealy is clearly doing a lot right, and he has a pair of top-five showings in this event. Should he have the fourth-lowest odds in the field like he does at FanDuelSportsbook? I don't think so.
6. Andrew Putnam
There's a lot of buzz surrounding Putnam this week. He finished T-6 at the event last year, and he has played the weekend in 14 straight tournaments with three top-five showings and another four top-25 results. Putnam also ranks 13th in SG: putting and 12th in scoring average this season, and eighth in true SG: around-the-green through his past 41 measured rounds. With all that being said, it's also saying a lot about this field that he cracks this list. Putnam's only win was in 2018 at the Barracuda Championship.
5. Nick Taylor
The 2020 winner at Pebble has missed the cut in two of his past three tournaments, and he doesn't head to Monterey in particularly strong statistical form. I still think he offers a solid floor-upside combo for poolies and punters, though. Taylor ranks 32nd in SG: approach, 36th in SG: around-the-green and 37th in SG: tee-to-green, and he's played the weekend in each of his past four trips to the event.
4. Tom Hoge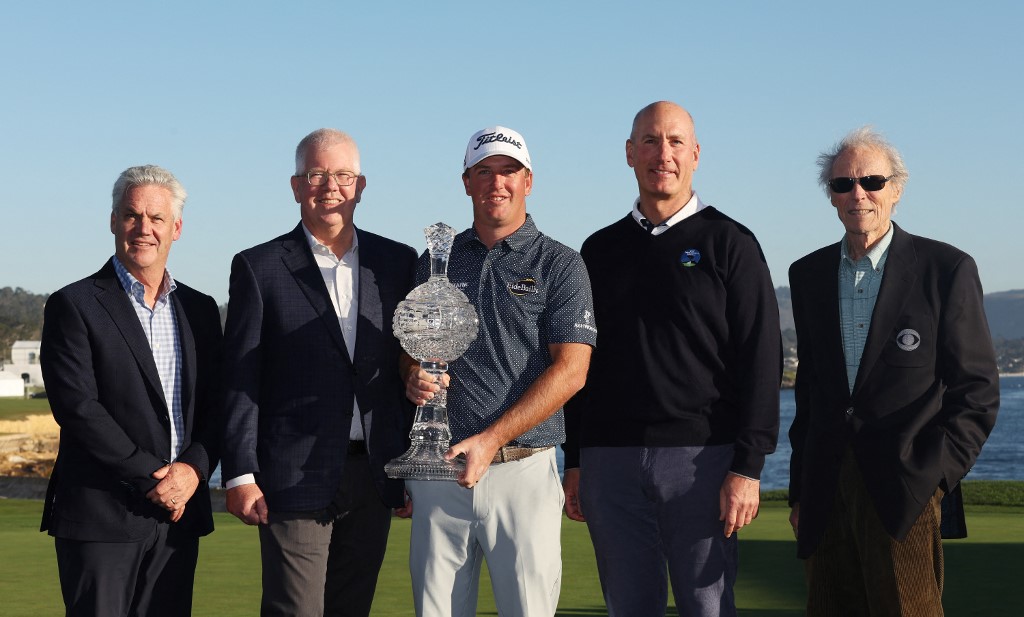 The defending champion is an approach ace ranking first in both SG: approach for the season and true SG: approach in this field across his past 33 measured rounds. Additionally, Hoge's lack of distance off the tee is mitigated in this event, and he's 26th in driving accuracy in this field during the noted stretch. He'll be a popular target for poolies this week, and as a result, it's not out of the equation to consider fading him. Hoge won't be in my betting portfolio, either.
Check out our look at the best odds for the Masters and the WM Phoenix Open odds.
3. Jordan Spieth
Spieth hasn't played since he turned a first-round lead into a missed cut at the Sony Open in Hawaii two weeks ago. This event has been kind to him, though, and I'm expecting Spieth to hang around the leaderboard all weekend. He's carded six top-10 finishes across 10 visits and won the 2017 edition. Spieth also ranks 11th in true SG: tee-to-green in this field across his past 20 measured rounds.
2. Viktor Hovland
There's statistical correction ahead of Hovland's iron game. He ranked 15th in SG: approach last season but has actually lost strokes and ranks 110th this year. I also view him as a high-floor, high-ceiling target this week because he hasn't missed a cut since the Genesis Scottish Open in July. Additionally, he's excelled from the noted 100-125 yardage range with the third-best average relative to par across 16 rounds. I'm also encouraged with his improved SG: around-the-green and scrambling statistics this season.
1. Matt Fitzpatrick
I view Fitzpatrick as the best and most complete golfer in this field, and he's coming off a rock-solid T-7 finish at the Sentry. The 28-year-old Englishman also finished T-6 here last year, and I'm expecting a similar result this time around. There are no statistical weaknesses in Fitzpatrick's game, and he has an elite short game that pairs perfectly with his sixth-ranked true SG: tee-to-green in this field across his past 33 measured rounds.
AT&T Pebble Beach Pro-Am power rankings made 1/30/2023 at 5:15 p.m. ET.
(21+. Gambling Problem? Call 1-800-GAMBLER)
* Bonuses not applicable in Ontario.
Related pages