UFC 276: Munhoz vs. O'Malley MMA Odds and Predictions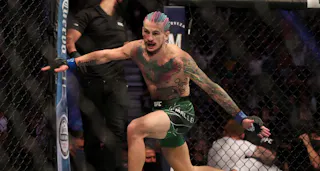 In the main card curtain-jerker, Sean O'Malley will try to finally burst into the upper echelon of the bantamweight division when he takes on top-10 stalwart Pedro Munhoz. Read on for our Munhoz-O'Malley picks and predictions.
O'Malley's trek up the bantamweight mountain has been a slow burn. Long considered one of the finest prospects in the weight class, "Sugar" has unleashed impressive performances against lower-caliber opponents in classic resume-building fashion. It's the kind of favorable matchmaking and gradual career building that isn't often afforded to high-level prospects in the UFC. Munhoz signals O'Malley's first foray into the division's top 10.
Conversely, Munhoz has faced nothing but killers over the past three years. Despite a disappointing 1-4 record in his last five fights, there's really no shame in Munhoz's recent slide, with all four of those losses coming against current or former UFC champions. "The Young Punisher" has been fed through the 135-pound woodchipper, and this bout with O'Malley is his first opponent outside of the top 10 in a long time.
Can Munhoz derail the O'Malley hype train? Or will the "Sugar Show" be featured in a near-future title fight?
Here are my picks and predictions for the UFC 276 135-pound showdown between O'Malley and Munhoz (odds via Caesars Sportsbook and DraftKings Sportsbook; and pick confidence is based on a one-to-five star scale).
Munhoz vs. O'Malley Fight Info
Date: Saturday, July 2, 10:00 p.m. ET (main card)
TV: ESPN +, PPV
Location: T-Mobile Arena, Las Vegas, NV
Munhoz vs. O'Malley Odds Analysis
Already one of the promotion's biggest stars, O'Malley opened as a -250 favorite, and that gap has widened as high as -340 depending on the sportsbook.
Those looking to back the experienced underdog can snatch up Munhoz at +250 over at FanDuel Sportsbook.
Pedro Munhoz Betting Profile
Boot-leather tough with heavy hands and a deadly guillotine choke, Munhoz is nearly impossible to finish. The 35-year-old Brazilian has made it to the final bell in every single bout of his 27-fight career, and his resume is littered with current and former champions from multiple weight classes. Munhoz counts Jimmie Rivera, Rob Font, Bryan Caraway, Justin Scoggins, and former division overlord Cody Garbrandt among his high-profile list of conquests.
"The Young Punisher" will need to cut off the cage and pressure his opponent with heavy shots at close range. He should also unload hard leg kicks whenever he has the chance. The road to O'Malley's lone career loss was paved with brutal calf kicks, something Munhoz should try to replicate on Saturday night.
Sean O'Malley Betting Profile
An excellent striker who combines speed and precision, O'Malley is a venomous finisher once he smells blood in the water. Eleven of his 15 career victories have come via KO/TKO, and he's polished off his opponents with strikes in his last three trips to the Octagon. Violently carving his way through the depths of the bantamweight division, O'Malley's growing list of victims includes Thomas Almeida, Eddie Wineland, and Raulian Paiva.
Possessing the speed, length, and technical striking advantage, O'Malley should look to pick Munhoz apart with a consistent jab and combinations from the outside.
Munhoz vs. O'Malley Picks
O'Malley (-280 via DraftKings) ????
O'Malley by decision (+200 via Caesars) ????
Check out our top-rated sportsbooks here
Munhoz vs. O'Malley Predictions
O'Malley (-280)
O'Malley finally breaks into the top 10 with a convincing victory Saturday night. "Sugar" lands significant strikes at a higher rate with more accuracy, and he's far less hittable than Munhoz.
I expect O'Malley to pepper Munhoz with a steady diet of combinations, punctuated with something nasty and flashy. However, I'm not sure O'Malley has the requisite juice to banish Munhoz to the shadow realm.
O'Malley by decision (+200)
Sure, O'Malley has a solid track record of sending opponents careening to the canvas, but Munhoz is an entirely different animal.
Munhoz hasn't fallen to strikes once in his 13-year career, and he won't on Saturday night. Instead, I expect O'Malley to use accurate, volume striking to get ahead on the judge's scorecards and cruise to a decision victory.
Where to Bet on Munhoz vs. O'Malley Picks
Here are our top-rated sportsbooks:
SEE ALSO: All picks, odds, and sports betting news. Be sure to check out SportsbookReview.com's community forums and betting tools.
Munhoz-O'Malley picks made on 6/29/2022 at 9:29 a.m. ET.