Best Bets Today: Top Picks, Predictions from Friday's Sports Slate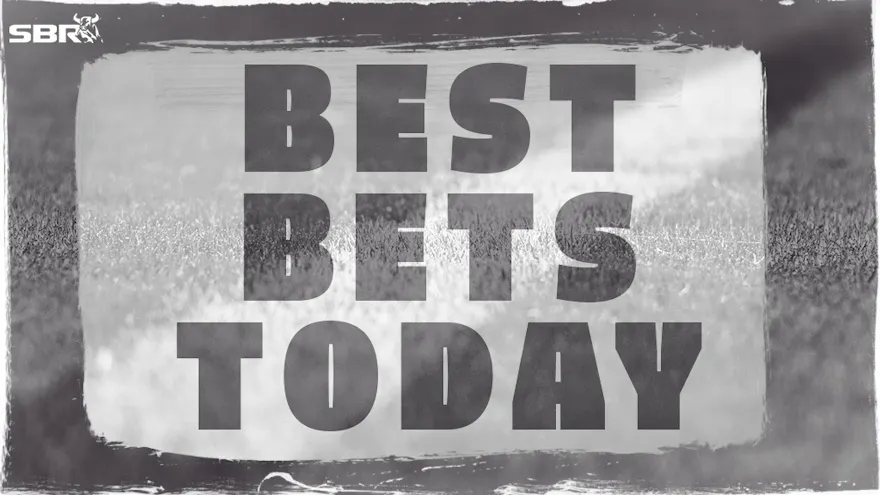 Check out our sports betting experts' top picks for today's slate based on the odds from our best sportsbooks. Top picks and predictions from college football, college basketball, and the NBA and NHL for Friday.
Following the NFL's marquee Thanksgiving Day slate, college football has center stage on Friday with a loaded 13-game slate of regular-season finales. Rivalries rule the day.
We also have another full college basketball schedule and the NHL returns to action.
Read on for our best bets for Friday, Nov. 25, based on the odds from our top-rated sportsbooks.
Today's Best Bets
College football: Trey Benson Under 104.5 rushing yards (-114 via FanDuel Sportsbook)
College basketball: Iowa-Clemson Under 149 (-110 via DraftKings Sportsbook)
NBA: Buddy Hield Over 16.5 points (-120 via DraftKings)
NHL: Cole Caufield to score (+158 via FanDuel)
Check out our top sites for Maryland sports betting.
Friday's College Football Best Bet
Benson rushing yards: Under 104.5 (-114) ★★★★
After giving props to Florida State's ground game, we look to play the Under on Benson's rushing yardage prop of 104.5. It has little to do with confidence in Florida's run D but concern about the distribution of carries.
As previously noted, the Seminoles have three quality RBs and haven't been shy about using them. With Ward missing time due to injury, Benson saw an uptick in usage. After seeing no more than 10 carries in each of the first seven games, Benson garnered 15+ rushing attempts in each of the last four weeks.
With Ward returning from injury and Toafili still in the mix, there's a very high likelihood Benson's workload will be cut back this week. Even if he still reaches the 15-carry mark, surpassing this rushing yardage prop is hardly a sure thing.
To put things in perspective, last week Benson averaged 5.0 yards on 16 carries. Despite the solid YPC output, it only equaled 80 total yards.
Florida vs. Florida State picks made by Henry John.
Check out all of our top college football picks for Week 13.
Friday's College Basketball Best Bet
Iowa-Clemson Under 149 (-110) ★★★★
As is typical for Fran McCaffery-coached teams, the Hawkeyes play at one of the fastest tempos in the country. But while Iowa ranks 36th in overall tempo and second in quickest offensive possessions (averaging 14.1 seconds per possession), the Clemson Tigers know how to muck a game up defensively.
Since being upset by South Carolina, Clemson has allowed 59 points per game over its previous three games and spent 18.9 seconds on average per defensive possession (343rd in the country). The Under is 9-2 in Clemson's last 11 games following a win, and it is easier to slow a team down than it is to speed one up, so we expect the Tigers' tempo to win out. Not to mention, Iowa held Seton Hall to 67 points in its toughest test to date, so it can get after it on the defensive end as well.
DraftKings offers the best number for Under backers, as most other sportsbooks are at 148.5. And the 149-point total is 1.5 points better than PointsBet's 147.5.
Friday's college basketball best bets made by Mike Spector.
Check out our Kansas vs. Tennessee picks for the Battle 4 Atlantis Championship!
Friday's NBA Best Bet
Hield Over 16.5 points (-120) ★★★★
If you want to bet Overs, you should chase volume. While Buddy Hield can be streaky with his jump shot, he's an essential guarantee to chuck up 12 field goals per game, since he's done that in 88% of his games this season. He has cleared this point total in 10 of his 17 games and Friday's contest between the Brooklyn Nets and Indiana Pacers features one of the highest betting totals of the slate (233.5), which means the books are expecting offense.
This season, the Nets have allowed the most made 3-pointers per game and the second-most points per game to shooting guards. Since Nets guard Ben Simmons' return from injury on November 7, the Nets have gotten slightly better at defending the three but worse at defending the restricted area, where Hield takes most of his non-3-point attempts from.
In that span, Brooklyn has allowed the 10th-most above-the-break made threes per game, ninth-most left corner threes per game, and 13th-most restricted area buckets per game. This season, Hield has attempted 86.5% of his shots from these spots, which is why we are pivoting to Hield's point total.
Friday's NBA best bets made by Ahaan Rungta.
Check out our Nets vs. Pacers picks and all of our NBA picks and predictions.
Friday's NHL Best Bet
Caufield to score (+158) ★★★
Montreal Canadiens winger Cole Caufield is coming off his first game this season with zero shots on goal and should be looking to get back on track Friday. He'll have a great chance against the hapless Chicago Blackhawks defense that has the fourth-most shots allowed per game (34.8) and seventh-most goals against per game (3.53) this season.
Caufield has goals in nine of 20 games this season (+122 implied odds), including two of his last three. The Canadiens' top line is clicking and Caufield is primed to get back on the scoresheet.
Friday's NHL best bets made by Ryan Gilbert.
Check out our Blues vs. Lightning picks and all of our NHL picks and predictions.
Where to Bet on Today's Best Bets
Here are our top-rated sportsbooks: