Best Bets Today: Top Picks, Predictions from Friday's Sports Slate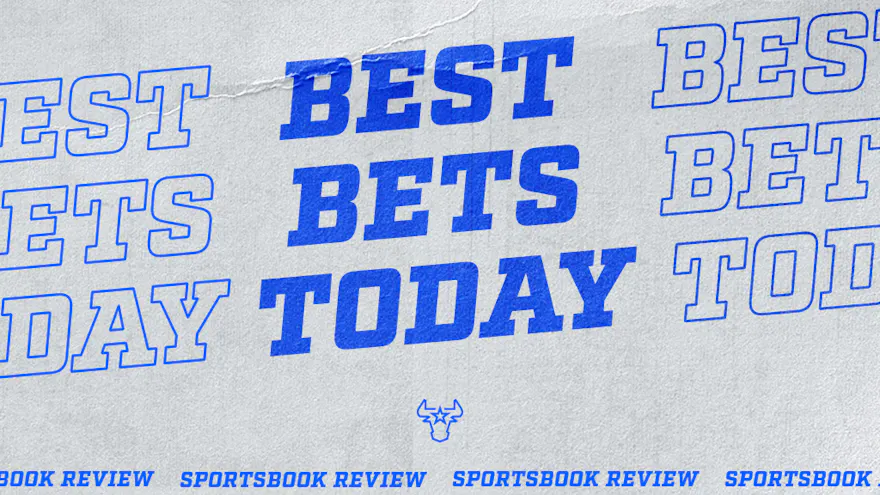 We've shopped the odds and lines at our best sportsbooks in search of today's best bets for Friday, March 10. Our top picks include offerings from college basketball, and the NBA, NHL, UFC.
There's a sports slate brimming with action on Friday and into the weekend. March Madness is nearly here, and there's also hardcourt clashes in the NBA. There are a few NHL games too, and we're looking ahead to UFC Fight Night 221 and the Oscars.
Read on for today's best bets for Friday, March 10, based on the odds from our best sportsbooks.
Friday's best bets
College basketball: Clemson ML vs. Virginia (+152 via Caesars) ⭐⭐⭐
NHL: Carter Verhaeghe Over 3.5 shots on goal (+100 via FanDuel Sportsbook) ⭐⭐⭐⭐
NBA: 76ers Over 120.5 points (-110 via FanDuel) ⭐⭐⭐
UFC: Yan to beat Dvalishvili (-250 via Caesars)
Oscars: Collin Farrell to win Best Actor (+1100 via FanDuel)
Friday's college basketball best bet
Clemson ML vs. Virginia (+152 via Caesars) ⭐⭐⭐
No Bill Self, no problem for Kansas in its opening Big 12 game. The Jayhawks cruised to a 17-point victory over West Virginia without their leader, but that should not have been surprising as they beat Duke on a neutral court with their coach suspended for the first four games to start the season.
Iowa State is 2-0 since dismissing third-leading scorer Caleb Grill from the team. However, both wins were against Baylor, the worst defensive team in the Big 12. We're making this a four-star play as the Jayhawks' eighth-ranked defense (per KenPom's adjusted defensive efficiency metric) should have the Cyclones struggling to find offense as they did when holding them to an average of 64 points in the two regular-season meetings.
College basketball best bets made by Mike Spector.
Check out all of our top college basketball picks, as well as our 2023 March Madness odds and 2023 Wooden Award odds.
Also check out our Duke-Miami pick.
Friday's NHL best bet
Carter Verhaeghe Over 3.5 shots on goal (+100 via FanDuel) ⭐⭐⭐⭐⭐
When the moneyline gets as expensive as it is for Florida on Friday, you'll find better value in other markets – and I see a potentially massive edge here.
Verhaeghe has recorded at least four shots on goal in 11 of his past 12 games at FLA Live Arena, combining for 11 total shots in back-to-back wins over Vegas and Pittsburgh. He has also taken the sixth-most shots on home ice of any player since the All-Star break (38).
This is the standard set by Verhaeghe's line with Matthew Tkachuk and Sam Bennett. That trio is averaging 47.92 shots per 60 minutes, the most of any line that has played together for at least 100 five-on-five minutes, according to Evolving Hockey.
On top of that, the Blackhawks are a porous defensive side, ranking 31st with 36.0 shots against per 60 minutes away from the United Center.
FanDuel has a Verhaeghe anytime goal at +160 if you're feeling more adventurous – but my focus is on a shot prop that removes the risk of a goaltender impacting the results and focuses instead on Chicago's reliably deficient defensive play.
Blackhawks-Panthers picks made by Scott Cullen
Check out all of our 2023 Stanley Cup odds, Hart Trophy odds, Rocket Richard Trophy odds, and Norris Trophy odds
Friday's NBA best bet
76ers Over 120.5 Points (-110 via FanDuel) ⭐⭐⭐
Though many bettors like the Over for this entire game, it's much more of a toss-up than many might think. The 76ers have the third-best scoring defense in the NBA this season, and they are allowing just 109.5 points per game at home. The Trail Blazers have scored 111 or fewer points in five of their last six games.
Yet, though the game total is up in the air, the 76ers have been red-hot offensively, scoring over 120 points in three of their last five games. They won't face much of a challenge Friday against a Trail Blazers defense allowing 115.6 points per game this season.
With no players listed on the 76ers' injury report, they should be able to continue their offensive ways on their home court. There are only two real concerns: they just had two off nights, which could have cooled them off, and the Trail Blazers need to keep this one close enough so the 76ers keep scoring. A few nights ago, we saw the Trail Blazers struggle to keep up with the Celtics, who needed only 115 for a blowout win.
We think the Blazers will be able to keep this one close for long enough that the 76ers will score in the mid-120s even if they don't need to.
Trail Blazers-76ers picks made by Philip Wood
Check out all of our NBA best bets, and our 2023 NBA Finals odds and 2023 NBA MVP odds.
Friday's UFC best bet
Yan to beat Dvalishvili (-250 via Caesars)
Quite simply, Yan is the better fighter. Dvalishvili's path to victory involves dragging Yan to the mat and grinding him down into fine dust. Don't get me wrong, the streaking Georgian is quite adept at yanking his opponents into deep waters with smothering top control, but I don't think he'll be able to do that for five rounds against Yan.
Yan is a fine defensive wrestler (90% takedown defense), and he'll use that to stay upright while unleashing his superior striking to piece Dvalishvili up on the feet. The Russian lands strikes at a higher volume (5.31 significant strikes landed per minute compared to Dvalishvili's 4.21), with more accuracy (53% to 40%), and I expect him to outwork Dvalishvili over 25 minutes en route to a decision victory.
Sure, there's a possibility Dvalishvili relentlessly clinches and hunts for takedowns until he completely exhausts Yan in the later rounds, but the former champion is no stranger to five-rounders, and he'll likely have enough juice to stay ahead on the scorecards.
Yan-Dvalishvili pick made by Kyle Smith
Check out our UFC Fight Night 221 best bets.
Friday's Oscars best bet
Colin Farrell to win Best Actor (+1100 via FanDuel)
While many believe Best Actor has become a two-horse race between Brendan Fraser and Austin Butler, we're not so sure about that. Fraser won the SAG for his beautiful performance in "The Whale," and Butler managed to beat Farrell at the BAFTAs, when "Banshees of Inisherin" actually did well.
But will enough people have seen "The Whale" to get Fraser over the hump? We've seen Oscars voters leave great performances out in the cold because of subject matter. Just look at Naomi Watts in "The Impossible" and Mickey Rourke in "The Wrestler," also directed by Darren Aronofsky.
Butler's performance as Elvis was great, but he hasn't been around the industry very long, and sometimes that's all it takes to lose an Oscar. Colin Farrell has been at it for a long time. He's a respected actor who earned his first Oscar nomination with this film. Look for him to potentially surprise the field because of that and the accessibility to his movie.
Oscars long-shot picks made by Philip Wood
Check out our printable Oscars ballot, and 2023 Oscars odds and picks.
(21+. Gambling Problem? Call 1-800-GAMBLER)
* Bonuses not applicable in Ontario.
Related pages