Texas vs. Baylor Week 9 Picks: Is Baylor A Legitimate Big 12 Contender?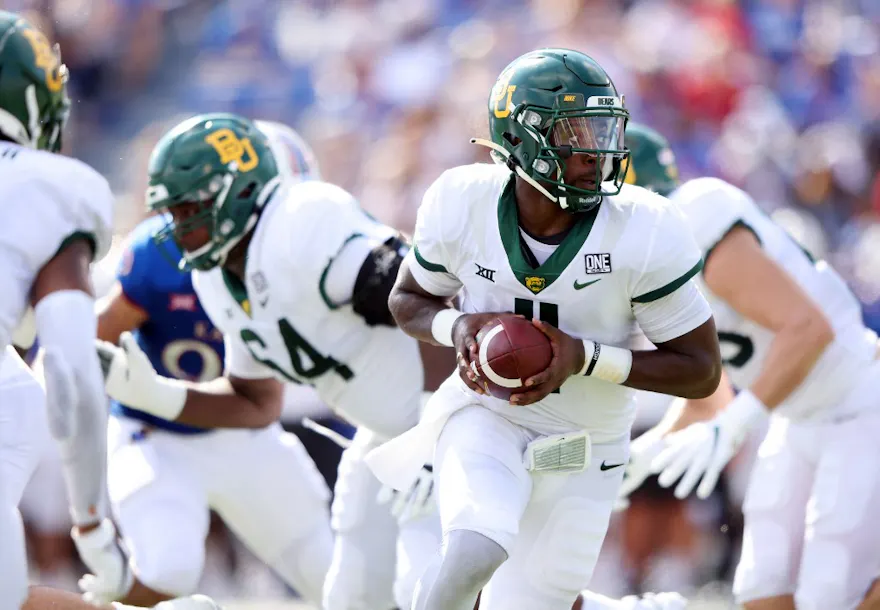 The Baylor Bears have won four of their last five games with the lone loss coming against a ranked Oklahoma State team. The Bears will look for win number seven while welcoming a reeling Texas Longhorns team to McLane Stadium. Can Baylor continue this surprising season?
The Bears have caught all of the Big 12 by surprise. They've started the season 6-1 and will look for their next win, at home, against the Longhorns. Meanwhile, Texas has lost two straight games against ranked opponents and, with a loss to Baylor, would fall to .500 on the year.
While Baylor is a potential Big 12 contender, Texas is just trying to avoid the embarrassment of being .500 by the start of November. There's no question that Texas has the offense to beat any team in the country, however, the defense has been a problem, especially in the run game. And what does Baylor do best? Run the football.
Here are my picks and predictions for the College Football Week 8 matchup between Texas and Baylor. (Odds via DraftKings; pick confidence based on a 1-to-5 star scale).
Texas vs. Baylor Game Info
Date/Time: Saturday, October 30, 12 p.m. ETTV: ABCLocation: McLane Stadium, Waco, TXWeather: 66.5 degrees with wind 8.7 mph
Texas vs. Baylor Odds Analysis
Baylor opened as a pick-em against Texas but has now been bet up to -2.5. It looks like the sharps are betting on Baylor, at home, early.
The total opened at 62.5 and has now been bet down to 62 across the board. There isn't much movement regarding the total at this time.
Texas vs. Baylor Betting Picks
Baylor -2.5 (-110) ???Under 62 (-110) ??
SEE ALSO: Georgia vs. Florida Week 9 Picks
Texas vs. Baylor Predictions
Baylor -2.5 (-110)
Plenty of defenses have earned the spotlight this college football season. The one you don't hear about often is Baylor's. The Bears are holding teams to 18.7 points per game while the offense is scoring 38.3 points per game on 472 yards per game. If you think Texas has a good offense, you're missing out on Baylor's.
Baylor has one of the best run games in America, averaging 239.3 yards per game behind one of the best run-blocking offensive lines in college football. Texas is going to have trouble getting stops against the run. Abram Smith leads the Bears with 10 touchdowns and 7.5 yards per carry.
The Longhorns are allowing 201.3 yards per game on the ground. That's really the biggest weakness for Texas on the defensive end. At home, Baylor will more than likely exploit that.
Baylor has been terrific defensively. The Bears are not elite but getting the job done in coverage with the pass rush and haven't been terrible stopping the run either.
It's going to be tricky getting stops against Texas, but Baylor is limiting teams to just 198.9 yards per game in the air this season. They're capable of creating havoc and capitalizing on that chaos with turnovers.
Under 62 (-110)
Both teams are averaging more than 38 points per game. But the best way for Baylor to score points is to run the football. The Bears are not going to be in a hurry as much in this game. They're going to want to help that defense recover and give them time to gameplan for the next drive.
Even though Texas has been pretty bad defensively, it has allowed under 30 points per game this season. The Longhorns are going to allow plenty of points to Baylor on Saturday, but as long as they keep the clock ticking, they may be able to limit the points scored against them.
Everyone wants to see these two high-powered offenses go to work, but I believe Baylor, in particular, will be able to force some stops against Texas. After all, Texas quarterback Casey Thompson has five interceptions on just 137 attempts.
Take the under in a game where Baylor and the crowd help keep Texas off the board more than usual.
SEE ALSO: Kansas vs. Oklahoma State Week 9 Picks
Picks made 10/27/2021 at 7:40 a.m. ET