SMU vs. UCF Picks, Predictions College Football Week 6: Wednesday AACtion Provides Midweek Treat
The SMU Mustangs and UCF Knights will meet in a rare Wednesday clash to kick off Week 6 after having their Week 5 contest postponed by Hurricane Ian. Check out our SMU-UCF picks.
The Week 6 college football slate kicks off with some "Wednesday Night AACtion". As a result of Hurricane Ian's impact on the Central Florida area. SMU and UCF will now play Wednesday night after their Saturday game was postponed.
SMU (1-3 ATS, 1-3 O/U) will be looking to snap a two-game losing skid in Wednesday's American Atheltic Conference opener. The Mustangs played a pair of Power 5 opponents back-to-back and lost tight games against Maryland and TCU.
As for UCF (2-2 ATS, 1-3 O/U), Wednesday's conference opener will provide an opportunity for the Knights to extend their current winning streak to three straight games. Despite being outgained by nearly 120 yards for the game, UCF got past Georgia Tech at home in its most recent contest.
Here are our college football picks for Wednesday's Week 6 matchup between SMU and UCF (odds via BetMGM, FanDuel Sportsbook, and DraftKings Sportsbook; pick confidence based on a 1-to-5 star scale).
SMU vs. UCF Game Info
Date: Wednesday, Oct. 5, 7 p.m. ET
TV: ESPN2
Location: FBC Mortgage Stadium, Orlando, FL
Weather: 71 degrees, 0% chance of precipitation, 4-5-mph winds NE
SMU vs. UCF Odds
SMU vs. UCF Odds Analysis
SMU has drawn 54% of the ATS tickets and 81% of the handle, helping drop the opening line of UCF -3 to -2.5.
The Over/Under has dropped 1.5 points from an opening line of 65 even with 61% of the tickets and 73% of the handle on the Over.
SMU vs. UCF Picks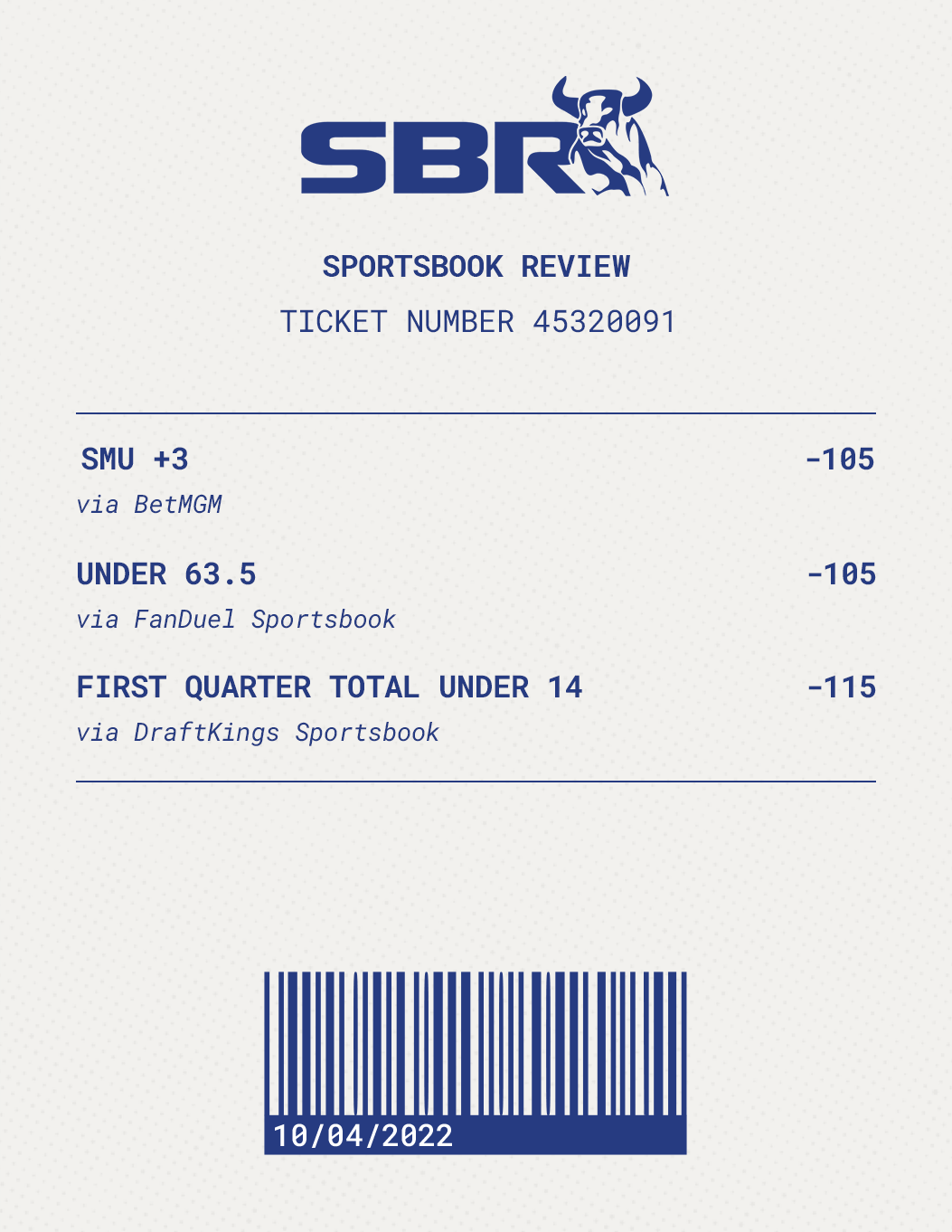 SMU vs. UCF ATS Pick
SMU +3 (-105) ★★
Although SMU may have failed to beat both Maryland and TCU outright, the fact that the Mustangs were competitive in both games cannot be overlooked. With the Terps' and Horned Frogs' stock on the rise, one has to believe that SMU will be highly competitive in AAC conference play this year, even against the league's top teams.
The biggest loss the Mustangs suffered from last year to this was head coach Sonny Dykes departing for the same position at TCU. In terms of on-field personnel, SMU actually brought 13 starters back. Among them is quarterback Tanner Mordecai. Despite losing three of his top four receivers from a year ago, Mordecai has still navigated the offense to 27 or more points in each of the first four games.
SMU also returned seven defensive starters from a year ago. While the Mustangs gave up over 31 points per game in conference play last year, an experienced defensive front could make all the difference against AAC foes in 2022.
While the Mustangs held their own against a pair of Power 5 opponents, UCF hasn't exactly gotten off to a blistering start. The Knights are 3-1, but they were outperformed statistically by Georgia Tech. Losing at home to Louisville also doesn't look great.
It's also tough to dismiss the fact that UC gave up 55 points to SMU when the teams met in Dallas last year. A similar output seems unlikely, but for UCF to go from catching a touchdown on the road in last season's meeting to laying a field goal at home is a pretty hefty swing.
Check out our Week 6 college football power rankings.
SMU vs. UCF O/U Pick
Under 63.5 (-105) ★★
Speaking of last year's matchup between UCF and SMU, the game finished with 83 total points. The total for Wednesday's rematch is sitting a whole 20 points below last season's output. When one considers the improvements that both teams have made defensively, it's hard to expect a similar offensive outburst.
UCF's defense, in particular, is off to a fantastic start this season. The Knights actually come into Wednesday's game as a top-10 scoring defense nationally. None of UCF's first four opponents managed to score more than 20 points.
The other factor to consider when handicapping the total is the inconsistent nature of the Knights' offense. Ole Miss transfer John Rhys Plumlee hasn't been terrible, but moving back to the quarterback position after multiple years running routes as a receiver in Oxford is easier said than done. Against Power 5 defenses, Plumlee's lack of recent playing time at the position certainly showed.
When one thinks of SMU and UCF football in recent years, it's easy to focus on what these programs have accomplished offensively. However, with both teams returning plenty of experience in their respective defensive fronts, the offenses figure to face a good amount of resistance in this matchup.
SMU vs. UCF Prop Pick
First quarter total: Under 14 (-115) ★★★★
Not a single one of SMU's first four games had more than 14 total points scored in the first quarter. The same can be said for both of UCF's matchups against Power 5 competition.
Once again, it's important to check biased perceptions of these two offenses at the door when handicapping Wednesday's matchup. In the first quarter of games so far this season, the Mustangs have averaged 6.7 points. The Knights have been a full point worse, averaging 5.7 points per first quarter against FBS-level competition.
Based on how these teams have tended to start games offensively, two touchdowns feel like the absolute ceiling for scoring in the first 15 minutes of this matchup. As such, the worst a bet on the Under could do is result in a push.
The fact that this is a postponed game and being played in a weird timeslot on a Wednesday night could also work against the offenses, especially early on.
Where to Bet on SMU vs. UCF Picks
SMU-UCF picks made 10/4/2022 at 2:03 p.m. ET