Penn State vs. Iowa College Football Week 6 Picks and Predictions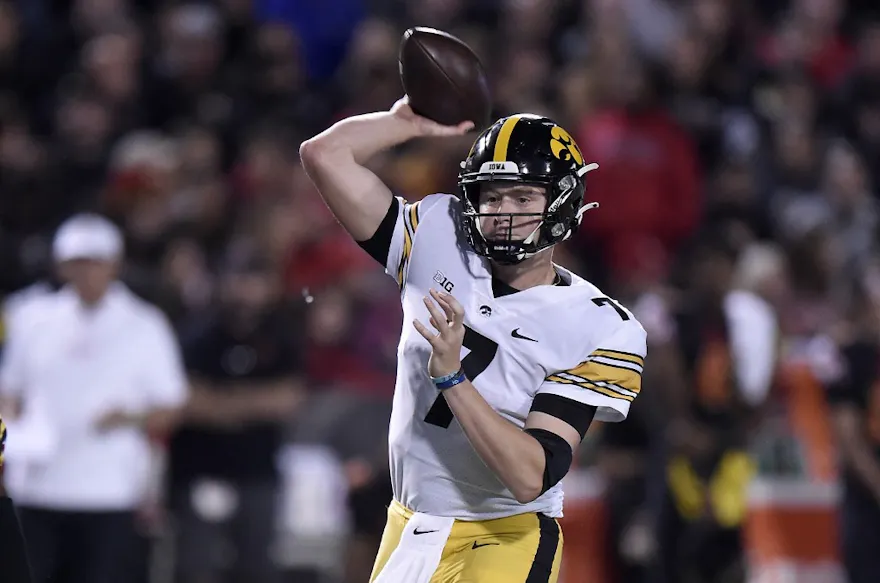 Both teams have pounded the college football odds, but the Iowa Hawkeyes have the edge this Saturday over the Penn State Nittany Lions.
Penn State Nittany Lions vs. Iowa Hawkeyes
Saturday, October 09, 2021 - 04:00 PM EDT at Kinnick Stadium
How can a bettor choose between fresh and fly? Here at the ranch, our first college football pick of the 2021 campaign was the Penn State Nittany Lions, who beat the Wisconsin Badgers 16-10 to cash in at +190 on the money line. Then it was the Iowa Hawkeyes (+160 at the close) in Week 2, and they did us a solid by upending the Iowa State Cyclones 27-17. Now, these Big Ten behemoths are facing each other this Saturday in Iowa City, each with a record of 5-0 SU and 4-1 ATS heading into Week 6.
https://youtu.be/QQAfHnVWI20
What to do, what to do. It's pretty easy, actually. The Hawkeyes are the small-market team in this matchup, and they're getting the benefit of the hook as 2.5-point home faves on the (visit our Sportsbook Review) odds board. We're pretty sure the quants will support Iowa when all is said and done; the consensus reports at press time show 62 percent of early bettors on the home side, so it looks like the sharps are with us. Let's do this.
Eigen See Clearly Now
First up, we have Jeff Sagarin's projections at The USA Today, where he's got the Hawkeyes winning by 5.96 points using his overall Rating system. His eigenvector analysis has it Iowa –12.15, and while we're assuming that formula still has too much early-season noise in it, it does reflect how well the home side has played of late.
https://twitter.com/TheIowaHawkeyes/status/1444151976959352843
For a second source – and to help us gauge whether to put the money line in our NCAAF picks – we turn to ESPN's Football Power Index. They like Iowa to win 59.2 percent of the time, for a fair money line of –145 using the exquisite SBR Odds Converter. (visit our Sportsbook Review) have the Hawkeyes priced at –130 on their 20-cent ML, so that's not too bad a bet, either. Great, now we have to choose again.
A Can of Corn
Before we do, let's take a quick look at the situation on the ground. Iowa's strengths – their defense, and their offensive line – are the kind of things recreational bettors tend to overlook. Penn State has a good defense, too, but they're experiencing some growing pains with QB Sean Clifford, who has largely struggled during the first half of games before exploding in the second. This plays right into Iowa's hands, and into the hands of sharp bettors.
https://twitter.com/PennStateFball/status/1444485742038765569
So which of these college football lines is right for us? Some online sportsbooks have the Hawkeyes priced at –3, and others at –2, all with different levels of vigor to navigate. And we're clearly dealing with a moving target here; as I write this, has just dropped Iowa to –1.5. Their earliest action was on the Hawkeyes, bumping them up to –3 before they started this climb-down, so maybe there's more steam on its way. Shop smart based on the lines you see in real-time, but for now, our choice is clear, and it's corn.
NCAAF Pick: (visit our Sportsbook Review)
*The pick reflects the line at the moment the writer made the play, the odds at the beginning of this article show the live line movement. Since the lines might vary, don't forget to refer back to our live odds.