Oklahoma vs. Baylor Week 11 Picks: Can the Bears Upset the Sooners?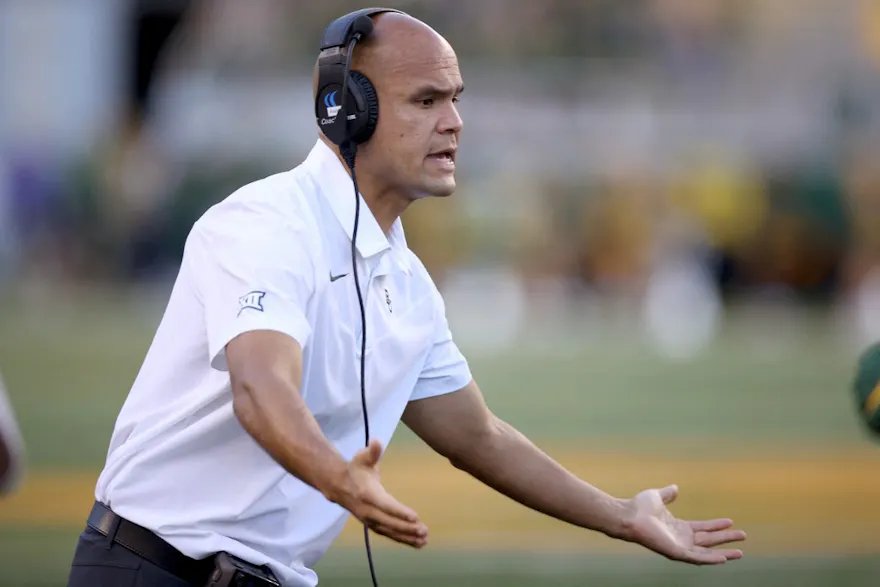 Oklahoma needs to win out if it wants to make the College Football Playoff. Our Week 11 college football picks look at whether the Oklahoma Sooners can hold off the upset-hungry Baylor Bears.
It is clear that Oklahoma needs to make a statement if it wants to make it to the College Football Playoff, based on the latest rankings. Any loss would essentially eliminate the eighth-ranked Sooners from contention.
That makes this game against Baylor interesting. The Bears are ranked 13th, but they lost 30-28 to TCU last week. They will be looking to stay relevant with an upset at home against the Sooners.
Here are my picks and predictions for the college football Week 11 matchup between Oklahoma and Baylor (odds via FanDuel Sportsbook; pick confidence based on a 1-to-5-star scale).
Oklahoma vs. Baylor Game Info
Date/Time: Saturday, November 13, noon ETTV: FoxLocation: McLane Stadium, Waco, TXWeather: 56 degrees, no rain
Oklahoma vs. Baylor Odds Analysis
The spread began at 6.5 for the Sooners but has dropped by a point by the middle of the week. This means that Oklahoma can cover with two field goals or a touchdown, but Baylor can still cover without needing the upset win.
The projected point total shifted slightly. It opened at 64, but it has dropped to 62.5. This is one of the larger totals of the weekend.
Oklahoma vs. Baylor Betting Picks
Baylor +5.5 (-108) ???Over 62.5 (-112) ????
SEE ALSO: Early College Football Week 11 Parlay Picks
Oklahoma vs. Baylor Betting Predictions
Baylor +5.5 (-108)
The Bears have a history of close games against the Sooners. Baylor has surprised many this season by being a contender in the Big 12. Its rushing attack has been hard to stop, and Oklahoma has struggled against run-heavy teams.
However, this comes down to Oklahoma's struggles more than Baylor's successes. Despite making a change at quarterback, the Sooners have failed to make statement wins. They barely squeak by teams that they should blow out.
Oklahoma was off last week and may come out slow on the road with an early kickoff. If the Sooners get down early, they may fail to come back and cover the spread. They could still win, but it would be hard to win by almost a touchdown.
It's unlikely that the Sooners blow out the Bears. The only realistic way I see them covering is if they score a late touchdown to extend a small lead. This has happened with them in the past, but the Bears could also win this game outright.
Oklahoma usually loses one close regular-season game against a conference opponent, and this could be that game.
Over 62.5 (-112)
Either team could score 63 points on its own, which makes me believe the Over is likely to hit. However, there is more to this line than that.
Baylor's offense is explosive per play, but the Bears don't score as many points as Oklahoma on average. This is because of two things. For one, they prefer a slower pace to the game. This causes fewer total drives and fewer points. However, they also struggle to finish drives with touchdowns and this can hurt the total score.
Still, both teams are 6-3 against the Over/Under this year. If Oklahoma goes fast-paced, Baylor will have to push the ball to keep up. The Bears are at home, so they are more likely to win in the red zone, and all of this points to a barnburner.
When in doubt, pick the Over in a Big 12 matchup. Either offense could go off, and it seems unlikely that both will be held below 30 points.
SEE ALSO: All College Football Picks
Picks made on 11/10/21 at noon ET.