Georgia vs. Tennessee Week 11 Picks: Can The Bulldogs Cover?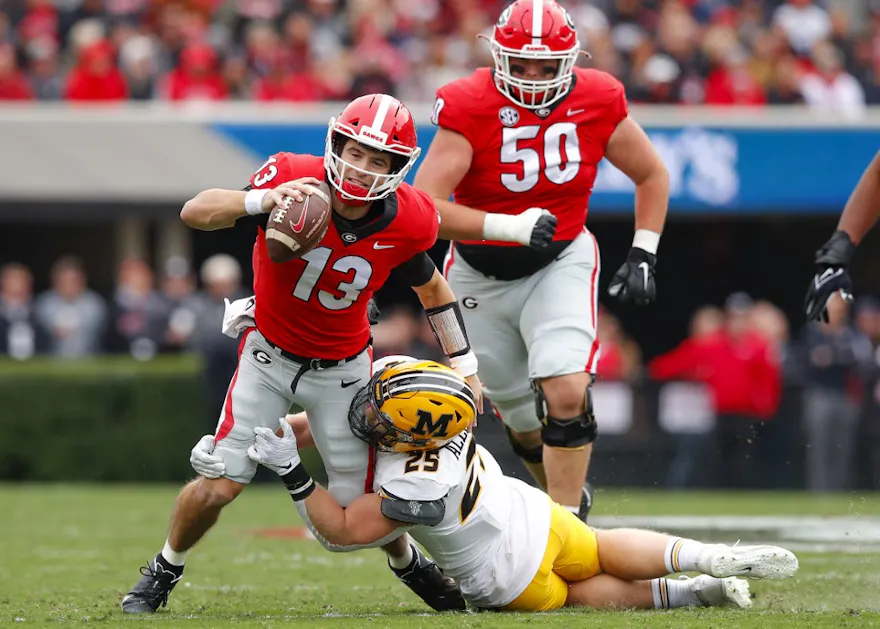 The Georgia Bulldogs have been on a tear this season, the only undefeated team left in college football. Can the underrated Tennessee Volunteers slow them down? Find out who we think should win in a blowout with our Georgia and Tennessee picks.
Without a doubt, Georgia is the best team in college football right now. They have a stifling defense allowing just over six points a game, and the offense is capable of playing complementary football. They have torched every SEC team in their path up to this point, and the Bulldogs (6-3 against the spread) are hoping to keep it up.
The college football world is looking to knock off the Bulldogs, and Tennessee will get their chance at home in Knoxville. Can the Vols (4-5 ATS) shock the college football world and upset Georgia this weekend? If not, can they at least keep it close?
Here are my picks and predictions for the college football Week 11 matchup between Georgia and Tennessee (odds via FanDuel, pick confidence based on a 1-to-5 star scale).
Georgia vs. Tennessee Game Info
Date/Time: Saturday, November 13, 3:30 p.m. ETTV: CBSLocation: Neyland Stadium, Knoxville, TNWeather: 50 degrees, no rain
Georgia vs. Tennessee Odds Analysis
When the line opened, Georgia was a 20-point favorite. It quickly shifted to 20.5, although some sportsbooks have shifted in other ways. The thought process essentially comes down to if UGA will score touchdowns or be forced to settle for a field goal, which could keep them from winning by 21 points or more.
The totals began at 56, and it has stayed steady., with some sportsbooks offering 56.5. This would be a low total, but Georgia's defense has been absolutely stifling. If the Over hits, it will likely be because of Georgia's offense. Tennessee will struggle to score 20 points, which would be necessary for both the spread and line to be accurate.
Georgia vs. Tennessee Betting Picks
Georgia -20.5 (-105) ???Over 56.5 (-108) ???
SEE ALSO: Early College Football Week 11 Parlay Picks
Georgia vs. Tennessee Betting Predictions
Georgia -20.5 (-105)
Georgia's defense is so stifling that it is hard to see them being troubled by the Vols. Tennessee lost tons of talent on the offensive line this offseason, and I believe the Bulldogs will take advantage of that.
Tennessee has averaged over 38 points per game this year, but they have won thanks to running the ball. That won't work against Georgia's defensive front which allows just 79.8 yards on the ground per game. Also, the Bulldogs have stopped potent offenses already this year such as the Florida Gators and Arkansas Razorbacks so this will be another chance for them to flex their defensive muscles.
Despite Georgia starting Stetson Bennett at quarterback, the Bulldogs have been explosive on offense. If he struggles, they still have JT Daniels to fall back on. This attack will be hard to stop, and I don't see a struggling Vols defense doing much against them.
If Georgia gets an early lead, the Vols will be unable to run the ball. They will have to take risks to stay in this game, and the Bulldogs will force turnovers. That will help them boost their lead in the second half, and that's why I believe they will win by at least three touchdowns with our Georgia and Tennessee picks for Week 11.
Over 56.5 (-108)
After suggesting that Tennessee's offense will be stopped, it may be a shock to predict that the Over will hit. After all, most Overs rely on the losing team to at least push the pace.
However, Georgia is an anomaly. The Bulldogs are 3-6 with the Over/Under, and Tennessee is the opposite. This could truly go either way, but I believe Georgia have a chance of running up the score in the second half. They have no reason to let off the gas, and their backup quarterback needs to prove himself.
If this game gets ugly, Georgia could score at least 49 points by themselves. That is why I have the Over hitting. The line is so low that Georgia could almost cover it singlehandedly. Combining the chances of Tennessee pushing the score up and the likelihood of Georgia dominating offensively give this value. After all, Tennessee's defense has struggled in almost every SEC game this year.
SEE ALSO: TCU vs. Oklahoma State Week 11 Picks
Picks made on 11/10/2021 at 12:44 p.m. ET