Georgia vs. Florida Week 9 Picks: Can the Gators Truly Compete?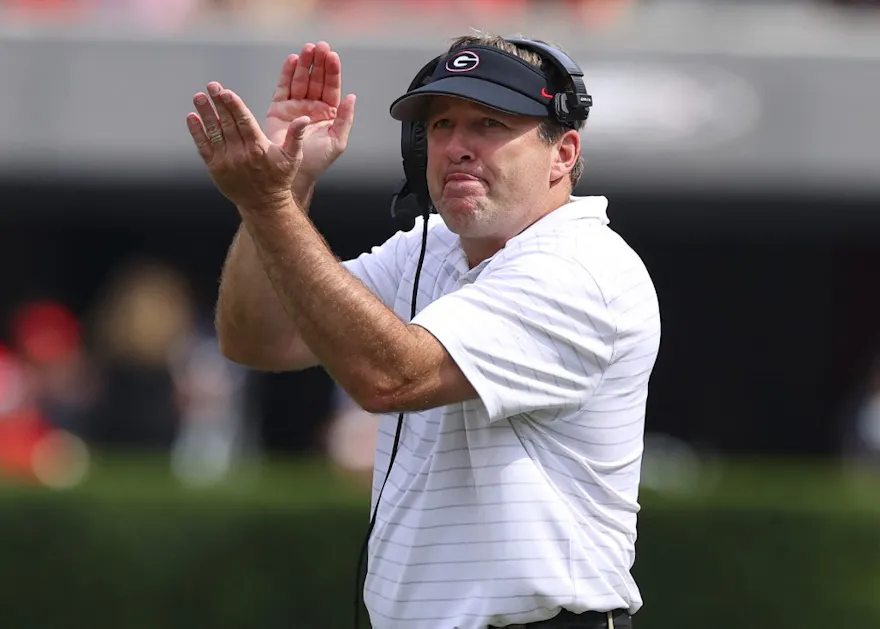 Call Georgia vs. Florida whatever you want, but everyone knows it as the "World's Largest Outdoor Cocktail Party." This year's version comes with extra juice.
Georgia is the nation's No. 1 team at 7-0 (6-1 against the spread), and nobody is disputing that ranking for a second. Their defense is like Dracula while sucking the life out of opposing offenses, and the team is 4-3 to the Under this year.
Florida was supposed to retool, but the perception of the Gators was altered after they nearly upset Alabama. However, reality has set in for them now following setbacks to Kentucky and LSU on the road, leaving Florida at 4-3 (3-4 ATS) and 4-2-1 to the Under.
Here are my picks and predictions for the college football Week 9 SEC super showdown between Georgia and Florida (Odds via Circa, and pick confidence is based on a one-to-five star scale)
Georgia vs. Florida Game Info
Date/Time: October 30 at 3:30 p.m. ET
TV: CBS
Location: TIAA Bank Field, Jacksonville, FL
Weather: Low 60s and cloudy
Georgia vs. Florida Odds Analysis
There were a few discrepancies with the opening odds for the 100th edition of this special rivalry. Georgia at -14 was found most often as the starting point, and the line has largely remained unchanged.
Meanwhile, the total began at 51, came down to 50 on Monday, and went back up Tuesday.
Georgia vs. Florida Betting Picks
Florida +14 (-110) ???
Under 51 (-110) ???
SEE ALSO: Week 9 Opening Lines and Picks
Georgia vs. Florida Predictions
Florida +14 (-110)
With the Gators' 2-3 SEC record, even a monumental upset will only bring adulation and possibly a minor New Year's Day bowl game. Otherwise, this is Florida's bowl game, and the Gators should give the effort to match.
Head coach Dan Mullen's squad started the year with a hot running offense that was averaging over 320 yards per game across four contests. But defenses adjusted, and whether the quarterback is Emory Jones or Anthony Richardson, the opposition has taken running lanes and outside-the-pocket scampers away, resulting in the Gators averaging nearly half that initial total over their last three matchups.
And now going up against Georgia's possibly historically great defense won't make running or passing easy.
Scoring against the Bulldogs will take creativity and finding ways to fool Kirby Smart's defense, and Mullen is a genius in that department.
With Florida allowing 22.8 points per game in SEC action, expect a standout effort as the Gators try to make whomever Georgia's signal-caller is beat them by throwing. Look for Georgia to establish a margin, but the Gators won't quit while losing by 10-13 points.
Under 51 (-110)
Last year, Florida fielded an amazing and nearly unstoppable offense, and the Gators beat Georgia 44-28 in a game that easily surpassed the 53.5 closing total. However, the Under in this series is on a 4-2 move.
The Dawgs are permitting a ludicrous 6.6 points per game against opposing offenses averaging 25.6 or more points. The Gators, meanwhile, have been shaky at times, yet they're giving up 21.1 points per game versus foes averaging 30-plus points.
I'm anticipating a more traditional cocktail party clash in which both defenses perform well, and the coaches might use trick plays but are focused on protecting the ball to not give away cheap points and limit turnovers.
When the total is between 49.5 and 56 in a game involving two good rushing teams like Georgia and Florida that are both outrushing opponents by 50-plus yards per contest after seven-plus games, the Under is a combined 40-8.
SEE ALSO: Week 9 Parlay Picks
Picks made 10/26/2021 at 11:53 p.m. ET