Florida vs. LSU Free College Football Picks for Week 7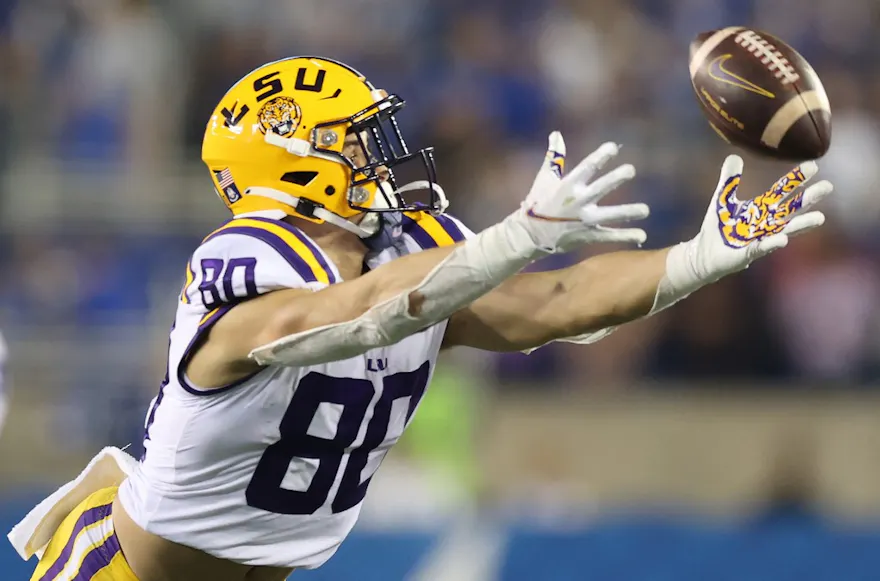 No. 20 Florida travels to LSU looking to get above .500 in the SEC. The Gators are 4-2, 2-2 in the conference, with losses to Alabama and Kentucky. Florida will look to win its second straight and third in four weeks heading into a bye week. LSU, meanwhile, will try to snap a two-game losing streak and reach .500 in the conference. The Tigers are 3-3, 1-2 in the SEC.
Let's see what the college football odds have in store for their matchup so that you can make the right NCAAF pick.
Florida Gators vs. LSU Tigers
Saturday, October 16, 2021 - 12:00 PM EDT at Tiger Stadium
No. 20 Florida travels to LSU on Saturday, looking to get above .500 in the SEC with a noon kickoff against the Tigers. The Gators are 4-2, 2-2 in the conference, with losses to Alabama and Kentucky. Florida cannot afford another loss in conference play if it wants to be in a position for a major bowl bid.
The Gators will be looking for their second straight win and third in the last four to hit their bye week on a positive note.
https://youtu.be/DAXyII6zPNQ
The top-ranked Georgia Bulldogs loom after the bye in the World's Largest Cocktail Party. LSU, meanwhile, is hoping to snap a two-game losing streak. The Tigers have dropped back-to-back games against Auburn and Kentucky and will be facing their third straight ranked foe.
Ole Miss, Alabama, and Arkansas follow, meaning the Tigers could be looking at six straight ranked opponents. LSU is 3-3, 1-2 in the SEC. It won't be a night kickoff in Baton Rouge, but the gameday environment should get a boost after LSU lifted all vaccination and testing requirements for fans hoping to attend the game.
https://twitter.com/LSUfootball/status/1447028433653927941?s=20
Running Wild
Florida has been leaning on its running game to spark a prolific offense in the first half of the season. The Gators have scored at least 29 points in five of six games, including a 42-0 win over Vanderbilt last week.
The Gators were the first team in the SEC to reach 3,000 yards of total offense on the season and are one of just eight teams nationally to reach that mark. Florida has also recorded 1,642 rushing yards, its second-highest six-game total in school history. The Gators rank second in FBS in rushing yards, third in yards per game, and second in the SEC in total offense.
Florida has more than doubled its per-game rushing output from last season. It's also running behind a strong offensive line. The Gators have allowed just three sacks this year, the fourth-fewest in FBS.
Head coach Dan Mullen of the Florida Gators speaks to Richard Gouraige #76 of the Florida Gators. Frederick Breedon/Getty Images/AFP
The Gators could get several injured players back for this week's game. Running back Malik Davis missed the Vanderbilt game with an undisclosed injury. "He should be back this week," coach Dan Mullen said. "I haven't gotten a report yet, but he was on the report expected to be back to practice this week."
Mullen was also optimistic about getting back left tackle Richard Gouraige and cornerback Kaiir Elam. "Injury-wise, we should get some guys back, which is a good thing," he said. Elam has missed three games with a knee sprain. He warmed up before last week's game but didn't play. Gouraige missed the Vanderbilt game with an undisclosed injury.
Missing Two Key Players
LSU hasn't had the same type of luck with its injured players—or perhaps the Tigers are just being more open about the status of their injuries early in the week. Coach Ed Orgeron ruled out wide receiver Kayshon Boutte and edge rusher Ali Gaye for the game against the Gators in his Monday press conference. "They're not going to be available this week for sure," he said.
https://twitter.com/LSUfootball/status/1447624118560608258?s=20
Boutte leads the country with nine touchdowns and leads LSU with 38 catches and 509 yards. He has an injured leg and was later ruled out for the rest of the season. Orgeron isn't expecting to replace Boutte's production with one guy. He listed four receivers who all will need to step up for the Tigers.
Gaye was injured during the opener and has missed most of the season since then. Defensive back Major Burns and defensive lineman Joseph Evans were also ruled out for the game.
The Pick
For your NCAAF pick consider that LSU will be depleted, particularly on defense, and is also missing its most dangerous player on offense. The Gators were already heavily favored on the road, and they should be able to grind down the Tigers with the run game.
NCAAF Pick: Florida -10.5 (-108)
*The pick reflects the line at the moment the writer made the play, the odds at the beginning of this article show the live line movement. Since the lines might vary, don't forget to refer back to our live odds.