Colorado Betting Preview 2023: Futures Picks & Predictions for the Buffaloes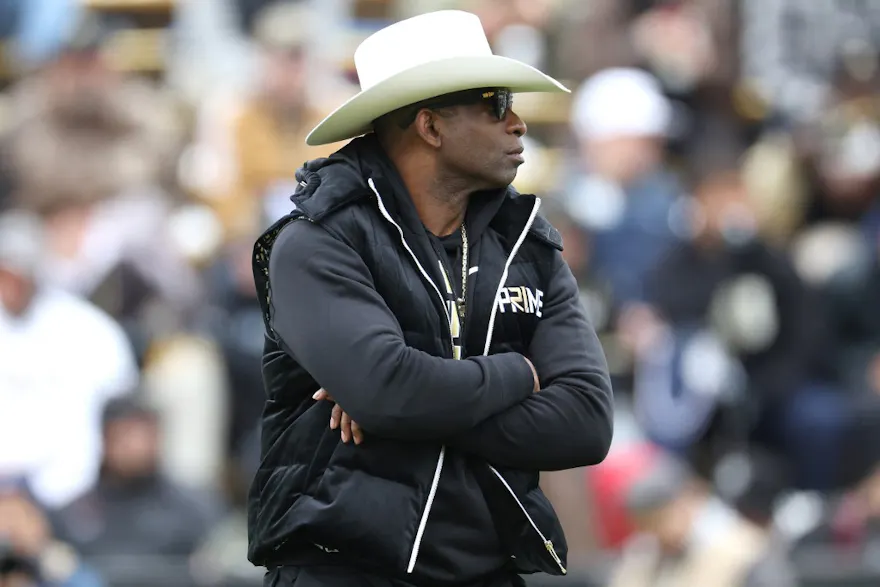 Is it possible for Deion Sanders to orchestrate a turnaround for the Colorado Buffaloes football program in his first year as head coach? Let's closely examine the top college football odds for Coach Prime and his program utilizing the best college football betting sites for our Colorado betting preview.
The excitement is real; Deion Sanders has brought his skills to Boulder, Colorado, and he didn't arrive alone. We all recall the initial meeting he had with the team, essentially advising the returning players to pack their bags, right?
This commitment by Coach Prime to the transfer portal led to his son, Shedeur Sanders, transferring as the quarterback. It also resulted in Travis Hunter, the top recruit of 2022 and a versatile star who previously played for Sanders at Jackson State, making the decision to come and play for his head coach at Colorado.
The Colorado program is witnessing an upswing in ticket sales, social media is abuzz with clips, and Sanders asserts that Colorado is on the rise. However, how does all of this translate into the betting markets for the Colorado football program in its first year with Sanders as the head coach?
Check out our 2023 Colorado betting preview based on the odds from our best sports betting apps (pick confidence based on a 1-to-5-star scale).
Colorado betting preview 2023
Colorado to win Under 3.5 games (-125 via BetMGM) ⭐⭐⭐⭐
Not intended for use in MA
Affiliate Disclosure: Sportsbook Review may receive advertising commissions for visits to a sportsbook
Here we are, dedicating the entire introduction to building excitement around the Buffaloes' potential turnaround under Coach Prime, only to recommend betting on the Under for their regular season win total. Personally, I hope Sanders can create something special in Boulder. I believe it would be highly entertaining for the sport of college football. Nevertheless, our objective is to secure winning bets, by focusing on strategic wagers rather than betting based on personal preferences.
In my perspective, Sanders has the capability to construct something special with Colorado. However, this marks only the first year of the rebuilding process, and it will require time to reshape the culture and fully integrate his players into the program.
Sports betting operates as a market, and BetMGM has made it abundantly clear that it carries a substantial amount of risk regarding the Buffaloes surpassing their win total of 3.5 games. In fact, the Buffaloes rank as the most bet Over for any college football team at BetMGM in terms of a regular season win total. This particular risk exposure that BetMGM faces regarding the Over allows us to secure an excellent price on the Under at BetMGM in comparison to other prices available at our best sports betting sites.
At BetRivers, the Buffaloes are listed at -162 to go Under 3.5 wins, while FanDuel has them at -154. This represents a significant difference from the -125 odds available at BetMGM, which is why I favor the Under in this instance. All of these other trading teams are signaling that the Under 3.5 wins at -125 is a solid price point. BetMGM is only offering -125 on the Under due to its challenge in balancing the potential risk associated with the Buffaloes.
Shedeur Sanders Over 2725.5 passing yards (-115 via DraftKings) ⭐⭐⭐
When betting on a team to go under their win total of 3.5 games, it becomes notably challenging to identify other futures markets in which you can place bets on them. This challenge is especially pronounced in college football, where the availability of futures markets is more limited compared to the NFL.
While betting on Colorado's team futures might present a challenging endeavor, I believe there's an opportunity to bet the Over for Sanders' player props this season. Several of our best sportsbooks offer season-long player props, but only DraftKings has Sanders listed.
If we are favoring the Under on the Buffaloes' win total, it implies our anticipation that they will find themselves trailing in multiple games this season. Consequently, the Buffaloes' offense is likely to adopt a pass-heavy approach to make up ground in these situations. Although Coach Prime might not voice it publicly, he is undoubtedly committed to enhancing his son's draft stock – I mean, what father wouldn't be?
During the previous year at Jackson State, Sanders accumulated 3,732 passing yards. While the competition in the Pac-12 will differ significantly from what he faced last season, it's noteworthy that Sanders was a four-star recruit upon graduating high school. Moreover, with his father at the helm, I am inclined to consider the Over of 2725.5 passing yards.
Shedeur Sanders Over 19.5 passing touchdowns (-120 via DraftKings) ⭐⭐⭐
Just like the Buffaloes drawing a significant amount of money for the Over on their season win total, we have also witnessed Sanders garner considerable attention in the Heisman Trophy futures market. Winning this award not only requires impressive individual statistics but also hinges on the team's advancement to the College Football Playoffs. While not an official Heisman rule, this trend has been observed in voting over the past several seasons.
Once again, as we lean toward the Under for the Buffaloes' win total of 3.5 wins, I find it hard to rationalize a Heisman bet on Sanders, even though his odds are trading above +15000. The team's success simply won't be present to support such a bet. I believe it would be more sensible to consider these two season-long player props on Sanders instead.
During his two seasons at Jackson State, Sanders threw for 70 touchdown passes, indicating that Coach Prime won't shy away from an aggressive passing game in the red zone, especially with his son at the helm. Similar to the analysis for passing yards, I suspect Coach Prime will prioritize bolstering his son's stats to enhance his draft stock.
There are concerns about how Sanders' production will translate to the Pac-12 after his time at Jackson State. This explains why his totals for this season are notably lower compared to his previous production at Jackson State. I believe this narrative might be overstated, considering Sanders received a scholarship offer from Alabama after high school. His choice to attend Jackson State was driven by the desire to play for his father, not due to a lack of skill to compete in a Power 5 conference.
(21+. Gambling Problem? Call 1-800-GAMBLER)
* Bonuses not applicable in Ontario.
Related pages