College Football Week 7 Picks: Teams on Upset Alert This Weekend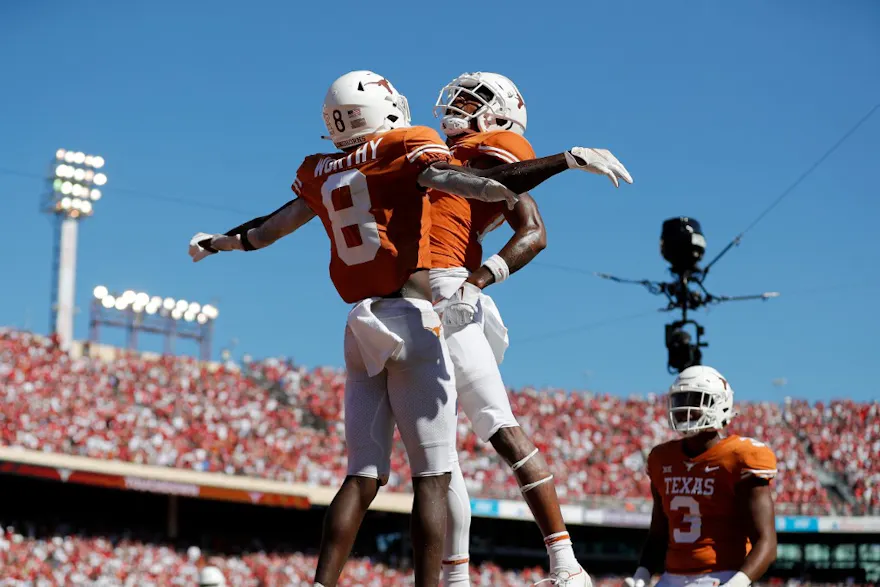 After one of the best Saturdays in recent memory for viewing and betting football from the start of the day until it finished, we move ahead trying to get somewhat close to last week for excitement. Whew. What a week it was from football bettors.
Starting with Oklahoma and Texas along with Arkansas and Ole Miss to start the day, too New Mexico State and Nevada to close it, all either breaking hearts or had bettors throwing things in the air with a joyous celebration.
What are the chances of happening two weeks in a row? Not great it would seem, but at the same time it's not good to age one year in one day either.
This week's upset excursion is taking us morning to night (depending on where you live) and going through the NCAAF betting odds in the Big 12 and the ACC.
Oklahoma State Cowboys vs. Texas Longhorns
Saturday, October 16, 2021 - 12:00 PM EDT DKR-Texas Memorial Stadium
This is an absolute must-win for Texas, after crumbling last week in a gut-wrenching fashion to Oklahoma. Another loss all but kills their chances to play for a conference title.
One might assume that the Longhorns would be mentally and physically weary after facing the Sooners, but that has not been the case over the last decade as they are 9-1 SU. Where the first hint of weakness arises is Texas is only 4-6 ATS in this spot.
https://youtu.be/i4IEaAZXnyE
Oklahoma State is 5-0 (3-2 ATS) and had last week off and should be raring to go to prove they are an underrated group. This is not the Cowboys program of a few years ago, As Mike Gundy seems to have evolved as a coach, hiring better defensive coaches and not as pass-happy.
https://twitter.com/CowboyFB/status/1448294201284694017?s=20
Okie State has a defense that can travel and perform which gives them a better chance at winning the battle and versus the sportsbooks.
The Cowboys are 12-2 ATS in road games after two consecutive covers as a favorite and the Horns are 1-12 ATS after 35+ points versus an opponent playing with revenge.
NCAAF Pick: Oklahoma State +5.5 (-110)
Pittsburgh Panthers vs. Virginia Tech Hokies
Saturday, October 16, 2021 - 03:30 PM EDT at Lane Stadium
Virginia Tech had Notre Dame beat last Saturday night and let them escape. The Hokies had an eight-point lead with only 3:55 left in the game and could not make it hold up.
The good news, that does not affect Virginia Tech's chances to win the ACC Coastal Division. The winner of their skirmish with Pittsburgh has sole possession of the first place and they will have essentially a two-game lead.
Pitt is 4-1 SU and ATS and they have the top-scoring team in the country at 52.4 points a game. With triggerman Kenny Pickett at the controls, the offense is 3rd in yards gained and 5th in passing yards.
https://twitter.com/HokiesFB/status/1447960045124308994?s=20
Here is the problem with the Panthers. Under coach Pat Narduzzi, when the football program is the underdog, they generally do well. When they have expectations, they often crumble in that role.
For college football picks, we note In this series the home team has covered eight of 10 and the underdog is 10-3 ATS. Enter Sandman.
NCAAF Pick: Virginia Tech +4.5 (-110)
North Carolina State Wolfpack vs. Boston College Eagles
Saturday, October 16, 2021 - 07:30 PM EDT Alumni Stadium
In the ACC Atlantic, Wake Forest is at the top at 4-0 having played the most conference games by far in their division. Though N.C. State is only 1-0 in ACC action, that victory was a big one, knocking off Clemson and they control their destiny to reach the conference championship.
This week doesn't look easy with a trip to Chestnut Hill to face Boston College who has a matching season record like the Wolfpack at 4-1.
https://twitter.com/BCFootball/status/1445780788365041679?s=20
The Eagles are an opportunistic club under coach Jeff Hafley, ranked just 63rd in total offense but 13th in the country in yards per point, averaging 35.3 PPG. They will face an N.C. State crew that has little more offensive punch ranked 46th in offense, yet, doesn't score quite as well at 32.2 PPG.
While we hold the Wolfpack in high regard, they are 7-20 ATS vs. teams scoring 34 or more PPG and at Alumni Stadium, B.C. is 2-6 and 1-6-1 ATS in their past eight visits.
NCAAF Pick: Boston College +3 (-105)
*The pick reflects the line at the moment the writer made the play, the odds at the beginning of this article show the live line movement. Since the lines might vary, don't forget to refer back to our live odds.