Cotton Bowl:
Saturday, Dec. 29, 4:00 p.m. ET (ESPN)
AT&T Stadium – Arlington, TX
Best Line Offered:
Here is what the teaser numbers look like for the Cotton Bowl:
Notre Dame +19 vs. Clemson -7
OVER 49 vs. UNDER 61
If you really like Clemson, catching them at just a touchdown looks good because overall. The Tigers average 74 more yards per game on offense than Notre Dame. Coach Dabo Sweeney's defense is also better than the Fighting Irish D, having an edge of 54 total yards per game.
While Clemson is given the big edge in the spread of -13 and has been on this stage the last four seasons, Coach of the Year Brian Kelly's club played a tougher schedule and for a change can relish the underdog role. In Kelly's tenure at Notre Dame, his teams are 18-9 against a standard spread versus opposing teams that average 34 or more points a contest. With that in mind, the idea of backing the Irish at +19 offers greater value.
The college football odds on the total actually opened at 54 before going to 55. On the presumption 55 holds up come game time when tracking lines, then if this exact scenario happens, the OVER 49 is 31-4 on teaser totals.
Let's also consider how this plays out for Clemson, who is 34-5 on the OVER when the six-point teaser total is 43.5 to 50.
Free NCAAF Teaser Picks: Notre Dame +19 and OVER 49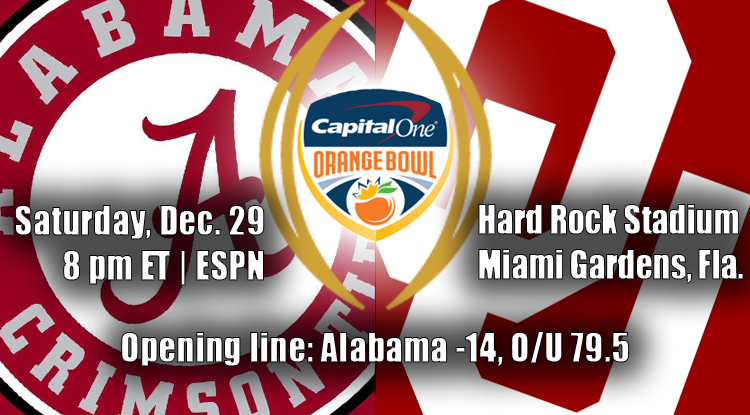 Orange Bowl:
Saturday, Dec. 29, 8:00 p.m. ET (ESPN)
Hard Rock Stadium – Miami, FL
Best Line Offered:
Here is what the teaser numbers look like for the Orange Bowl:
Oklahoma +20 vs. Alabama -8
OVER 71 vs. UNDER 83
Unquestionably, the value of this teaser is on Oklahoma, being above the key number of seven, which could be a factor late in the game. Let's say Alabama is up 14 points, right on the spread and the Sooners score a touchdown in the final minute.
But what happens if Kyler Murray is too-jacked early and tosses a pick or two as he did against West Virginia? The Crimson Tide get 10 or 14 quick and cheap points with their offense not even exploiting many of Oklahoma's defensive weakness.
That is something else every football bettor has to ponder and the Tide is 32-3 against a teaser line in away games off a non-cover where they won as a favorite.
On the total, if you asked 100 college football bettors, handicappers, and oddsmakers if they thought this game would go past 71 points, you would receive at least 95 "Yes" votes. It seems a foregone conclusion Bama will reach their season average of nearly 48 points, which would require hardly any points by Oklahoma standards this season. In addition, Nick Saban team's are 21-6 OVER as a neutral field favorite.
At the same time, Boomer Sooner is 6-0 OVER when both teams score 28 or more points, with an average total score of 99 points.
Free NCAAF Teaser Picks: Alabama -8 and OVER 71