Who Will Start at QB for Alabama? Ty Simpson is Betting Favorite Ahead of Week 1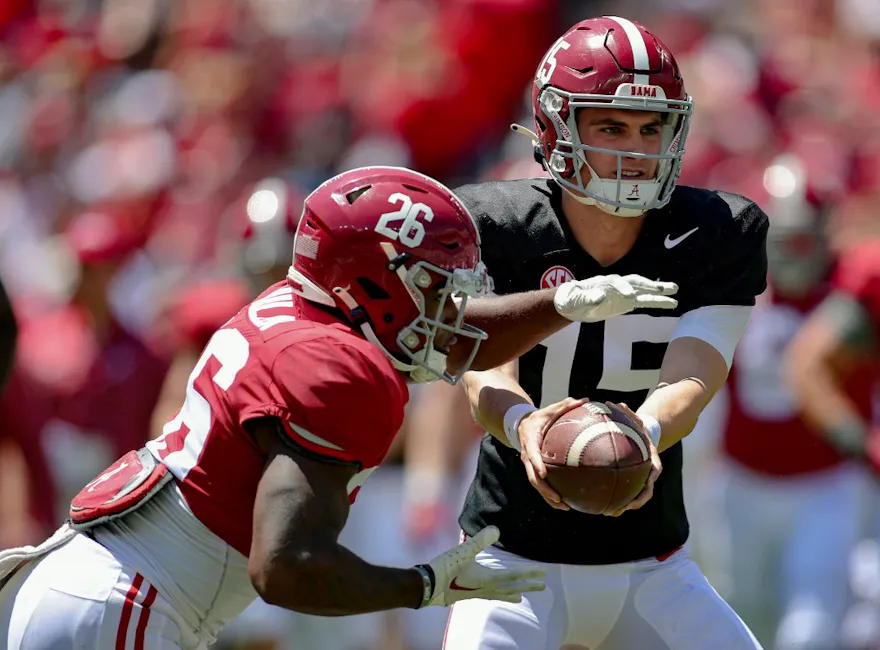 Alabama's quarterback battle remains a huge storyline heading into fall camp for the 2023-24 college football season. Read on as we break down what the college football odds tell us about this QB controversy based on the best sports betting apps.
The Alabama Crimson Tide will have a new signal caller this fall after two years of Bryce Young manning the position in Tuscaloosa. All he did was win a Heisman trophy and lead Alabama to a national championship game before being selected No. 1 overall in the 2023 NFL Draft by the Carolina Panthers.
Good luck to the person who has to follow in Young's footsteps.
Alabama head coach Nick Saban isn't even sure who he will hand the keys of the offense to this season. Ty Simpson was one of the top quarterback prospects coming out of high school in 2022, and appears to be the early favorite to win the job.
Tyler Buchner transferred from Notre Dame in the summer to compete for the starting gig after appearing in three games last season. Jalen Milroe is also in the mix after serving as Young's primary backup last year.
With Alabama being one of the top national championship odds contenders once again this year, the quarterback competition might just be the most high-profile position battle of fall camp. So, let's take a look at what the odds via the best sports betting sites tell us about this QB controversy.
Alabama starting quarterback odds
Market states: Alabama Week 1 starting quarterback
| Quarterback | Odds | Implied probability |
| --- | --- | --- |
| Ty Simpson | +105 | 48.8% |
| Tyler Buchner | +140 | 41.7% |
| Jalen Milroe | +300 | 25% |
The case for each candidate
Ty Simpson
If Alabama aims to maximize its potential, the enigma of Simpson adds a fascinating dimension. Despite only playing in four games in 2022 and completing 4-of-5 passes for 35 yards, his background aligns with some of Alabama's standout quarterbacks in recent times.
Simpson was highly regarded as a five-star prospect in the 2022 class, ranked No. 29 overall and the No. 4 quarterback according to 247Sports. In comparison, Buchner and Milroe were considered four-star prospects in their respective classes.
During the Spring Game, we caught a real glimpse of Simpson in action as he went 12-of-26 for 155 yards and one interception. With such promise in his career, the question arises: could he potentially take the field as early as Week 1 against Middle Tennessee?
Tyler Buchner
In the season opener, it's highly possible that all three quarterbacks will see action, but the primary focus is on determining which quarterback will take the first snap. If the question was about the starting quarterback for Week 2 against Texas, Buchner might be the favorite choice.
Buchner holds the most experience among the quarterbacks in the room, with 118 pass attempts in his collegiate career. Across 13 games, he has completed 67-of-118 passes for six touchdowns and eight interceptions. Additionally, he has the advantage of being familiar with the offensive system, given that Alabama's offensive coordinator, Tommy Rees, previously served as the OC and quarterbacks coach at Notre Dame from 2020-23.
Considering the challenging nonconference test against Texas, Saban may lean toward Buchner's experience. However, it's worth noting that Buchner transferred to Alabama in late April after losing the QB1 battle to Sam Hartman, so the extent of his advantage from experience in this particular case remains uncertain.
Jalen Milroe
Although Milroe served as the primary backup last season, he enters this season with the longest odds to take the first snap in the opener. In eight games last year, he completed 31-of-53 passes for 297 yards, contributing five touchdowns and three interceptions.
What sets Milroe apart is his dual-threat prowess, evident from his 263 rushing yards and one touchdown on 31 attempts in the previous season. He possesses the ability to extend plays with his legs, a valuable trait that proved necessary during Young's time as the quarterback.
Despite the odds stacked against him, Milroe's unique skill set ensures he will be a significant contender in the QB1 race during fall camp.
Best bet
Ty Simpson (+105)
Choosing the favorite may not always be the most exciting option, but when there's a plus-money price involved, it becomes more palatable. In this case, the odds between the three quarterbacks don't offer much value, with the implied probability exceeding 100%.
Looking at the situation logically, Simpson appears to be the most reasonable choice to take the first snap in Week 1. He has an advantage in terms of familiarity with the system and has been with the team longer than Buchner, who might find it challenging to catch up to the QB1 spot in such a short span of four months. Moreover, Simpson's potential upside surpasses that of Milroe, whom we had a glimpse of last year.
With Georgia securing back-to-back national championships and taking the crown from Saban's Crimson Tide, Alabama needs to reclaim the top spot in college football. It seems likely that Simpson will play a significant role in this quest. Therefore, starting the process early to ensure he's prepared for SEC play appears to be the prudent course of action.
This quarterback controversy could end up looking silly after Simpson leads the Crimson Tide back to the CFP this year.
(21+. Gambling Problem? Call 1-800-GAMBLER)
* Bonuses not applicable in Ontario.
Related pages