Bryce Young Tops Early Heisman Trophy Odds for 2022, Where's the Value?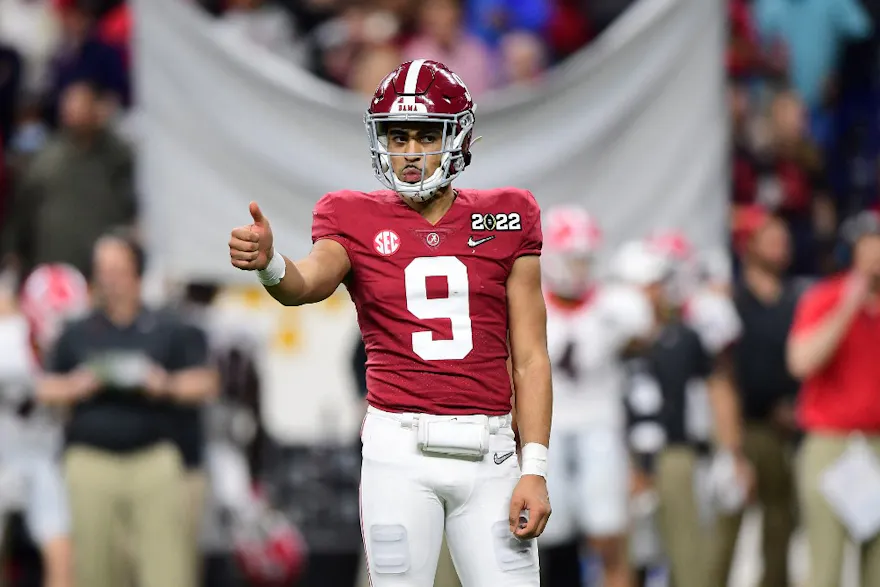 Is it too early to look ahead to the 2022 Heisman Trophy race? Maybe! But an early look is also a time to seek out value because early lines leave lots of room for variance.
A few historical notes to consider:
Among the past 20 Heisman Trophy winners, 16 have been quarterbacks, three have been running backs (Derrick Henry, Mark Ingram, and the vacated Reggie Bush win in 2005), and only one wide receiver (DeVonta Smith, 2020), so that does tend to lean the votes in a certain direction.
But that also means that there could be value to be found in the right non-quarterback option.
As for the influence of a particular conference, the last three winners hailed from the SEC, but there has been some reasonable spread from conference to conference over the years. However, the SEC and the Big 12 have combined to win 13 of the last 20 Heisman Trophies.
Here are the favorites, values, and long shots to consider for the 2022 Heisman Trophy (odds via BetMGM).
2022 Heisman Trophy Favorites
Bryce Young, QB, Alabama (+250)
On one hand, it makes sense that the guy who just won the 2021 Heisman Trophy ought to be a leading candidate for next season's award. He is a productive starting quarterback on a powerhouse team that is going to be a contender for the National Championship. Young threw for 4,872 yards and 47 touchdowns in 2021. If he duplicates those numbers, he will be front and center in the discussion again.
On the other hand, despite all the brilliant talent that has passed through college football, there has never been a back-to-back winner of the Heisman Trophy and that would seem to suggest that Young would have to have an incredible season in 2022 to convince voters to give him the nod again.
C.J. Stroud, QB, Ohio State (+400)
The Buckeyes quarterback finished fourth in Heisman voting in 2021, after passing for 4,435 yards and 44 touchdowns as a redshirt freshman. He is a hugely productive starting quarterback for the team with the third-best odds to win the National Championship, so Stroud deserves to be one of the favorites.
Caleb Williams, QB, Transfer portal (+800)
Williams did not start immediately last season as a freshman at Oklahoma, but he showed star potential once he took the job. It remains to be seen where he will play in 2022 because he has entered the transfer portal. If he follows head coach Lincoln Riley to USC that would presumably be a strong enough situation for Williams to get in the Heisman mix.
SEE ALSO: 2022 Heisman Trophy Futures Watch
Best non-QB Options
Bijan Robinson, RB, Texas (+1600)
It certainly won't happen if the Longhorns go 5-7 again but if Texas gets back on the right side of the ledger next season, its junior running back will likely play a big role. In 10 games as a sophomore, Robinson gained 1,422 yards from scrimmage along with 15 total touchdowns.
TreVeyon Henderson, RB, Ohio State (+2000)
It could be difficult to be more productive than his quarterback, but if Stroud was to miss some time that could open the door for Henderson. As a freshman, Henderson accumulated 1,567 yards from scrimmage and 19 total touchdowns. If he continues to rack up the yards and touchdowns, maybe there could be a path to the Heisman.
Will Anderson Jr., LB, Alabama (+3000)
A linebacker? This is not a run-of-the-mill defensive player, as evidenced by his finishing fifth in 2021 voting. As a sophomore, Anderson recorded 17.5 sacks and 31 tackles for loss. Considering that Michigan defensive end Aidan Hutchinson finished second in the 2021 Heisman voting with 14 sacks and 16.5 tackles for loss, who is to say that Anderson couldn't force his way into the 2022 Heisman discussion with 20-plus sacks?
SEE ALSO: 2023 National Championship Odds and Picks
2022 Heisman Trophy Long Shots
Malik Cunningham, QB, Louisville (+6600)
Massively productive for the Cardinals in 2021, Cunningham passed for 2,941 yards and 19 touchdowns, plus 1,031 rushing yards and 20 more scores on the ground. ACC competition is not necessarily top tier, so Cunningham would have to put up even better numbers in 2022 to get into contention. A possible wrinkle: Cunningham could conceivably still enter the transfer portal and land with a higher profile team.
Hendon Hooker, QB, Tennessee (+6600)
The senior quarterback will need a more successful team to get into the Heisman conversation, but he threw 31 touchdown passes with only three interceptions for the 7-6 Volunteers in 2021. He will have his favorite target in receiver Cedric Tillman returning, so if Hooker puts up big numbers in the SEC, he could be a Heisman Trophy sleeper.
SEE ALSO: All picks and odds. Be sure to check out SportsbookReview.com's community forums and betting tools.