Week 11 CFL Power Rankings: Lions Gaining Ground on Blue Bombers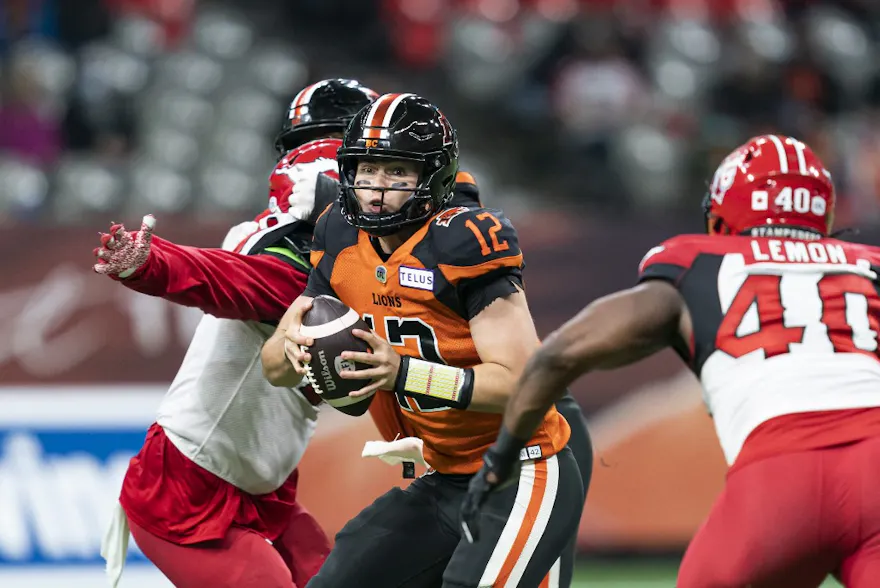 Although the Winnipeg Blue Bombers finally lost for the first time this season, they remain on top of the CFL Power Rankings, with the B.C. Lions closing the gap.
After racing out to a 9-0 record to start the season, the Winnipeg Blue Bombers lost in overtime to the Montreal Alouettes; while the Bombers remain the No. 1 team in the CFL Power Rankings, they are narrowly ahead of the B.C. Lions.
The Lions needed a late field goal to escape with a win at Calgary, and as much as B.C. has been the closest challenger to Winnipeg this season, the teams are getting closer both in the standings and in the odds to win the Grey Cup.
Here are the latest CFL Power Rankings, with Grey Cup odds via DraftKings and FanDuel.
Grey Cup Odds
| | | |
| --- | --- | --- |
| Team | DraftKings | FanDuel |
| Blue Bombers | +160 | +165 |
| Lions | +250 | +210 |
| Stampeders | +475 | +650 |
| Roughriders | +900 | +1000 |
| Argonauts | +1000 | +1000 |
| Alouettes | +1200 | +1300 |
| Tiger-Cats | +1500 | +1300 |
| REDBLACKS | +4000 | +3400 |
| Elks | +20000 | +9500 |
Check out the latest comprehensive and most trusted Sportsbook Reviews by SBR.
CFL Power Rankings
1. Winnipeg Blue Bombers (9-1)
Stop the presses! The Blue Bombers have finally lost a game, coughing up a fourth-quarter lead against the Montreal Alouettes on the way to a 20-17 defeat. QB Zach Collaros had completed 77.8% of his passes for 251 yards and a touchdown, and RB Brady Oliveira put up 108 yards and a touchdown on 17 touches, so the Blue Bombers had some success moving the ball even if they managed just 17 points.
2. B.C. Lions (7-1)
After falling behind by a 20-3 score, the Lions roared back for a 41-40 victory at Calgary, kicking the winning field goal with five seconds remaining. QB Nathan Rourke has continued to excel, and he passed for 488 yards and two touchdowns while adding two rushing touchdowns in the win. Veteran WR Bryan Burnham had a monster game, catching eight passes for 165 yards and a touchdown.
3. Calgary Stampeders (5-3)
The Stampeders looked like they were in good shape with an early lead against B.C., but they surrendered 533 yards in allowing the Lions to rally for the late win. A one-point loss at home is not a devastating result, but it solidifies the Lions' position ahead of a Calgary team that has stumbled recently.
4. Saskatchewan Roughriders (5-4)
Even with a relatively comfortable final score, winning 34-23 at Edmonton, the Roughriders needed to rally in the fourth quarter and Saskatchewan managed just 261 yards in total offense. It was a win, but it was still a less-than-stellar performance.
5. Toronto Argonauts (4-4)
Coughing up a fourth-quarter lead at Hamilton leaves the Argos in a much more vulnerable position, now just 1.5-games game ahead of both the TiCats and Montreal Alouettes. RB A.J. Ouellette stepped up with 83 yards on 13 touches in the Argos' 34-27 loss.
6. Hamilton Tiger-Cats (3-6)
Both the Argonauts and Tiger-Cats could not avoid penalties in Hamilton's 34-27 win, with the two teams combining for 21 penalties for 248 yards. With backup QB Matt Shiltz starting, Hamilton's running game took over and the TiCats gained 149 yards on 21 carries, good for a lofty 7.1 yards per carry.
7. Montreal Alouettes (3-6)
A team that has been totally inconsistent, the Alouettes do deserve credit for knocking off the previously unbeaten Blue Bombers, even if Winnipeg's attempted tying field goal went off the uprights. Game of inches, and all that. The challenge for the Als now is to build on one of the most surprising wins of this CFL season and try to gain ground on the East-leading Toronto Argonauts.
8. Ottawa REDBLACKS (1-7)
Even in a bye week, the results did not really go well for the REDBLACKS, as Hamilton and Montreal both earned wins, creating a bigger gap for last-place Ottawa to overcome.
9. Edmonton Elks (2-7)
While the accuracy is not quite where it needs to be, QB Taylor Cornelius completed 56.5% of his passes for 209 yards while rushing seven times for 86 yards and two scores against Saskatchewan. Star WR Kenny Lawler also contributed six receptions for 105 yards, so there are some positive signs for Edmonton, but they still lost by double digits at home against a team that was sporting a .500 record.
Make sure to keep an eye on our Live Odds page throughout the week to get the best lines possible and connect with others in the SBR community on our popular sports betting forum.