Top 10 U.S. Legal Sports Betting Jurisdictions for March: New York Still on Top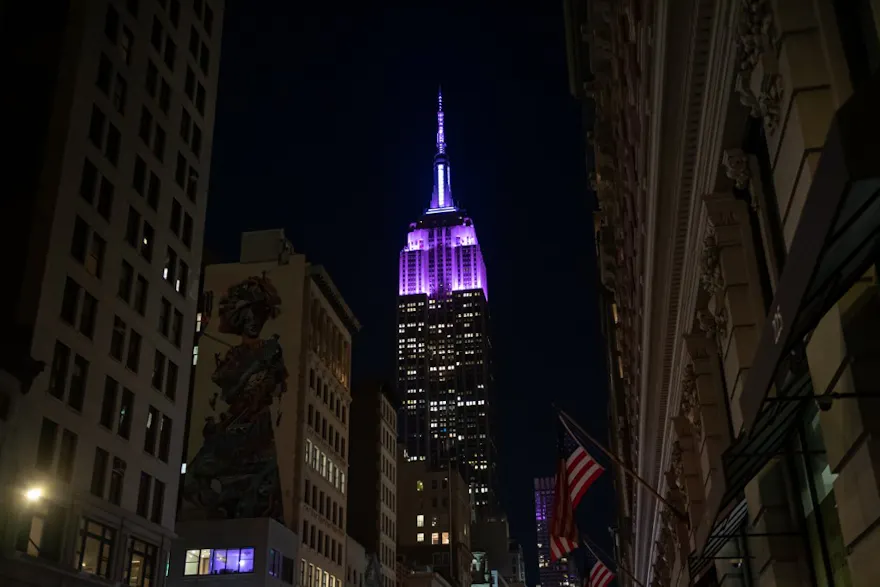 The story of just how participating U.S. legal sports betting jurisdictions fared in March is almost complete. Just a handful of states have yet to report whether or not March Madness was a win for sportsbooks or not.
The one thing that we do know is that betting on March Madness was expected to be heavy this year thanks to intense interest in the teams involved and the availability of betting options in the American market. The American Gaming Association estimated over 17 percent of adults in the U.S. or roughly 45 million people were expected to place a bet on the NCAA Tournament. An estimated $3.1 billion was expected to flow into the country's sportsbooks from March Madness alone.
New York has had an enormous year-to-date lead over the rest of the legal sports betting jurisdictions in the US. Would that continue into March?
Check out the latest comprehensive and most trusted Sportsbook Reviews by SBR here.
Let's take a peek at whether or not that March sportsbook bump did indeed materialize for the Top 10 sports betting states in the bustling U.S. market. We have broken them into tiers. Of note, Illinois, which would likely take its place in the Top-5 has yet to report its March handle and Virginia, an almost guaranteed Top-10 state has yet to release its March figures.
Tier 1
1. New York
New York 's legal sports betting industry continued to dominate the race to be America's most bet-friendly state. In terms of dollars taken in, revenues and tax contributions, no state has even come close to New York, as March cemented the state's status as the most successful sports betting market in the country.
A $1,638,266,833 handle was reported by regulators of the New York legal sports betting scene for March. It equated to $52.8 million per day for the Empire State's sportsbooks. While not a national record that New York set in January with $1.6 billion, it is still almost $350 million more than any other state has ever reported - New Jersey took in $1.3 billion in October.
According to the New York State Gaming Commission, gross gaming revenues for March came in at $114,282,056, resulting in $58 million for needy state and local tax coffers.
As far as net gaming revenues, the state's eight mobile providers took in $56 million with FanDuel, DraftKings, Caesars and BetMGM accounting for $52 million. BetRivers, PointsBet, WynnBET, and Resorts World Bet accounted for the rest.
2. New Jersey
New Jersey continued to show strong legal sports betting momentum in March, despite worries that New York's rise would lead to their demise. New Jersey's handle grew 12.8 % month-over-month and was up 24.6% from March of 2021. New Jersey reported a $1.121 billion handle for March with revenues coming in at $66.4 million and $8.2 million in taxes being paid by the state's operators.
The New Jersey Gaming Commission gave us a glimpse into just how important basketball was for the state's legal sports betting scene in March. Basketball was responsible for $667.3 million of the overall March handle in New Jersey – March Madness betting was 60.3% of the overall total taken in by the state's books.
Tier 2
3. Nevada
The state of Nevada was able to maintain its podium spot on the list of most bet-friendly states in the American market. But for the second straight month, Nevada sportsbooks failed to hit the $1 billion mark. This despite increased tourism in the state and with March Madness taking over the sports betting landscape.
Nevada sportsbooks took in a reported $863.29 million during March, an $83 million increase from February. The hold rate was 4.3% and revenues were a slightly disappointing $36.9 million, meaning that the betting public did very well during the month.
Sports betting activity in the state was up an eye-opening 35% from March 2021.
4. Pennsylvania
Pennsylvania rode March Madness to another strong legal sports betting showing in March. The state reported a $715 million handle. The March Madness bump was especially evident in Pennsylvania, which saw a 19.7% month-over-month increase from February's $597.1 million handle. After Villanova's deep run in the NCAA Tournament and New Jersey bettors wanting to place a wager on Cinderella, St. Peter crossed state lines and boosted Pennsylvania's overall totals.
Year-over-year, Pennsylvania's sportsbooks saw a 27.6% increase from the $560.3 million in March 2021. Gross gaming revenues for Pennsylvania sportsbooks came in at $48.5 million, resulting in $10.9 million in taxable contributions by the state's sportsbooks.
FanDuel led the way in Pennsylvania with $267.1 million in wagers, DraftKings was second with $164.8 million, BetMGM was third with $78.4 million and Penn National's Barstool Sports app was fourth with $55.3 million in bets taken in.
Tier 3
5. Colorado
The state of Colorado moved up the list to claim the #5 sport on the list of top sports betting jurisdictions in the U.S. and land at the top of the third tier of U.S. legal sports betting states. Sportsbooks in the Centennial State took in $505.1 million, a 14.8% month-over-month increase from the $440.5 million in February and 68% higher than the $301 million from March 2021.
$28.2 million in revenues was reported by Colorado sportsbooks in March, thanks to a 5.6% hold.
March Madness accounted for $97 million, while the NBA and the Denver Nuggets drew $218.4 million in bets.
6. Michigan
Michigan came in as the sixth most productive legal sports betting state in the U.S. in March - solidly in the third tier of U.S. sports betting jurisdictions. The state reported a $477.97 million handle in March, a 12% month-over-month increase for the Michigan scene. It was the largest non-NFL sportsbook haul ever for the state. Internet betting was responsible for $451.6 million of the overall handle.
According to the Michigan Gaming Control Board, Michigan's online casino revenues reached record levels in March - $131.7 was made by the state's online gambling providers, smashing the record of $122.8 million set just the month before.
7. Indiana
Just like in Michigan, March Madness helped Indiana's legal sports betting industry to a record haul for a non-NFL month. According to the Indiana Gaming Commission, sportsbooks in the hoops-crazed state reported $478.6 million in bets in March, a 16.5% increase from February. Revenues for the state's sportsbooks came in at $32 million and just over $3 million in tax revenue resulted from the overall take.
Perhaps the bigger news in Indiana was FanDuel's takeover of top spot in the state's race for top provider. DraftKings owned that distinction for 30 months. FanDuel reported $143.2 million in wagers in the Indiana market in March, DraftKings took in $139.6 million.
Tier 4
8. Tennessee
The Tennessee Sports Wagering Review Council had a good March with increases in handle, revenue, and tax contributions. Tennessee sportsbooks took in a combined $370.2 million in bets in March, marking the sixth straight month the Volunteer State has eclipsed the $300 million handle mark.
The $370.2 million was $50 million higher than February's total and the $22.8 million revenue total was $2 million higher than February's $20.9 million. Tax contribution from sportsbooks to state and local coffers came in at $4.2 million.
9. Iowa
Iowa's legal sports betting providers took in $233.5 million in March, good for ninth highest among the states that have reported their overall handles. The figure represents an 8% increase from February's total and a 45% jump from the amount the state's sportsbooks generated in March 2021. $233.5 million is nearly $67 million less than the handle record of $303.3 million reported in January.
10. Louisiana
Louisiana had its first full month of legal sports betting in February. The state quickly jumped into the Top-10 and managed to stay there in March… that is until Illinois and Virginia released their sports betting numbers.
Louisiana sports betting regulators reported a total retail and mobile handle of $232.7 million in March with revenues coming in at $31 million. Their March handle represents a rare month-over-month decline – March's handle was 2.4% less than February's $238.4 million. The mobile hold was a whopping 14.2%, while the retail sports betting hold was 6.4% for a total 13% statewide industry hold.
Looking forward
It remains to be seen how American sportsbooks will fare for the rest of the spring and into the summer. March has traditionally marked a high-water mark for most sports betting jurisdictions. April to August usually see a sharp decline in overall betting activity across the country.
SBR will be here all year long with analysis of the sports betting activity in participating U.S. states. Keep it pegged right here for our monthly updates.
Make sure to keep an eye on our Live Odds page throughout the week to get the best lines possible and connect with others in the SBR community on our popular sports betting forum.