Horse Racing Betting: Can Flightline Convert Short Odds at Pacific Classic?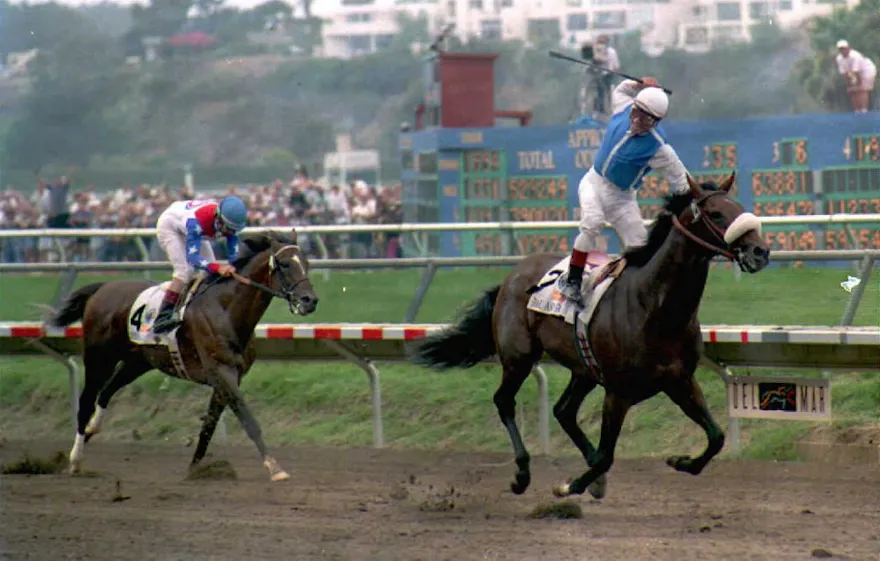 In 1996, the incomparable Cigar carried 1-5 morning line odds with him into that year's Pacific Classic – odds that made perfect sense, considering you were discussing a two-time Horse of the Year who owned West Coast racing for most of the first half of the 1990s.
Cigar left the gate at a whopping 1-10 – whereupon he and his 16-race, 22-month winning streak somehow finished 3 ½ lengths behind 39-1 Dare And Go.
We bring up that history lesson at one of the West Coast's marquee races as we bring in another superhorse candidate headlining Saturday's Grade 1 Pacific Classic at Del Mar: Flightline. The 4-year-old Tapit colt is drawing comparisons to the great horses of this century for the effortless way he's dismantling fields. Flightline is not only 4-for-4 – the last two of those Grade 1 scores – but those wins have come by a combined 43 ½ lengths.
The closest anyone got to him came in his last start: June's Grade 1 Metropolitan Handicap on the Belmont Stakes undercard. There, he overcame a slow start to win by "only" six lengths over Grade 1 winner Happy Saver. That was Flightline's first trek of a mile and his first event outside California.
Six months earlier, Flightline took apart the Grade 1 Malibu Stakes at Santa Anita Park by 11 ½ lengths as the 2-5 favorite. Three months earlier, he ripped apart a Santa Anita allowance by 12 ¾ lengths. And in his first start, a Santa Anita maiden special weight in April 2021, Flightline romped to a 13 ¼-length breeze.
In that Malibu Stakes win, Flightline recorded the best Beyer Speed Figure by a North American horse in 2021: a 118. His races are must-see events among racing fans, who haven't sent him out of a starting gate at better than 9-10 in his four races.
That brings us back to Cigar. Despite the fact Flightline hasn't gone more than a mile, hasn't gone two turns, and hasn't run since June, Del Mar morning line author Jon White put 1-5 morning line odds on the colt for the 1 ¼-mile Pacific Classic. Those are the shortest odds for a Pacific Classic contestant since Cigar in 1996.
And White wrote in his Xpressbet column that he expects them to go lower.
"So often in cases at tracks across the country when there is going to be an overwhelming favorite like Flightline in the Pacific Classic, the betting public will make the favorite a shorter price than he is on the morning line," White wrote.
If you want to follow history and look elsewhere, the logical next choice is Country Grammer (4-1). He and his nearly $11 million in earnings love the 1 ¼-mile distance, illustrating that by winning the Dubai World Cup at a tick under that distance in the spring and by winning the 2021 Hollywood Gold Cup at that distance.
Trained by six-time Pacific Classic-winning trainer Bob Baffert, Country Grammer comes in off a second to Pacific Classic third choice Royal Ship (8-1) in July's San Diego Handicap, the Grade 2 prep for this race. That was his first race since winning in Dubai, making this his second off that four-month layoff. He figures to be on or near the lead, which could make matters interesting if Flightline somehow can't get the 10-furlong distance.
The Pacific Classic is a Breeders' Cup "Win and You're In" Challenge Series race, guaranteeing its winner a spot in the flagship $6 million Classic.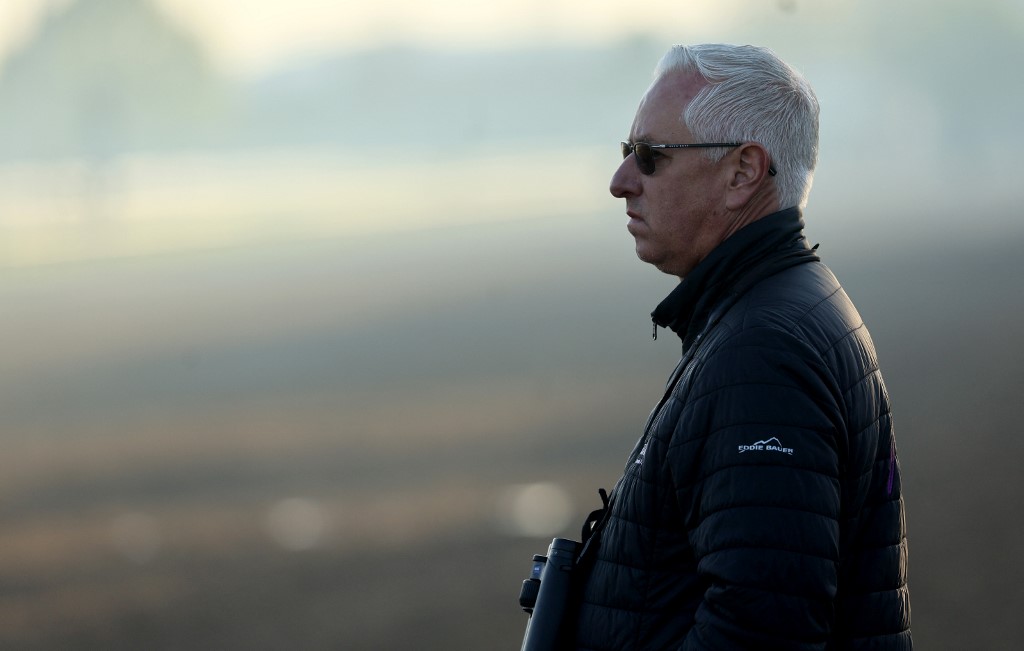 Meanwhile, at Saratoga …
Earlier in the day on the other end of the country, another "Win and You're In" berth to the Breeders' Cup Classic is up for grabs in the Grade 1 Jockey Club Gold Cup at Saratoga. That 1 ¼-mile feature at the Spa – one of 13 races on the final Saturday of Saratoga's 2022 season – offers up eight runners instead of the Pacific Classic's six. That's largely due to the lack of a Flightline in the Jockey Club Gold Cup field.
It also features three Hall of Fame trainers: Todd Pletcher, Bill Mott and Shug McGaughey, who own a combined eight victories in this event. Pletcher, in turn, offers up three candidates: Dynamic One, Americanrevolution and Keepmeinmind, the former Robertino Diodoro charge.
Of that trio, the one to watch is Dynamic One, who rides in off consecutive stakes scores at Churchill Downs (the Listed Blame Stakes) and Belmont Park (the Grade 2 Suburban, run at this distance). The 4-year-old Union Rags colt hasn't missed the board in four 2022 starts (2-1-1).
"Physically, I think he's always been a strong and good-looking horse, but I think he's filled out even more," Pletcher said. "More than anything, he's just become a little more professional in his races and he's figured it out. I would say he's made quite a bit of mental progress."
McGaughey answers with First Captain, who finished a nose behind Dynamic One in the Suburban. The 4-year-old progeny of Curlin, who went back-to-back in this race in 2007-08, is 5-for-8 lifetime. That fifth victory came two starts ago in the Grade 3 Pimlico Special at 1 3/16 miles.
Then, there's the race's biggest enigma: Olympiad. Mott's 5-year-old son of Speightstown owns the most graded stakes victories in the field (four) and the best career Beyer (111). He also comes in having won five of his last six races and six of his last eight.
But it's his last race that has heads scratching all over Saratoga. That was his uninspiring fourth in last month's Grade 1 Whitney. There, Olympiad finished 9 ¼ lengths behind winner Life Is Good as the 9/5 second choice.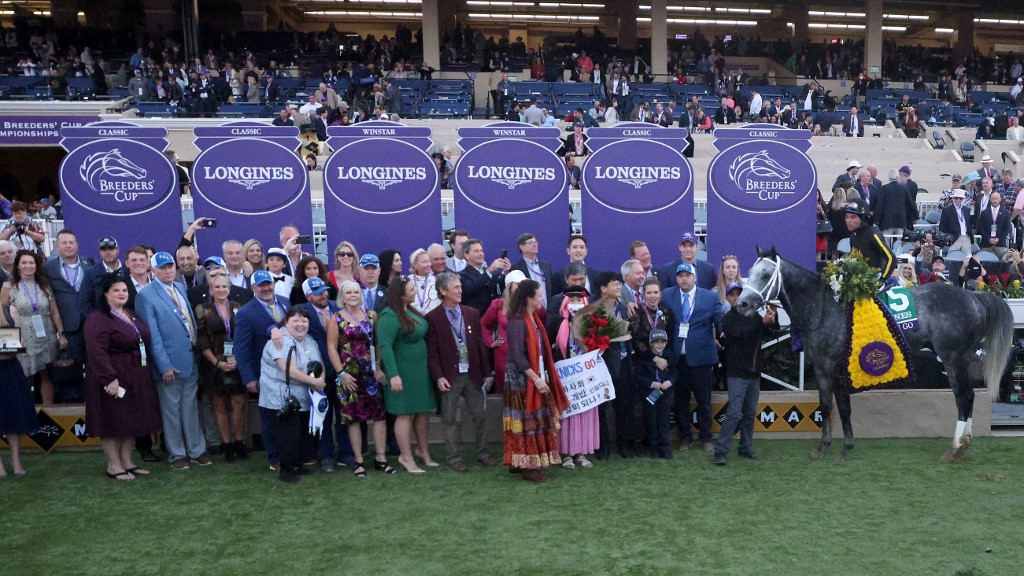 Speaking of the Breeders' Cup Classic ...
This weekend marks the second and final Breeders' Cup Classic Future Wager Pool, which gives bettors an opportunity to lock in better odds on your choices in that $6 million race than you'll likely see on the Nov. 5 race day.
Like all future bets, this comes with a double-edged sword. Yes, you're likely to get better odds on, say, 5-2 morning line favorite Flightline, 7-2 second choice Epicenter or 4-1 third choice Life Is Good – the only three horses in single digits among the 23-individual horse offerings.
But like all future bets, your wager is immediate action. Unlike race-day bets, where if a horse is scratched, your wager is refunded, future bets are locked in. You lose your bet if your horse fails to make the starting gate.
Considering several horses in the pool run this weekend, including Flightline, Country Grammer (12-1), Dynamic One (50-1), Americanrevolution (30-1), First Captain (35-1), Express Train (50-1), Keepmeinmind (50-1), Olympiad (30-1) and Royal Ship (50-1), it's best to wait until matters sort out late Saturday before plunging in.
The Breeders' Cup Classic Future Wager opens Friday and runs through Monday. Only win wagers are offered and there is a $2 minimum. Bettors can choose from 23 individual horses and an "All Others" that covers every other choice.
The wager is available on all advanced deposit wagering (ADW) sites, along with racetracks, simulcast centers and off-track betting sites.
Getting Up for Kentucky Downs
One of the nation's best boutique meets opened Thursday. But don't blink, lest you miss Kentucky Downs' seven-day meet. And you don't want to miss the meet offering the best pari-mutuel payouts of any track in the country.
Kentucky Downs is located on the Kentucky-Tennessee border. It's all-turf, run on a kidney-shaped track reminiscent of European tracks. After Thursday's opener, it's 2022 meet runs Sept. 3, 4, 8, 10, 11 and 14.
So why bet Kentucky Downs? Its average $2 win payout in 2021 was $15.40. Its average trifecta payout was $430.32. The average Pick 3 payout: $234.85.
Then, things get serious. Last year's average 50-cent Pick 4 payout was $2,205. And last year's average 50-cent Pick 5? An eye-watering $43,128.06.
Last year, bettors threw a record $74,088,532 in all-sources handle at Kentucky Downs. That destroyed the previous record – set in 2020 – by 24%. It's fair to say that record is likely in jeopardy this year.