Unlike the AFC, the NFC does not have any clear cut favorites to win their divisions. That is if you are going strictly by the odds, of course. Another difference that the two conferences possess, is that you could feasibly make the playoffs with a losing record. If this were baseball, we would have to squeeze all of the NFC teams into the NL West. But there is still money to be made, so let's take a look at the NFC, shall we?
NFC EAST
Dallas Cowboys -170
New York Giants +465
Philadelphia Eagles +385
Washington Redskins +780
The Cowboys are favored to win the East once again. Let's see here…Is quarterback Tony Romo still making more headlines over which Hollywood starlet he's dating than on the field? Check. Is Terrell Owens still one of the most talented prima donnas to ever put on pads? Check. Is there a slight chance that The Artist Formerly Known as Raging Lunatic Pac Man Jones might be involved in more homicides than interceptions this year? Check! And finally, is owner Jerry Jones still coaching the team, manipulating poor Wade Phillips like an abused marionette? Absolutely.
It's business as usual in Big D. If you can get them at -170, it might actually be the steal of the year. They will be able to surpass the other three teams on talent alone. And speaking of Pac Man Jones, how many times will an announcer say "Adam Jones on the play" this year, and nobody will have any clue who he is talking about? There comes a point in every young thug's life where you make a decision that may never ever allow you to escape your past. For Pac Man, that decision came when his entourage was involved in a Las Vegas nightclub shooting that left a man paralyzed. But the Cowboys have had plenty of success before harboring criminals. These kids these days need a good spanking! On the plus side for "Adam," if he kills anyone this year, he can hide the body in John Madden's eyebrows.
As for the reigning Super Bowl champion New York Giants, what can you say? Quarterback Eli is only the third best Manning in the league behind Peyton and Ricky. Top receiver Plaxico Burress aspires to one day become the head case that Owens is. Their head coach looks like he is about to explode every time the temperature dips below 70. But most importantly, there is just no way that these Giants can come close to repeating last year's magical season.
Philadelphia might be without running back Brian Westbrook after last year's infamous kneel down on the 1 yard line incensed fantasy football owners everywhere, and may have them looking for revenge. Besides that little mess, it will be the same story in Philly. No receivers for Donovan McNabb to throw to, no team success. Washington Redskins, just no. No.
NFC NORTH
Chicago Bears +270
Detroit Lions +600
Green Bay Packers +195
Minnesota Vikings +180
What a mess the NFC Norse currently is. These odds can and will move all over the place once the Brett Favre situation is all cleared up one way or another. Poor Favre. In the course of just a little over a month, he has gone from the consummate man's man, to player that everyone just wants to go away. He's like the Hogan's at this point. With ruggish good looks. The sad part is that he would make any one of these four teams a strong favorite for the division title.
Whether Brett stays with the Pack, or whatever his indecisive little heart desires, I'm going with the Bears +270 to squeak out as the top team here. They will once again win the majority of their games with a stellar defense, and opportunistic special teams plays.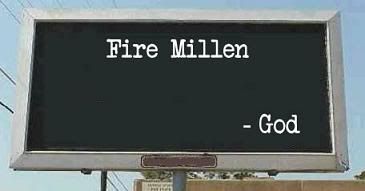 Green Bay and Minnesota aren't horrible picks by any means. I think this will be a close division and probably come down to the last week of the season. What I don't understand are Detroit Lion fans. Who are these people? Do they just enjoy pain? Are they cutters? I don't get it. Team President Matt Millen has blatantly disregarded the team's fanbase so much that there are numerous movements to see him get fired.
I know a few Lions fans and they wouldn't know what to do with a winning season anymore. It's been eight years since they finished above .500, and the last time they actually made the playoffs was the year that the Ford was invented! This spread could be as high +10 million and I wouldn't lay one dollar on it. Not one strip club, bloodied-up Pac Man dollar bill.
NFC SOUTH
Atlanta Falcons +1500
Carolina Panthers +230
New Orleans Saints +130
Tampa Bay Buccaneers +225
Oh goodie, Joey Harrington is back with the Falcons! The bad news is Atlanta will probably have the worst record in the league. The good news is Harrington loves dogs.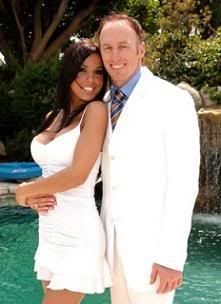 So that leaves us with the three contenders. To quote TV's reigning tough guy Ryan Seacrest, "I'm going to have one of you sit down right now." Tampa Bay, please have a seat. I fully expect them to continue their losing streak from last year and first round playoff loss to the Giants. Quarterback Jeff Garcia has heart and a hot Playmate wife, further proof that when I was taking typing classes, I should've been out back working on my throw. But that's about all this Tampa team has going for it.
Everyone has been waiting for the Carolina Panthers +230 to repeat the success of their 2003 Super Bowl season. I do believe they will at least take the South this year. Hopefully quarterback Jake Delhomme can work some magic down the field to receiver Steve Smith and Carolina can join the league's top teams once again.
I enjoy the Saints. They are high scoring and entertaining. I do think that Reggie Bush may end up as a high pick bust when it's all said and done, but he is certainly fun to watch as he gains one yard. A quick piece of advice for everyone: If you spend your honeymoon in a football town, first of all, do not watch or bet on any sports. That's obvious. But if you just can't help it, do NOT bet against the hometown team. This will ensure that not only will you lose money and be miserable on your honeymoon, but you can't even join in all the local drunken festivities with everyone. Especially in a party town like the French Quarter. Only an idiot would do something like that, OK?
NFC WEST
Arizona Cardinals +300
St Louis Rams +605
San Francisco 49ers +600
Seattle Seahawks -135
Last year's bandwagon team that never came close to meeting expectations was the San Francisco 49ers. It just didn't work out for them. I have a feeling that things will be better for the Niners +600 this year.
Former No. 1 overall pick, quarterback Alex Smith, has some new receivers to throw to. One of those guys is Isaac Bruce. While definitely on the down side of his career, Bruce will give Smith a pair of trustworthy hands that could turn some interceptions into completions. This will help build confidence in his young QB.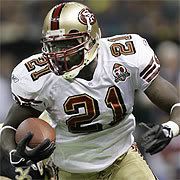 Bruising running back Frank Gore will have a rebound season gaining the hard yards on the ground. Is there a better football name than Frank Gore? I wouldn't fight anyone with that name. I don't care if it's a six-year-old…not happening.
Favored Seattle just seems like they've lost their window of opportunity. They're one of those teams who have been decent for so long but never took the next step. With coach Mike Holmgren already having a return to Green Bay on his mind, this will probably be the year that Seattle forever vanishes from the "better than mediocre" level.
As far as Arizona is concerned, I would like to party with Matt Leinart and his Hollywood hotties. I would also like to party with Edgerrin James and rapper Trick Daddy in Miami. But I would not like to gamble on this team. Thanks.
So my division winners look like this:
| | | |
| --- | --- | --- |
| DIVISION | TEAM | ODDS |
| AFC East | New England | -800 |
| AFC North | Cleveland | +190 |
| AFC South | Houston | +1200 |
| AFC West | San Diego | -400 |
| NFC East | Dallas | -170 |
| NFC North | Chicago | +270 |
| NFC South | Carolina | +230 |
| NFC West | San Francisco | +600 |
Now let's get this party started!