NFL Welcomes Four More Approved Sportsbook Partners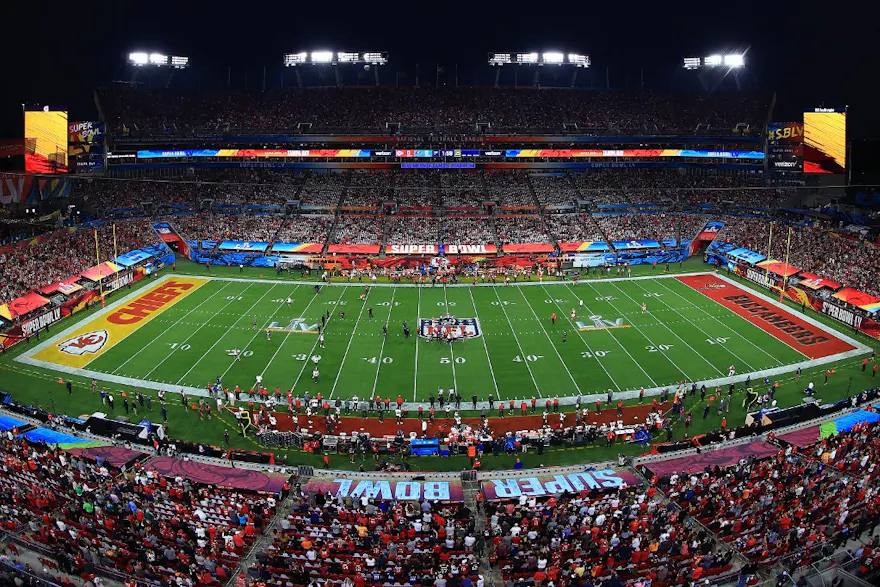 It wasn't all that long ago that the NFL and its brass were vocal opponents of the idea of gambling on their sport. Things have changed dramatically over the years, culminating in Monday's announcement that the NFL is bringing on four more approved sportsbook partners. FOX Bet, BetMGM, PointsBet, and WynnBET will become Approved Sportsbook Operators of the NFL and the news comes just in time to take advantage of the entirety of its season which kicks off September 9.
"We are pleased to announce this select group as Approved Sportsbook Operators," Nana-Yaw Asamoah, Vice President of Business Development for the NFL, said in a league release. "Along with our three Official Sports Betting Partners, this group of operators will help the League to engage fans in responsible and innovative ways this season as the sports betting landscape continues to evolve."
The new crop of authorized sportsbook operators takes the total to seven partners for the most bet on league in the world. Caesars Entertainment and the two DFS monsters operating as legal sports betting provider giants became NFL partners in April and have reaped the benefits since.
How Important an NFL Alliance Is
The NFL is unquestionably the most important professional league for sportsbooks not only in the US but around the world. PlayUSA was out with a report last week that said an estimated $12 billion will be bet on the NFL this season alone, with $800 million in revenues.
Despite being called "second-tier partners" of the NFL, BetMGM, WynnBET, PointsBet and Fox Bet will be afforded unique opportunities with the league that other books are not. Caesars and the two DFS behemoths-turned sports betting provider giants are the "top-tier" or what had been called the "Tri-exclusive partners". They get some company as of Monday.
Those Unique Opportunities
BetMGM, WynnBET, PointsBet and Fox Bet will be granted some exclusive perks under their new Official relationship with the NFL. Their brands will be advertised on NFL broadcasts which is an enormous advantage right off the bat in the battle for market share in the exploding but increasingly competitive US sports betting scene. BetMGM, WynnBET, PointsBet and Fox Bet will be featured on all premium NFL league media outlets that currently serve the league.
Perhaps the most important win for the four new sportsbooks will be their ability to use Official NFL media and data inventory. Official data, provided exclusively by Genius Sports for Official Sports Betting Partners will only give BetMGM, WynnBET, PointsBet and Fox Bet access to critical and valuable league data to use while generating odds and with their increasingly popular live betting options.
As the league said, the new partners have a chance to "leverage NFL marks within the sports betting category, integrate into NFL O&O [owned and operated] properties, and activate around retail and online sports betting".
Obvious Choices
BetMGM, WynnBET, PointsBet and Fox Bet come into their new and perhaps most important partnership as hugely popular brands operating within the US legal sport betting space. Each is in or near the elite tier of sportsbooks in the US and only gain in status thanks to Monday's announcement.
PointsBet will get a chance to build on their relationship with the NFL they gained through a partnership deal with NBC Sports, which airs perhaps the most-watched weekly NFL broadcast, Sunday Night Football. Fox Bet is tied to Fox Sports which airs a full schedule of Sunday games already. BetMGM currently has a relationship with the Arizona Cardinals among other NFL teams and is in the process of becoming the first major provider to open a sportsbook at an NFL venue. WynnBET is currently the official sports betting partner of the Detroit Lions.
Expansion Relentless
Eric Ramsey, data analyst for the PlayUSA.com Network said it best when he commented that: "The expansion of sports betting over the last year has been relentless, with far more legal markets and more operators than ever before."
The NFL had a choice - keep fighting the presence of gambling on their sport or try to profit off it. The choice is clear and now the league cashes in on the estimated $270 million this year alone that such legal sports betting partnerships will contribute to the league.
It wasn't only 2015 that NFL Commissioner Roger Goodell said: "We've been very open about our position that we oppose legalized sports gambling. We haven't changed our position on that. I don't anticipate us changing that going forward at all."
My, how things have changed!