Major Slide Reported in America's Top 10 Sports Betting States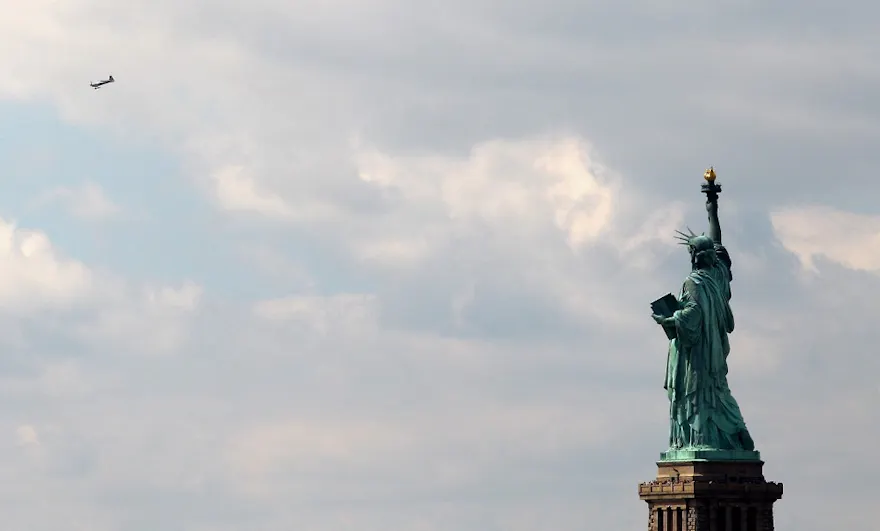 The seasonal summer sports betting slowdown in participating American states has begun. Most states have reported their April sports betting figures, and they showed a significant month-over-month dip from March and a massive drop-off from January.
No NFL and no March Madness have resulted in some of the lowest handles and revenue totals for American sportsbooks since August when the industry traditionally bottoms out.
So, let's take a peek into how the U.S.'s Top-10 sports betting states performed in April and prognosticate just where their wagering scenes project to go as we head deeper into the traditionally slow summer months.
Tier 1
1. New York
New York experienced its lowest legal sports betting handle in April since the launch of its mobile platform in January. The month-over-month drop came in at 15.1%, from $1.64 billion in March to $1.39 billion in April.
Revenues for the state's sportsbooks dropped 8.9%, or about $10.44 million, from March to April.
Sportsbooks profits came in at $104,535,898. Thanks to the 7.5% hold rate that sportsbooks enjoyed during the month, the revenue drop wasn't quite as drastic as the handle.
State and local tax coffers in New York benefitted from $53 million in taxes in April, taking sportsbook tax contributions since January in New York to a staggering $216.6 million.
While any double-digit handle and revenue drop-off is a concern, $1.39 billion is still the largest monthly handle for any U.S. jurisdiction not named New York.
FanDuel continued to lead the way among sportsbooks, with fellow DFS-turned sportsbook behemoth DraftKings second, Caesars third and BetMGM fourth. Here is a breakdown of the individual sportsbook performance in New York during April:
According to the New York State Gaming Commission, sports betting operators in the state have taken in a staggering $7.152 billion from the January 8 launch of a widespread mobile platform through May 22.
2. New Jersey
New Jersey sits in second on the list of most bet-friendly states in America and saw a healthy month-over-month decline.
Regulators of the New Jersey legal sports betting industry are reporting a $926.9 million April handle, which represents a 17.3% drop from March and the lowest sportsbook output since August, when the state saw just $665 million in sports wagering activity. However, the April figures are a year-over-year 23.9% increase from the same time last year.
In April, $50.3 million in sportsbook revenues represented just an 8.2% dip. It resulted in a nearly $1.9 million drop in taxes collected from New Jersey sportsbooks.
Meadowlands Racing-aligned sportsbooks combined for the lion's share of betting activity in the state during April.
Meadowlands partners FanDuel, PointsBet, and SuperBook accounted for a combined $33.3 million or 66.2% of the state's sports betting revenues, with Resorts Digital's partners DraftKings, FoxBET, and Resorts' own sportsbook next with $7.4 million. Borgata, which is partnered with its own sportsbook brand and BetMGM, was third with $4.5 million in revenues.
Tier 2
3. Nevada
Nevada's spot at #3 on the list is tenuous at best. In fact, the Silver State ranked fourth in terms of monthly sports betting handle in March, just behind Illinois.
The month-over-month sports betting downturn in Nevada was as stark as what we saw across the country. The handle dropped 32.5%, from $863.3 million in March to $582.5 million in April.
While concerning and the first time since August that the state's handle slipped below the $700 million mark, April 2022 served as the best April total for Nevada's sports betting scene.
However, April's handle was 28.7% higher than the $457.8 million in bets in April 2021.
4. Illinois
Illinois releases its monthly sports betting handles later than any other jurisdiction - generally six weeks after the end of a given month.
So, it isn't easy to place them on the rankings. But their performance in March has made them a deserving member of Tier 2 on the list of bet-friendly states in America.
March saw Illinois' sportsbooks take in an impressive record $971,278,389 in sports bets, with $60.6 million in revenues and nearly $10 million in tax contributions to state and local coffers.
While a drop-off is expected in April, the fact that two MLB teams call Illinois home should keep the state in the upper echelon of sports betting states.
5. Pennsylvania
Pennsylvania is another legal sports betting jurisdiction that saw a significant sports betting slowdown in April. The state's sportsbooks reported a $573 million handle, an eye-opening 20% dip from the $715 million they took in during March.
In April, Pennsylvanians had the 76ers and Pittsburgh Penguins amid their playoff runs and the Philadelphia Phillies and Pittsburgh Pirates kicking off the MLB seasons.
Despite the drop, the Pennsylvania sports betting scene reported a year-over-year 19% increase from April 2021.
Revenues for Pennsylvania's sports betting providers came in at $49 million in April, and tax contributions were reported to be $12.1 million.
Check out the latest comprehensive and most trusted Sportsbook Reviews by SBR here.
Tier 3
6. Michigan
Michigan leapfrogs Colorado for the top spot in America's third tier of sports betting states, thanks to a $396 million April handle. The state's 17.2% drop from March's $478 million is less than other jurisdictions but still a concern.
Since September, April marked the first time that Michigan failed to eclipse the $400 million handle mark, although the overall handle is a 44% improvement from the same period last year.
Revenues climbed slightly from March to April, from $32.4 million in March to $32.6 million in April, thanks to sportsbooks hold-rate of 8.2%. Tax contributions for state and local coffers came in at $1.1 million.
7. Colorado
The state of Colorado still occupied the third tier of U.S. sports betting destinations in April, despite seeing a significant drop-off in overall action. A $392.3 million handle represented a 22% month-over-month drop from the $505.6 million in March but a 60% spike from April 2021.
April's totals took Colorado's total lifetime handle since launch in May 2020 to nearly $7 billion.
Revenues for the month came in at $22.6 million, which represents a 19.8% slide from March's $28.2 million but a 28.5% year-over-year jump from April 2021's $17.6 million.
In April, $1.2 million in taxes were collected from Colorado sportsbooks, a slight increase from March. So far, in 2022, $10.5 million in taxes has flowed from sportsbooks to state coffers.
8. Indiana
Indiana once again rounds out the third tier of legal sports betting states in America. Sportsbooks in the state reported a $360 million handle in April - a 24.5% drop from March's $477 million but a 52.4% increase from the same period last year.
Month-over-month revenues dropped 11.2% to $28.7 million from $32.3 million in March. $2.7 million in taxes were paid by Indiana sportsbooks to date and local coffers.
FanDuel was responsible for about a third of the overall handle with $112.4 million in bets, and DraftKings was second with $101.6 million.
Tier 4
9. Tennessee
In April, Tennessee ranked as the top-performing Tier 4 sports betting state, but they too suffered from a seasonal sports betting slowdown.
For the first time since August, the Tennessee Sports Wagering Advisory Council is reporting a sub-$300 million handle.
Sportsbooks in Tennessee took in $292.8 million in sports bets in April, down nearly $80 million from March's $370.2 million. While disappointing, the numbers are a year-over-year improvement of about $120 million from April 2021's $174.2 million.
10. Louisiana
Louisiana's legal mobile sports betting industry went live in February and has performed well since. Their April report of a $208.25 million handle puts them in 10th on the list of bet-friendly states in America.
The $208.25 million handle is a 10.5% drop from March's $232.73 million. Revenues, however, fell off a cliff. Louisiana sportsbooks made $. 6 million in April, an astounding 81.4% drop from March's $30.14 million.
Make sure to keep an eye on our Live Odds page throughout the week to get the best lines possible and connect with others in the SBR community on our popular sports betting forum.