Ja'Marr Chase Props Not Seeing Expected Action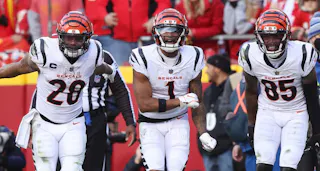 Caesars Sportsbook released a number of interesting over/under prop trends for Cincinnati skill-position players ahead of Super Bowl LVI.
Here's a peek under the hood.
Ja'Marr Chase
The rookie receiver has been a driving force for the Bengals and a big reason why they're playing Sunday. His receiving yards prop is 78.5 with 81 percent of the tickets and 88 percent of the handle betting he'll top that total.
SEE ALSO: SBR's Ja'Marr Chase Super Bowl Prop Bet Picks
His 5.5 receptions total (over -125/under -105) has seen more balanced action. While the over has taken 84 percent of the tickets, 64 percent of the handle is on the under, which has been fuelled by a New Jersey bettor wagering $10,000 on Chase finishing with under six receptions at +115.
"I'm a little surprised that there hasn't been as much money on Chase props compared to Kupp or even Beckham," said Adam Pullen, Assistant Director of Trading at Caesars Sportsbook. "It'll pick up, but looking at him versus Kupp, it's not even close. Maybe people think that he's most likely going up against Jalen Ramsey, so there's questions about whether he'll get shut down."
Buccaneers' Mike Evans is the only wide receiver to top 78.5 yards against the Rams through three playoff games when he finished the Divisional Round matchup with 119. It's also worth noting that Tampa Bay tight end Rob Gronkowski also recorded 85 receiving yards during the same game.
Tee Higgins and Tyler Boyd
The receiving yards totals for Higgins (68.5) and Boyd (40.5, down from 44.5 opener) have also received a steady stream of over wagers. Higgins has received 94 percent of both tickets and handle backing the over, whereas Boyd's seen 88 percent and 77 percent, respectively.
SEE ALSO: SBR's Tee Higgins Super Bowl Prop Bet Picks
Additionally, Higgins' reception total (5.5) has attracted 93 percent of total tickets and 98 percent of the money wagered.
Joe Mixon
The running back's rushing yard prop has climbed from 60.5 at opening to 62.5 despite the majority of bettors backing the under with 53 percent of tickets and 62 percent of the handle. Mixon has rushed for 48, 54 and 88 yards through the first three postseason games while the Rams have allowed just 54.0 rushing yards per game – the fewest in the playoffs.
SEE ALSO: SBR's Joe Mixon Super Bowl Prop Bet Picks
Mixon's receiving yardage total has fallen from 29.5 to 25.5, the over has taken 84 percent of the total number of tickets and 72 percent of the total dollars wagered.
"For rushing yards for Mixon, it's been pretty balanced," Pullen said. "Good two-way action on his receiving props too. He's been used in the short passing game quite a bit. For his receiving yards it's been mostly over money. Sharps have bet it under, but when the public sees a low number for a star player, it's very tempting for them to go over."
Make sure to keep an eye on our Live Odds page throughout the week to get the best lines possible and connect with others in the SBR community on our popular sports betting forum.