Global Sports Betting Roundup: Thailand's Push To Legalize Gambling, Match Fixing, and the Latest in Denmark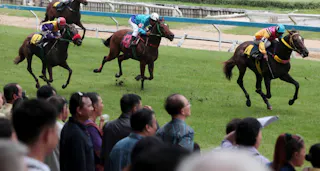 Most of the global sports betting industry headlines these days are coming out of the bustling U.S. market, but there is plenty going on elsewhere across the globe. There is a humanitarian crisis/war affecting the world, there is one huge prospective sports betting country looking to finally legalize their own platform and of course, there is a little nefarious action that continues to give sports betting a black eye.
Let's catch up on some global sports betting stories that have peeked our attention.
Let's start with the elephant in the room…Russia
The Russia/Ukraine conflict is affecting every aspect of the global society, including the sporting world. Just how the global sports landscape navigates what is happening in Eastern Europe remains to be seen, but as of this week, there have already been some potential game-changing developments.
Russian Airlines, Aeroflot is out as key sponsor to global juggernaut Manchester United, Chelsea football club could be sold by its Russian owner, the Russian Grand Prix was canceled due to Ukraine conflict, FIFA banned all Russian teams from competition, the 2021/2122 Champions League final will be played in Paris after Russia was stripped of the match, and the IOC has called for the banning of Russian athletes from all sports. Those are just a few of the Russian shoes to drop since the beginning of the conflict.
It is expected that a host of betting items will come off the boards of global sportsbooks but early on, as of Tuesday, American heavyweights FanDuel, DraftKings, BetMGM, PointsBet and Caesars Sportsbook were still offering action on Russian table tennis. European giant Bet365 also offered live betting opportunities on Russian Pro Women's basketball.
That all changed Thursday, as DraftKings, Caesars, FanDuel and PointsBet stopped all bets on the KHL and other leagues in Russia and Belarus – a sign that global sportsbooks are following other influential bodies from around the world and isolating Russia.
Bets involving Russian sports could be canceled, futures bets could be altered, and adjustments could be made within the international wagering community as the fluid crisis increases. It is a situation worth monitoring.
Check out the latest comprehensive and most trusted Sportsbook Reviews by SBR here.
Thailand's consistent push to legalize gambling
Eyes will be on Thailand as the country attempts to launch their own legal gambling platform, one that would not only cater to the legion of domestic bettors but also foreign gamblers that make up Thailand's huge tourism sector. It was December that a committee was set up by the Thai parliament designed to investigate the viability of such a platform for their country.
As it stands, there is a healthy underground, black market gambling scene in Thailand. Some 200 gambling dens (around 50 in Bangkok alone) exist as does the healthy migration of Thai bettors to neighboring countries that offer legal gambling services.
It is still a longshot for gambling to get a green light in Thailand where it is estimated that half of the adults in the country of 70 million gamble. But there is a push to legalize sports betting in particular and cash in on the reported U.S. $5 billion wagered in the country on the black market per year on football alone.
Stay tuned.
Denmark making news
Denmark's gambling regulatory body has been making some news of late. Last week the country's gaming regulator Spillemyndigheden issued a report on just how many illegal, back-market wagering domains they shut down in 2021, thanks to a joint investigation with the Danish Tax Agency's anti-fraud unit.
Despite a legal gambling industry in the country, regulators were able to identify and shut down 55 companies hoping to offer illegal, black-market gambling services to Danish citizens.
"An increase in the number of websites identified, requests and internet blockings may indicate that the illegal market is expanding," said Spillemyndigheden. "However, the Danish Gambling Authority maintains our assessment that the illegal gambling market in Denmark is limited, and the increase expresses the Authority's increased focus on illegal gambling."
Late last week, Danish authorities also tightened up their ability to identify and police any nefarious actions with regard to legal sports betting. The Danish Gambling Authority, the Spillemyndigheden, through an agreement will now oversee a larger campaign targeting cheating in the legal sports betting realm.
"Match-fixing is a serious problem because it threatens to destroy the integrity of the sport," stated Minister for Taxation Jeppe Bruus. "We have seen extensive examples of this around Europe – in some cases with criminal organizations.
"The gambling operators are already making an effort today, but now we are tightening the requirements for them further, so that they become even more active participants in the fight against match-fixing."
More on that global match-fixing problem
While Denmark seems to be taking a step forward in the combatting of match-fixing, word out of Australia is that the country appears to be going in a different direction. "Real-time wagering fraud detection and response capability" was a recommendation of an independent review of the industry back in 2018. But some legal pushback by providers Down Under recently has put that plan in jeopardy. The proposal for real-time detection is nearly four years old... and still nothing has been done to satisfy the study's recommendations.
India is going through its own match-fixing drama with allegations and even formal complaints within The Assam Cricket Association (ACA). The latest comes from the JK Baruah Inter District Cricket tournament. The result of an internal investigation which came out last week saw obvious match-fixing during a match between the under-19 Railway team and the Jorhat team. NFR under-19 cricket team and its captain Ronit Akhtar were banned from competition for three years and the opposing coach received a lifetime ban from the ACA.
Zimbabwe is another country with a spotlight in match-fixing. Cricket chairman Tavengwa Mukuhlan has strongly advocated for new laws to fight against cheating in his sport. His calls come after a few corruption scandals in the country in the past few years. The controversies have ensnared Brendan Taylor, former national team captain and even a few executives within the Cricket Association. Zimbabwe's Cricket scene is a cautionary tale around the world that there is truly a dark side to sports gambling.
Singapore's horse racing community is under its own scrutiny with the announcement of an investigation into 89 men tied to illegal betting activity in that sport. Police in Singapore have conducted raids at several addresses in the country and have good reason to believe all are involved in illegal horse wagering activities. "Preliminary investigations revealed that the 89 men are believed to have been involved in various roles such as illegal bookmakers, runners as well as punters," the police said.
Betting Corruption and Match-fixing in 2021
A report focussing on "Betting Corruption and Match-fixing in 2021" was recently conducted by widely respected Sportradar Integrity Services. The study has shone a light on the increasing match-fixing trends we have been seeing in the global sports betting industry. The global supplier of sports integrity solutions identified what they call suspicious activity in 903 matches last year alone, spanning 76 countries and 10 sports. That's an all-time high in the 17-year history of the annual report, beating the previous high of 882 suspicious matches reported in 2019.
Soccer was the Number 1 offending sport according to Sportradar with lower-level soccer being most vulnerable.
Read highlights of the report here:
Make sure to keep an eye on our Live Odds page throughout the week to get the best lines possible and connect with others in the SBR community on our popular sports betting forum.