Caesars Sportsbook Becomes the First to Offer Wide Range of NCAA Basketball Futures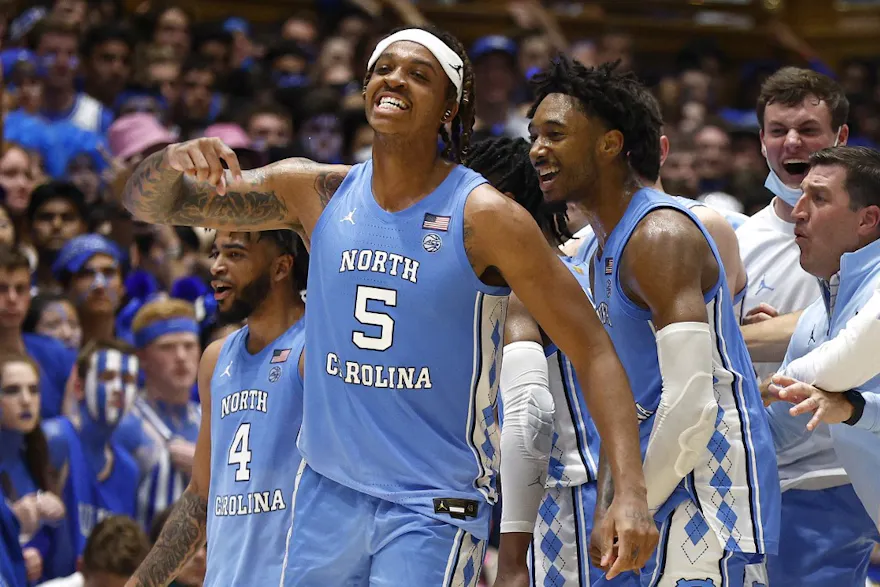 On November 7, the Kansas Jayhawks will begin their title defense, and Caesars Sportsbook is the first to offer several College Basketball futures markets.
As the College Basketball season approaches on November 7th, where are all the College Basketball futures markets? Since the Kansas Jayhawks cut down the nets, the National Championship odds have been posted, but we seem to have forgotten about all the other markets. In three weeks, the season will begin!
Caesars Saves the Day
One sportsbook beat all the others to the punch and posted its College Basketball futures before anyone else, and that is Caesars. BetMGM does not have anything posted for College Basketball, not even the National Championship odds, while DraftKings, FanDuel, and PointsBet only offer odds on the National Championship.
It seems like a huge opportunity was missed by the sportsbooks and Caesars will definitely increase their handle in these markets by being the first to post the odds. The moment KenPom released the updated stats for the 2022-2023 season, you knew bettors would begin looking for futures, but everyone except Caesars missed out.
DraftKings, FanDuel, PointsBet, and BetMGM have some serious competition when they see just how many futures markets Caesars has made available.
Wide Array of Offerings at Caesars
Caesars was not only the first sportsbook to offer College Basketball futures, they also stepped up their game by offering a wide selection of markets. With these markets, Caesars is making a statement that this is the sportsbook that you should have an account with from now until March Madness finishes.
There is no question that Caesars hit a home run with these markets, and it begins with clearly explaining that their Conference Winners markets are based on the regular season standings and not the tournament. Many sportsbooks had this issue last season and we obviously want the regular season championship markets now, followed by the conference tournament markets later in the season.
Caesars did not simply post futures markets on the winners of popular conferences such as the ACC and SEC. Caesars has every conference listed, from the Horizon League to the Big West. If it is a conference in the NCAA, you can bet on it.
They are also offering futures markets on some of the more popular tournaments that begin the College Basketball season each year, such as the Maui Invitational, Battle 4 Atlantis, and Phil Knight Invitational. In case that is not enough to get you excited about College Basketball, Caesars is also offering odds on the ACC-B10 Challenge and the SEC-Big 12 Challenge. I can safely say, I'm not sure I have ever seen this before.
Not only did Caesars post all of their odds first, but they also hit a grand slam with the amount of markets they are offering.
College Basketball Futures Markets Offered by Caesars
| | |
| --- | --- |
| Caesars NCAAB Futures Market | Favorite |
| NCAA Championship Winner | North Carolina (+800) |
| Big 12 Conference Winner | Baylor (+210) |
| ACC Conference Winner | North Carolina (+130) |
| SEC Conference Winner | Kentucky (+175) |
| Pac-12 Conference Winner | UCLA (+200) |
| AAC Conference Winner | Houston (-350) |
| Atlantic 10 Conference Winner | Saint Louis (+240) |
| Mountain West Conference Winner | San Diego State (+140) |
| Big Sky Conference Winner | Montana State (+180) |
| Big South Conference Winner | Longwood (+200) |
| Big West Conference Winner | UC Santa Barbara (+180) |
| Horizon League Conference Winner | Northern Kentucky (+200) |
| MEAC Conference Winner | Norfolk State (-150) |
| SWAC Conference Winner | Texas Southern (+220) |
| Ivy League Conference Winner | Princeton (+175) |
| Big Ten Conference Winner | Indiana (+275) |
| Big East Conference Winner | Creighton (+200) |
| John Wooden Award Winner | Drew Timme (+700) |
| Battle 4 Atlantis Winner | Kansas (+260) |
| Phil Knight Invitational Winner | North Carolina (+120) |
| Maui Invitational Winner | Arizona (+280) |
| ESPN Invitational Winner | Florida State (+200) |
| ACC-Big 10 Challenge Winner | Big 10 -0.5 (+105) |
| Big East-Big 12 Battle Winner | Big 12 -1.5 (-110) |
| Big 12-SEC Challenge Winner | Big 12 -0.5 (-105) |