Big Bet Placed on Donald Winning Super Bowl LVI MVP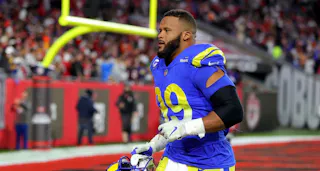 A bettor recently threw down a $7,500 wager to win $120,000 on Aaron Donald (+1600) to win the Super Bowl LVI MVP award at BetMGM.
The seven-time All Pro defensive tackle has seen his odds plummet from an opening +50000 to +1200 to win the award, and Donald currently has the fourth shortest odds to lift the Pete Rozelle Trophy at BetMGM.
SEE ALSO: 56 Super Bowl Prop Bets
He would be just the second defensive tackle to win the award in league history, and first since 1978 when DT Randy White split the honor with defensive end Harvey Martin. Interestingly, it's also the only time the trophy has been awarded to more than one player.
Opposing quarterbacks Matthew Stafford (+135) and Joe Burrow (+225) are receiving the most chalk, and a signal caller has won the award in nine of the past 12 Super Bowls. It's also worth noting BetMGM has a quarterback to win currently listed at -333. Los Angeles wide receiver Cooper Kupp (+600) is listed with the third lowest odds.
Only two defensive players have won the MVP during the noted 12-year stretch. Malcolm Smith won in 2014, and Von Miller followed in 2016. Miller is currently +5000 to hoist his second Rozelle Trophy, something only a quarterback has done in league history.
SEE ALSO: Rams vs. Bengals Picks and Predictions
There's definitely a compelling case for Donald. He's won the Defensive Player of the Year Award three times and is currently the favorite , after all. Additionally, the Cincinnati offensive line ranked 20th, according to Pro Football Focus, and they allowed a whopping nine sacks in the Divisional Round matchup against Tennessee just two weeks ago.
Donald's coming off another strong regular season, and the significance of a second opportunity to win the Super Bowl after losing to the Patriots in 2018 isn't lost on the 30-year-old veteran.
Donald's MVP Odds are pretty consistent across the board now:
Fan Duel +1600
DraftKings +1600
PointsBet +1600
Those looking to sprinkle some action on Donald should definitely shop around, though.
Make sure to keep an eye on our Live Odds page throughout the week to get the best lines possible and connect with others in the SBR community on our popular sports betting forum.