Bernie Kosar Firing Exposes Outdated NFL Gambling Policy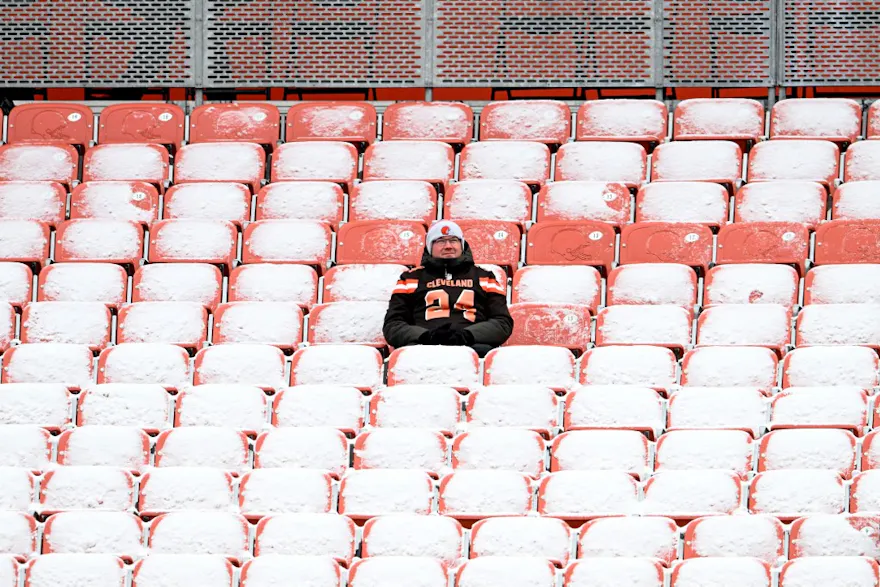 Making the first legal wager in Ohio was the last thing Bernie Kosar did as a member of the Cleveland Browns radio team.

The Browns removed their beloved former quarterback from their pregame radio show for betting on Cleveland in the NFL Week 18 season finale against the Pittsburgh Steelers.
In a statement released Monday, a Browns spokesperson said: "Earlier this week we notified Bernie that, per league policy, we were required to remove him from our pregame radio coverage for the season finale after he violated the NFL gambling policy by placing a bet on an NFL game.
"We understand what Bernie means to this community and our history but as team contracted personnel hired to provide content on our media platforms, his bet was a violation of NFL rules and we must adhere to all NFL policy."

After being selected first overall in the 1985 supplemental draft, Kosar donned No. 19 for 108 games for Cleveland – making the $19,000 he wagered through Tipico Sportsbook backing the Browns to beat the Steelers on Sunday a deeply symbolic bet.
Kosar's wager was also among the first following the legalization of Ohio sports betting, and he said on his personal radio show that the winnings would be given to charity.
Editor's note: Hey Ohio! Welcome to legal sports betting. Check out the best sites for Ohio sports betting and the best Ohio sportsbook promos! 21+ and present in OH. Gambling Problem? Call 1-800-GAMBLER.
The story has made its rounds, and there is enough hot air to fly a balloon across Lake Erie. Unfortunately for the upset mob, the league's official Gambling Policy for NFL Personnel couldn't be more clear.
Kosar was a part-time employee with the Browns, and he bet on a football game. And like a defensive back pushing a wide receiver about to make a game-winning catch, that's a clear violation of the NFL's policy.
This does, however, spark a more meaningful discussion: The NFL's 2018 gambling policy needs to be revisited and catch up to its fanbase.
Legalized sports betting was just building momentum and wasn't widely accessible outside of Nevada in 2018. Fast forward to 2023, and with Ohio's launch, there are 34 states now offering regulated markets to wager on sports.
Millions of recreational sports bettors add a splash of entertainment and camaraderie to their viewing experience by wagering on the NFL week in, week out.
This reality has been embraced by the NFL and its organizations, too. There have been countless partnerships with multiple sportsbooks that have developed since the gambling policy was written. While NFL personnel shouldn't be gambling on NFL games, the definition of "personnel" needs a revision to bring it into the 22nd Century.
Players clearly shouldn't be allowed to wager on NFL matchups (something Calvin Ridley learned the hard way). Ditto for coaches, referees, front office executives and anyone else whose involvement with a specific franchise could clearly impact the game result.
Where it gets ambiguous is where the policy refers to "other staff and game-day stadium personnel". Does this include concessions people? The national anthem singer? The mascot?
The reference to Club employees is also vague. Clearly the NFL treated Kosar as an employee of the Browns, but is his involvement with the team a threat in any way to the integrity of the game were he to make a bet on Cleveland? I'd like to think that, had Kosar known he would be removed from his position upon making that wager, he wouldn't have done it. And that's a problem.
So much has changed over the past five years, and a new timestamp to reflect the new realities of sports betting would serve the NFL and its fanbase well.
Losing $19,000 betting on the Browns doesn't even qualify as a bad beat, but I'm not sure Kosar truly fits the bill as a part-time team employee in the context of the league's policy as it was written in 2018. And in this case, the Cleveland organization was forced to ruin something meant for entertainment and charity – and that had no impact on the result of the game.
That's the only bad beat I see.