6 Potential Landing Spots for Patriots RB Damien Harris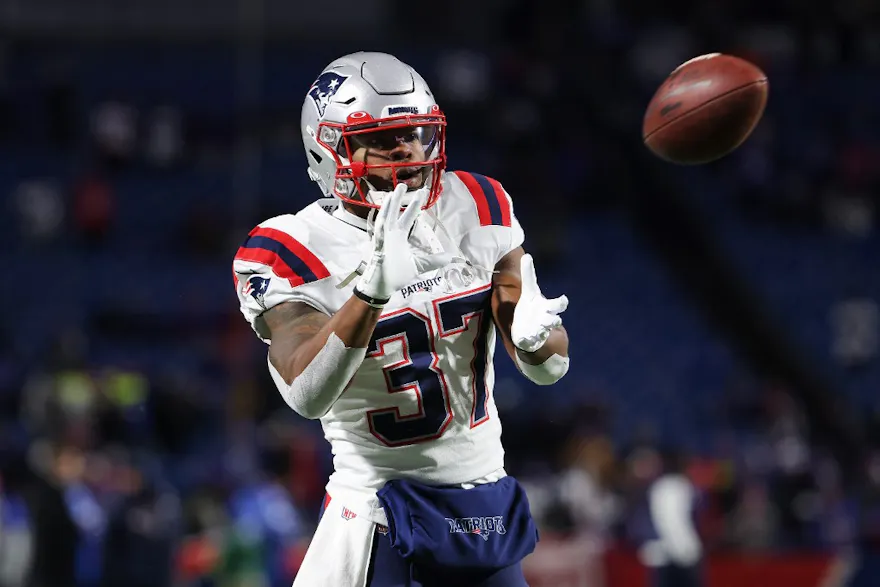 The New England Patriots have a tendency to move on from a player a year too soon rather than a year too late and that might be part of the reason that trade rumors have popped up surrounding running back Damien Harris.
Harris, 25, rushed for 929 yards and 15 touchdowns last season, averaging 4.6 yards per carry. He added 18 catches for 132 yards but is not a significant factor in the passing game.
James White has announced his retirement, which would leave the Patriots with Rhamondre Stevenson, Ty Montgomery, J.J. Taylor, plus rookies Pierre Strong Jr. and Kevin Harris in the backfield. Not the most exciting group in the league, but if the Patriots are not prepared to sign Harris to a new contract, it would be just like the Patriots to deal him for future assets rather than lose him at the end of the season.
In Albert Breer's latest mailbag article for Sports Illustrated, the question of trading Harris was asked, creating some buzz of the likelihood of it happening.
There are a few complicating factors when it comes to trading Harris. For one thing, he is barely involved in the passing game, which tends to make him a two-down back, and that is fine, but that does limit his contributions. Secondly, there are some other running backs that might be on the trading block. Kareem Hunt wants out of Cleveland. Josh Jacobs might be getting shopped by the Raiders.
The most likely scenario for a Harris trade probably involves an injury to a significant running back before the season starts. Otherwise, most teams will have players in place to at least start the season.
Here are six teams that might be decent landing spots for Harris this season:
Check out the latest comprehensive and most trusted Sportsbook Reviews by SBR.
Tampa Bay Buccaneers
While the Bucs do have Leonard Fournette and drafted Rachaad White in the third round, Harris would offer a reliable and powerful runner. Fournette is averaging a modest 10.2 carries per game since joining the Bucs and if White is not ready to handle a significant load, Harris could keep the chains moving for a Tampa Bay team that obviously relies a lot more on Tom Brady and the passing game.
Chicago Bears
The Bears are looking at David Montgomery and Khalil Herbert at the top of their running back depth chart. Montgomery had 3.8 yards per carry last season, so it would not be unreasonable to seek an upgrade, but it might not make sense for Chicago to sacrifice a meaningful draft pick to get Harris.
Los Angeles Chargers
Since starting running back Austin Ekeler is the premier receiving back in the league, acquiring someone who can handle grinding out yards on the ground would have some appeal. Maybe that will be the role for fourth-round pick Isaiah Spiller or Joshua Kelley, but Harris would likely be a superior option.
Seattle Seahawks
Chris Carson has retired, but the Seahawks still have Rashaad Penny coming off a breakout season and used a second-round pick on Kenneth Walker out of Michigan State. Would Harris upgrade the Seahawks backfield? Probably. Is it worth it for Seattle, looking at a challenging season, to invest in a marginal backfield upgrade? Probably not.
Atlanta Falcons
Much like the Seahawks, the Falcons are thin enough in the backfield that Harris would represent an immediate improvement. Cordarrelle Patterson is backed up by fifth-round pick Tyler Allgeier and Damien Williams, so Harris would surely make them better, but the Falcons are likely going to be terrible this season and it would not make a lot of sense to give up future assets to acquire Harris.
Houston Texans
One more of the likely also-rans that would improve by adding Damien Harris. The Texans have the longest Super Bowl odds on the board this season so they are probably fine with Marlon Mack, Rex Burkhead, and rookie Dameon Pierce, but Harris would be a better alternative. It's just a matter of whether that juice is worth the squeeze.
Here are the latest Super Bowl odds from DraftKings, FanDuel, and Caesars.
Super Bowl Odds
Make sure to keep an eye on our Live Odds page throughout the week to get the best lines possible and connect with others in the SBR community on our popular sports betting forum.