6 Players to Watch in Packers-49ers Preseason Week 1 Game: How Much Will Trey Lance Play?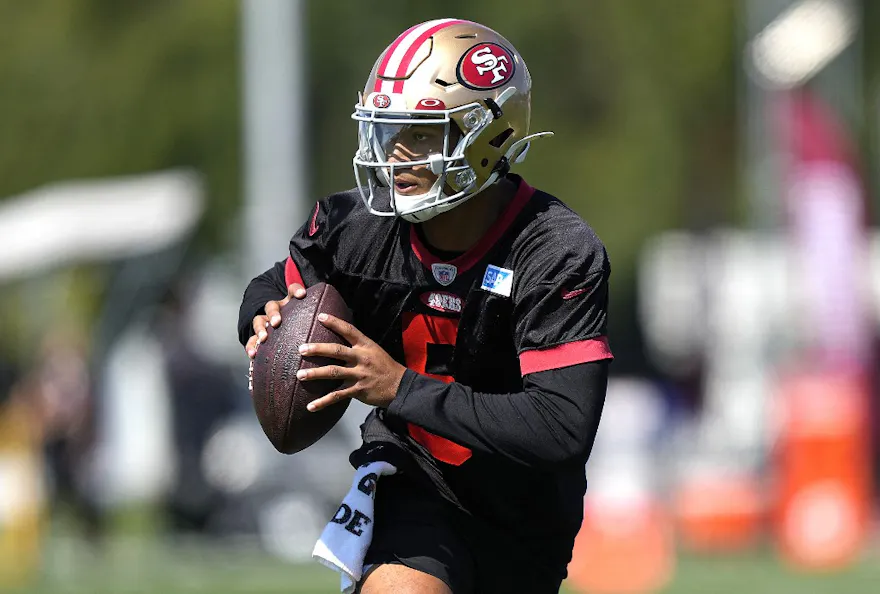 The preseason game between the Green Bay Packers and San Francisco 49ers could prove to be one of the better matchups of Week 1. The two teams met in the NFC Divisional Round last year, after all.
Obviously, the two teams won't be running out all their stars for the entire game, and it's difficult to predict preseason workloads. Still, there are ample storylines to follow, and here are six particular players to watch Friday.
6 Players to Watch in Packers-49ers Friday
Trey Lance, QB, San Francisco 49ers
How much Lance will play Friday – if at all – is still up in the air, but after starting just two games in 2021, he's already been named the No. 1 quarterback for the 49ers heading into Week 1.
Lance has an embarrassment of riches at his disposal in the San Fran offense, and he just needs to prove he's ready to execute Kyle Shanahan's proven offense. While the second-year signal caller boasts the athleticism and rushing ability to shine, he'll need to improve his accuracy as a passer.
He's a consensus +4000 to win the AP MVP Award this season at BetMGM, Caesars, DraftKings and FanDuel Sportsbooks, so bookmakers are also aware of his potential to have a big year for the 49ers.
Jordan Love, QB, Green Bay Packers
Already named the starter against San Francisco, Love appeared in six games last season, and he had an underwhelming road showing against the Kansas City Chiefs in his only start.
Love is obviously firmly behind back-to-back MVP winning quarterback Aaron Rodgers on the depth, so while the backup's performance during the preseason won't enable him to climb into the starting role, it could drive up his potential trade value.
If Love can show off the gifts that made him a first-round selection in the 2020 NFL Draft, he could enter the 2023 season legitimately battling for a starting gig with another team.
Tyrion Davis-Price and Trey Sermon, RBs, San Francisco 49ers
Expect Davis-Price and Sermon to see plenty of carries against the Packers, as the two backs look to establish where they'll open the season on the depth chart beneath starter Elijah Mitchell.
Sermon was a third-round selection in the 2021 NFL Draft, and Davis-Price was picked in the third round this April, so San Francisco has considerable draft capital invested. However, running back Jeff Wilson Jr. is entering his fifth season with the organization and projects to be Mitchell's immediate backup.
As a result, there's all the more incentive for Davis-Price and Sermon to show they can succeed at the highest level and push for more than table scraps in the fruitful San Fran rushing attack.
Check out the latest comprehensive and most trusted Sportsbook Reviews by SBR.
Brandon Aiyuk, WR, San Francisco 49ers
No one in 49ers training camp has been more heralded to date than Aiyuk, and the third-year receiver is coming off two respectable seasons after being selected 25th overall in the 2020 NFL Draft.
While definitely not eye-popping numbers, Aiyuk has been a solid pro with 116 receptions for 1,574 yards and 10 touchdowns through his first two seasons in the league.
If his developing offseason chemistry with quarterback Trey Lance continues through to the regular season, a third-year breakout could be in store for Aiyuk.
Romeo Doubs, WR, Green Bay Packers
The rookie receiver has been making an impression during training camp, and he even garnered praise from starting quarterback Aaron Rodgers. As noted, Rodgers isn't suiting up Friday, but it doesn't mean Doubs can't further stake claim to a role in the Green Bay passing attack.
Veteran receivers Allen Lazard and Sammy Watkins project to open the season with prominent roles, and Randall Cobb is likely to see slot work. However, Watkins is notoriously injury prone, and Doubs could leapfrog Cobb with a strong preseason.
Make sure to keep an eye on our Live Odds page throughout the week to get the best lines possible and connect with others in the SBR community on our popular sports betting forum.